Worland and Torrington swap classes in 2024 football slate
The Wyoming High School Activities Association (WHSAA) released the conference portions of the 2024 and 2025 high school football schedules on Wednesday, November 15.
The conference portions of the schedule are determined by the WHSAA with non-conference games being arranged and determined by individual schools. 
In the recent past, Star Valley has seen teams from Nevada (Spring Creek) and Utah (Juab, Summit Academy) pop up on the non-conference slate but the past two seasons have focused on finding the best competition available from Idaho. That has included schools such as Hillcrest and Blackfoot. The past two seasons, that included games against Shelley, Preston and Sugar-Salem High Schools from the Gem State. 
While that will likely continue, the changes to each 11-man classification in Wyoming may affect Star Valley and will definitely affect Cokeville who will welcome a new school to the 2A group. 
The top ten schools in average daily membership (ADM) comprise the 4A Class. While those schools have not changed in many years, the line between the 3A and 2A Classes often see schools jumping from one side to the other. That will take place in 2024 with the Worland Warriors moving to 2A while recently crowned 2A champ, Torrington, moving to 3A. Combined with Cokeville's determination to "play up" at the 2A level despite their small student enrollment, this will result in a 2A game between the Panthers and the Warriors next fall. 
The Trailblazers notched their first state championship since 1990 but they are no strangers to the 3A classification having played and succeeded there recently including a trip to the 3A title game in 2018. 
Football is the only sport in which Star Valley does not compete in 4A. 
The Panthers advanced to the 2A Quarterfinals, losing 21-14 to the Blazers. Star Valley defended their 3A title from 2022 with a 27-0 win over Cody and will enter 2024 riding a nine-game winning streak. 
Here is a look at the ADM figures for Wyoming high schools as released by the WHSAA for the 2024-25 and 25-26 school years.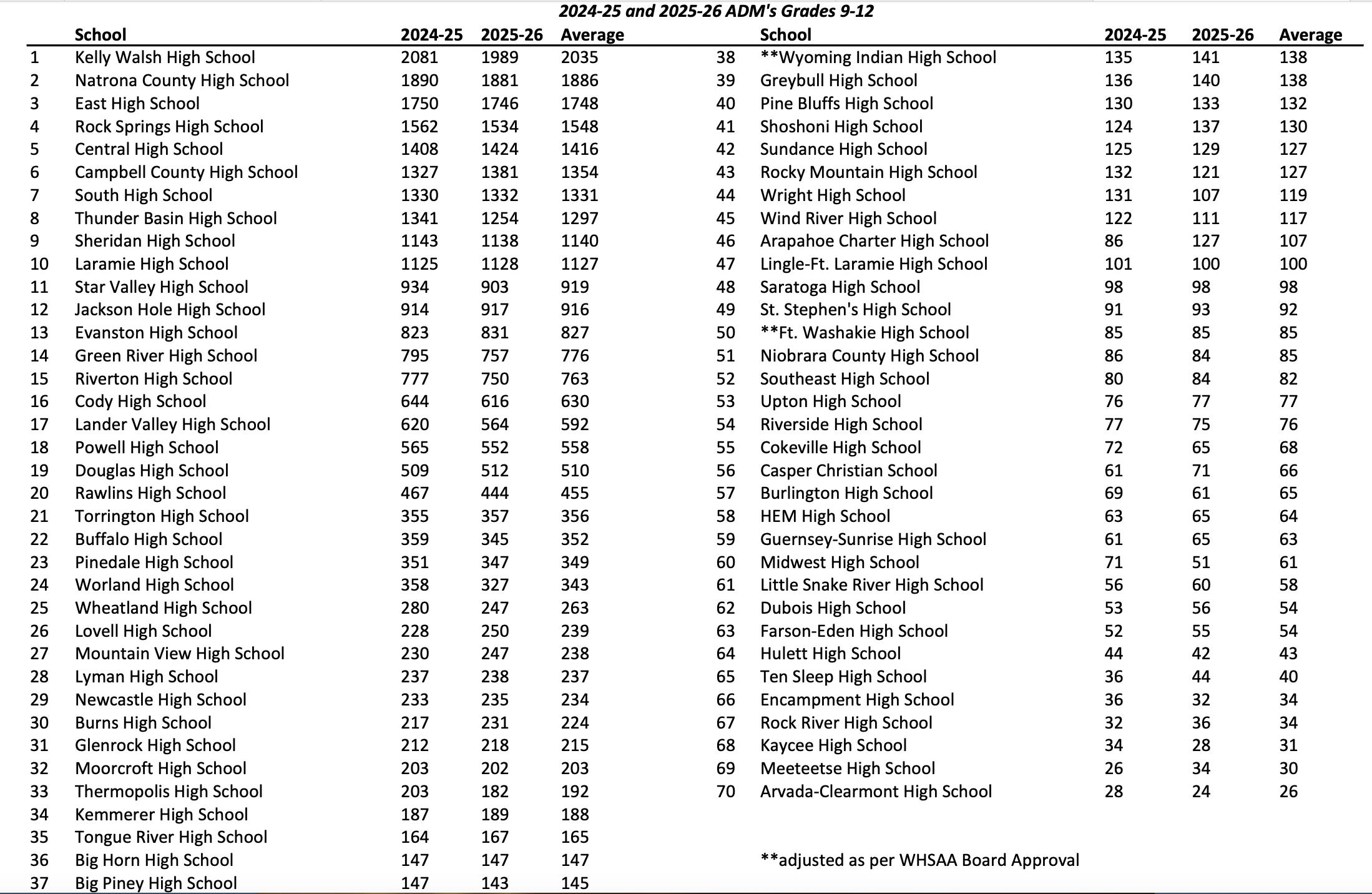 Let us know what you think!