World-class violinist, Jenny Oaks Baker, to perform in Star Valley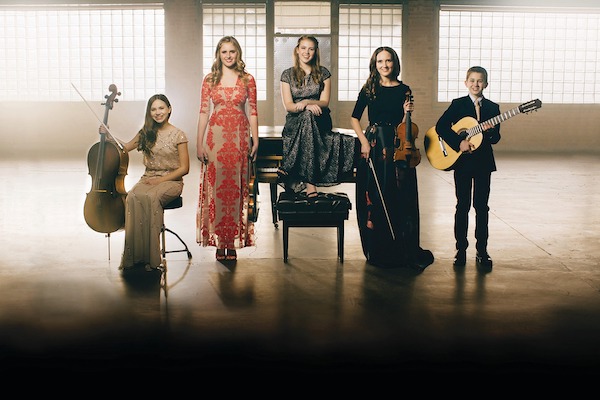 In a recent interview with SVI media, Star Valley Arts Director, Tim Hale, teased an outstanding artist coming to Star Valley soon. The tease was worth the wait. It's Jenny Oaks Baker, world-renowned violinist and Grammy nominee performer.
Baker is a world-class violinist who earned a Masters of Music from Juilliard in New York City, has released 18 albums, performed as a soloist in venues such as Carnegie Hall, Lincoln Center, Strathmore Hall, the Library of Congress, and as a guest soloist with The National Symphony, Jerusalem Symphony, Pittsburgh Symphony, Utah Symphony, and the internationally acclaimed Mormon Tabernacle Choir. 
Her albums have sold nearly a million copies and consistently chart on Billboard. Baker's emotionally stirring music has also been featured on the soundtracks of many films, and her popular music videos can be viewed on her YouTube Channel. Jenny, her husband Matthew, and their four children live in Salt Lake City. 
Hale is rightly excited about it: "We definitely don't want to take credit for this. James and Daphne Arbizu over at Mountain music––they really had been the masterminds of this. We're a financial supporter to make sure that it can happen."
The performance will happen at the Ford Theatre on April 26 at 7:00 p.m. Hale explained that Baker and her children perform together throughout the world as Jenny Oaks Baker & Family Four. "We're six, seven weeks out from this show, and already we've got some easing restrictions. We've got vaccinations happening, so I really think we're going to be able to get more people into that theater, which would be really cool. Absolutely looking forward to it," said Hale. 
Tickets will be available through the Star Valley Arts Council website or through the Ford Theatre 307-886-5660.
Hale outlined other upcoming events sponsored by the SVAC: the Spring Fling happening on May 15 has nearly 20 performers already signed up. It promises to be an outstanding show and will most likely happen at Star Valley High School. 
Hale said, "For those who aren't familiar with it because this is new, it will be very similar to our Stars in the Valley Christmas Concert. But in this case, it's a variety show and it can be anything the performer wants––not Christmas-related, of course, whether it's singing, instrumental, dance––it's going to be exceptional!"  
Also in the works will be a Farmers Market/Art Show on June 6. To make sure the Arts Council is featuring events all across the valley, this event will take place in Thayne in co-sponsored by Kearsley Nursery and the Arts Council. 
In that vein of thought, SVAC reached out to the town of Alpine and offered to bring in a folk band for the Alpine Mountain Days event on June 25 from around 5 or 6-8:00 p.m. in the gazebo area.
The SVAC is gearing up next season as well with Chalk the Walk for the Freedom Festival, co-sponsoring the Vocalist Concert with SVI Media, bringing back Montana Shakespeare in the Park––all in July. Later in the year they will team up with the libraries in the Valley for some fun projects, will feature the Pumpkin Walk, Stars in the Valley Concert, BYU Living Legends, to name a few. It promises to be an exciting year in the arts in Star Valley.
Hale gratefully acknowledged the Arts Council sponsors, "To our supporters, thank you. This is a superb way for those businesses and organizations who sponsor us to get the word out––we help you advertise and bring recognition to you at all of our events. So we're coming up now that our season's in place, we're going to start reaching out to our sponsors. We ask you to see this as an investment in your business and not just a way to donate to a nonprofit like we are. We ask that you please be willing to hear us out  and support the arts in the valley."
Let us know what you think!
Tagged:
Director
Ford Theatre
jenny oaks baker
Star Valley Arts Council
Tim Hale
Violinist