By Margaret Austin
Wyoming Tribune Eagle
Via- Wyoming News Exchange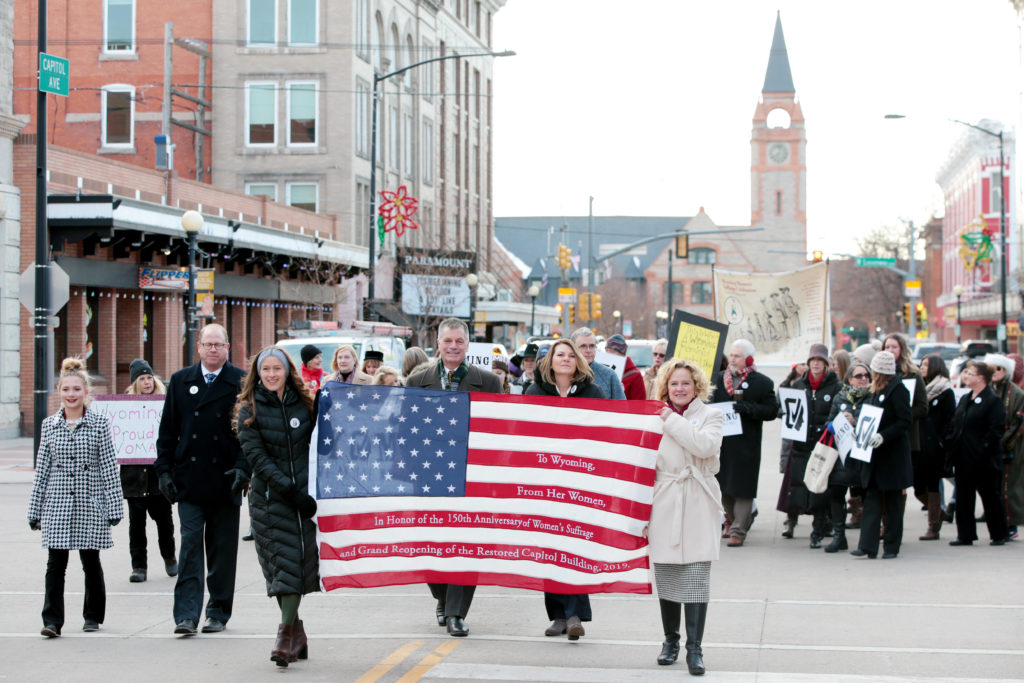 CHEYENNE — At the Wyoming Women's Suffrage Day Ceremony on Tuesday, Gov. Mark Gordon listed off a number of instances where Wyoming was ahead of the rest of the country: first female justice of peace, first woman to vote, first female bailiff, first female governor.
And as current elected officials like Sara Burlingame, Cathy Connolly, Sue Wilson and Tara Nethercott listened, standing as testaments of women's progress in the state, the path paved by Wyoming suffragettes 150 years ago was clear.
"A look through Wyoming's history is a glimpse at our present, and it is what will help us shape our future," Superintendent of Public Instruction Jillian Balow said.
On Tuesday, 150 years since the day the Territorial Legislature passed the women's suffrage bill, residents from all walks of life attended marches, speeches, presentations and documentary screenings to celebrate the legacy of Wyoming women.
"We are the Equality State because we carry forward the legacy of our predecessors in both who we are as women and who Wyoming is as a state," Balow said.

At 8 a.m., nearly 100 people gathered for the Women's Suffrage Anniversary March at 17th Street and Carey Avenue, where the Territorial Legislature first passed the bill allowing women's suffrage in 1869. With signs, banners and posters promoting women's rights, they marched to the state Capitol chanting phrases like "Women vote" and "Justice for all."
"Women have made this state what it is, and we recognize that today," Gordon said.
Local female elected officials presented Gordon with an American flag with a message "To Wyoming, From her women."
When Wyoming became a state in 1890, Esther Hobart Morris, the first female justice of the peace and a symbol of women's rights in Wyoming, presented a similar flag to Gov. John Campbell, who signed the bill into law.
"We had this flag prepared because we want to pay respect to those women that stood before us whose shoulders we stand on today," said state Sen. Affie Ellis, R-Cheyenne.
During the ceremony that followed the march, Ellis talked about how Morris had every right to turn down her appointment as justice of the peace, like many critics of the time wanted. Ellis noted that like most women of the time, Morris was functioning as the heart of her family.
Regardless of situation and criticism from men, however, Morris stepped up to the plate.
"She rose to the occasion, and she did it," Ellis said, "So today, I just want us to all think about women like Esther, who weren't maybe particularly special in their own right, but who stepped up when the time called for it and made a difference."
Wyoming women followed in Morris' footsteps for years to come and created legacies of their own, with Nellie Tayloe Ross becoming the first female governor in the U.S. and Martha Symons Boies Atkinson becoming the first female bailiff.
This anniversary is particularly special for Mayor Marian Orr, who is currently serving as Cheyenne's first female mayor.
"Our voices are very important," Orr said. "We bring a different kind of perspective to conversations. We bring a different dialogue and different ideas when problem solving, and it's a beautiful thing."
As mayor, Orr often visits classrooms and speaks with students, inspiring the next generation of female leaders.
Today, Balow sits in an office named after Estelle Reel, who was the first woman in Wyoming to be elected to statewide office and the second in the country to hold that position.
"I couldn't be more proud to humbly follow in her footsteps, although I'll take traveling in an SUV over a buggy any day," Balow said.
Balow talked about her family and her great-grandmother, who came to Wyoming from the Midwest in a wagon. Balow said she still remembers her great-grandmother's rough hands, which aligned "perfectly" with her work ethic.
"Wyoming stories, sometimes that are told around our kitchen table, are the remarkable examples of Wyoming spirit, Wyoming grit and Wyoming determination," Balow said.
Each resident in this state has their own story to tell about what suffrage means to them.
For Blake Ward, who works with the Wyoming Office of Tourism, this anniversary shows us that women have voices that need to be heard.
For Jayne Mockler, who was previously a state senator in Wyoming, Tuesday served as a reminder that many of our rights must continue to be fought for.
And for Rose Ruiz, who leads the Wyoming Girl Guard, it offered the opportunity to participate in and remember Wyoming history, and share it with the next generations.

"It's important to remember the significance of each person and their contributions, because we're better together," Ruiz said.
Ruiz and her daughter, Emily, led the march alongside the Wyoming Girl Guard, which is comprised of women from the Wyoming Air and Army National Guard.
The group originally formed in 1889 to participate in Wyoming's statehood celebration, and here, more than 100 years later, Ruiz and her team carried on that tradition.
Later in the day, the local chapter of Daughters of the American Revolution, whose main values are education, historic preservation and patriotism, held a ceremony at the spot where the Territorial Legislature passed the suffrage bill.
Earlier this year, a commemorative plaque from 1917 was refurbished by the group and given a more prominent home next to a mural of influential suffragettes.
"May this marker make effective the voice of the memorial," said Jozy Kormen, Wyoming State Chair for the DAR.
Now, anyone who walks past this corner will be reminded of how the Territorial Legislature changed the world on Dec. 10, 1869.
Kormen said, "Nothing is really ended until it is forgotten."
Let us know what you think!
Tagged:
Cathy Connolly
Esther Hobart Morris
Jilliam Balow
Sara Burlingame
Sue Silson
Tara Nethercott
Wyoming Women's Suffrage Day