Wyoming celebrates National GEAR UP Week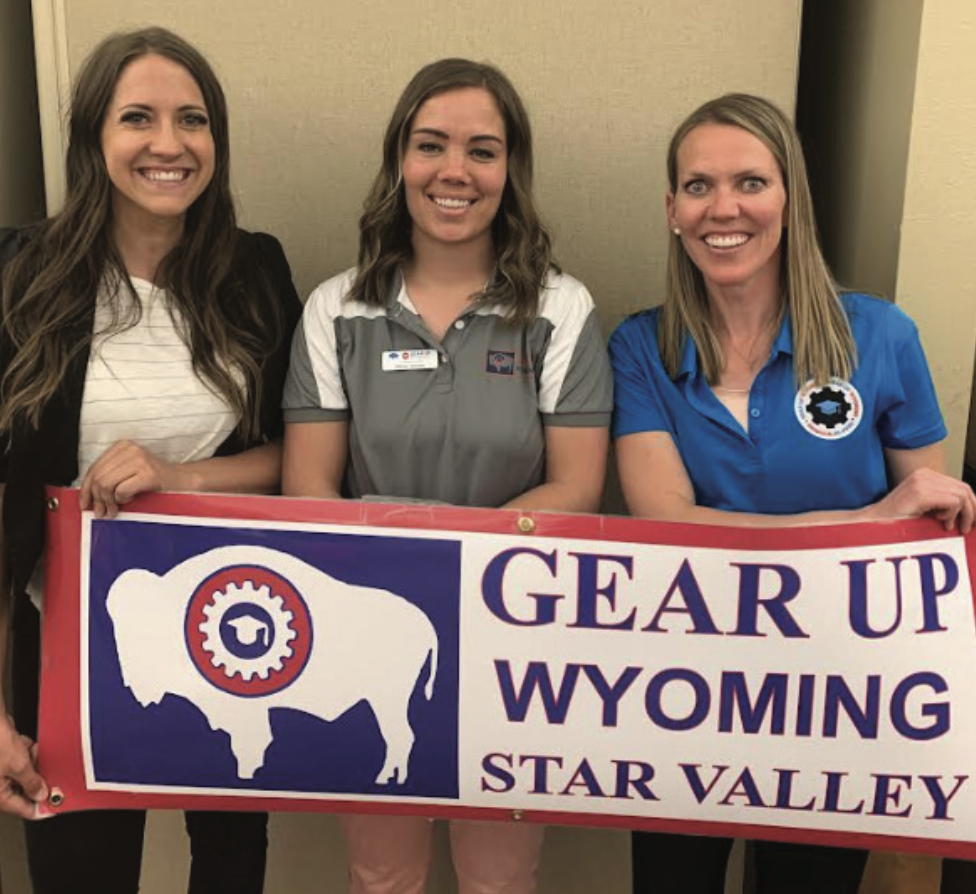 • GEAR UP Wyoming serves 60 students in the Star Valley area.
GEAR UP.  It's a grant-funded national program offered to students interested in preparing for post high school education.  Students in Lincoln County School District No. 2 who are part of GEAR UP Wyoming have access to various support programs and services that lend academic support and help with college preparation. It's a program that helps students develop social, emotional, and academic skills, so they can be successful now and after high school.
GEAR UP Wyoming serves approximately 60 students in grades 7 -12 at Star Valley Middle School, Swift Creek High School, Star Valley High School, and students in Star Valley that school at home. In LCSD No. 2, the GEAR UP program is offered to students 7th through 12th grade who maintain a 2.5 GPA, are interested in pursuing some kind of post-high school education, and who meet established financial qualifications.
"We want students who have a desire to pursue secondary education and have good citizenship," shared Michelle Hale, who serves LCSD No. 2 as a Gear UP Advisor.  "Good kids who are really trying their hardest to do well on their grades and who work hard. We get referrals from teachers and counselors of students they think would fit our program, so then we invite them and they can chose to join us."
Services offered through GEAR UP in middle school include a focus on social skills and communication skills – "Soft skills that are super important when it comes to the workforce and life after high school," Hale explained.
Advisors check in with students regularly to offer encouragement or programs and services that support students who need additional instruction or clarification in their classes.  Advisors help students find the tutoring or academic support they need.  "We make sure that they are keeping their GPA up so that they can qualify for the classes that will be required to receive the Hathaway scholarship, just to help them stay on track so that when they get to graduation, they have kind of checked all their boxes so they can apply for the scholarships that they want.
As students advance through high school, the focus changes to college readiness.  Activities in these years include campus tours of institutions that are likely choices for students in LCSD No. 2.  "This year, we have gone to the University of Wyoming.  We'll be doing Western [Wyoming Community College] next month.  We're doing Utah State next month, as well as BYU-Idaho.  All of these tours are optional, but it gives kids an opportunity to get on campuses and get a feel for where they might like to attend college." GEAR UP students frequently come home from these tours having made friends with other students from throughout Wyoming, and sometimes from other states.
This last summer, with grant money still available from the pandemic, GEAR UP took students to Boston, Massachusetts to tour two Ivy League universities, Brown and Harvard.  They also toured two other universities in the Boston area and enjoyed sightseeing and historic tours.  Only 20 students and six advisors went from Wyoming, but SVHS student Elizabeth Heiner and Hale were among them.
"The kids had a fantastic time, and it was really eye-opening," said Hale. "We had some kids that realized, 'This is actually really doable with scholarships.' They recognized what the colleges offered, and it was really good for them. It was just helping them to broaden their horizons a little bit about the possibilities."
Preparation to take the ACT is a big focus for Juniors in GEAR UP.  Students are encouraged to take the test at least two times, and GEAR UP pays the ACT registration fee for their students to take the test up to four times.  Taking the test more than twice frequently helps students improve their scores, increasing their chances of acceptance to the college of their choice.
ACT study programs, such as ACT Prep and the Magoosh ACT Online Course, are available through GEAR UP for students to learn what to expect from the exam, how to increase their knowledge of ACT content, how to study for the ACT and how to take the ACT successfully.
"Senior year is when we hit it hard," said Hale. "By then, we hope we've built a pretty good relationship with them, so we hope they'll feel comfortable coming to us with questions and different concerns as they start looking past high school. At this point, we are exploring their college options and preferences, trying to help them discover what will be a good fit for them."
GEAR UP helps students explore options and prepare for their choice. Will it be college, a certification, a trade or tech school? Maybe they want to go directly into the workforce or the military.  Advisors meet with students to discuss the options available to them after high school and help them determine their interests and skills. Though career exploration is part of the program from day one, seniors focus on career exploration.
"During their senior year, there's also the big FAFSA (Free Application for Federal Student Aid) push, so we want all our kids to apply for the FAFSA and help them jump any hurdles they might have with that and help them with any complications," shared Hale about the massive online document that every student should complete to help them qualify for financial aid and scholarship money.
"We have a big focus on scholarships," Hale added.  "We want to help them apply for as many scholarships as possible. We help them with letters of recommendation and their resumes, so that they can be ready for work after high school and applying for scholarships or colleges."
GEAR UP students who have met the requirement are also able to apply for GEAR UP Opportunity Scholarships.  According to Hale, it's not difficult to meet the requirements.  It just requires active participation in the program, attending gatherings, meeting with advisors, and participating in a couple of campus tours or summer camps.
Advisors with GEAR UP strive to help parents who are supporting their students in the journey toward post high school education.  "We really want to help educate the parents as well as the students as to different ways you can pay for college and different resources and how you can make it doable.
Hale is grateful for the support of administrators, secretaries, counselors, and staff throughout the district who support students and families in the GEAR UP program. Parents and families also make extra effort to help students succeed in the program and take advantage of the opportunities offered.
Gear UP Advisors to LCSD No. 2 include Hale and Macy Johnson. Sydney Passey, who also lives in Star Valley, is Gear UP's Regional Senior Advisor, supporting seniors at all the sites throughout the southwestern region, including Sweetwater, Uinta, Lincoln and Sublette Counties.
"It's a really fun program," concluded Hale. "There are some amazing opportunities for students." Families who want their students to participate in GEAR UP can visit with any school counselor, or contact Hale directly at mhale@westernwyoming.edu or 307-248-3254 for qualifications and application details.
Let us know what you think!