Wyoming trade director visits from Taiwan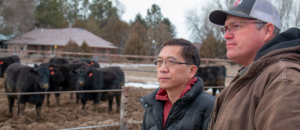 From Jan. 21 to Jan. 25, the State of Wyoming-Asia Pacific Trade Office Director, Chester Chu, took a whirlwind tour of Wyoming. He visited a ranch in Lingle, addressed the state Legislature, met the University of Wyoming President Laurie Nichols, provided market information and export training to the Wyoming Business Council staff and economic development professionals from around the state, toured Pine Bluffs Distilling, and much more.
The state opened the Wyoming-Asia Pacific Trade Office in Taipei, Taiwan, and hired Chu in the fall of 2018 after the Legislature allocated money from the state's general fund to encourage the export of products and services from Wyoming to national and international markets. This was Chu's first visit to Wyoming. He will make another trip later this year.
Throughout the week, Wyoming Business Council staff got a chance to ask Chu about his early successes and his plans for the future of international trade.
Wyoming Business Council: Tell us about your background.
Chester Chu: I am a businessman with 20 years of experience in operations, commercial leadership and management in various industries. I hold an MBA from Loyola University in Chicago, as well.
WBC: What are some of the early accomplishments of the State of Wyoming-Asia Pacific Trade Office?
CC: In the first six months, we've already made big strides. We've opened and remodeled the office itself, and hired Eva Yuen-Yee Choi, who has 10 years of marketing, sales and business development experience, to work with me.
Business Council staff and a total of seven Wyoming business owners have made two trade mission trips to Taiwan since the office opened. The business men and women explored Taiwan, got a sense of its culture and business environment, explored export options and met buyers and distributors in the region.
Another victory was supplying the high-end Toscana Restaurant in Taipei with samples of Wyoming beef from Murraymere Farm, as well as other Wyoming products, in time for former Wyoming Governor Matt Mead's visit in October. This project was a huge logistical challenge, but the Toscana's Taiwanese customers already love Wyoming beef, and the restaurant has requested more of it. We're now working to establish a small, consistent supply to the restaurant to continue to test the market and determine its long-term viability for Wyoming beef.
The trade mission, especially Governor Mead's visit, garnered significant media attention in the region, helping to boost our efforts for Wyoming branding.
We've also discussed trade missions with various other Wyoming companies, and I've researched or visited several trade shows in the region that can provide connections to help kickstart exports of Wyoming products, such as coffee, spirits and outdoor products.
WBC: What makes the Pacific Rim a good fit for Wyoming exporting?
CC: First, in philosophy: I translated Wyoming's Code of the West into Chinese recently and realized how similar our cultures are. We may speak different languages, but the Taiwanese and Wyoming people have much in common. Both are welcoming and helpful to newcomers. Both have an energetic, entrepreneurial spirit and a strong work ethic. Both value freedom and independence. There are cultural differences, of course, but we have a similar vision for the future. These similarities will serve our mutual goals well.
And second, logically: Taiwan relies completely on imported beef. There is a growing middle class with disposable income, plus an increasing taste and demand for American beef. The retail price for beef in Taiwan is likely to more than make up for the cost of exporting it; that's what we are currently working to determine for sure. And that is likely true for other products and industries, as well.
Both the Taiwanese and Wyoming economies are dominated by small- and medium-sized companies. That's different from, for example, Japan and Korea, where only a handful of companies dominate.
WBC: What are your thoughts on Wyoming, now that you've visited for yourself?
CC: I have experienced cold weather, but warm hearts! In Taiwan, 23.5 million people live in about 14,000 square miles, two-thirds of which is relatively uninhabited mountain regions. It's very crowded! Here, there is no traffic; you can drive to an entirely different city in just a few minutes. People work hard, but the pace of life is just a bit slower. Still, I continue to be struck by the many similarities of our people.
WBC: In general, what do the Taiwanese people know about Wyoming?
CC: They don't know much about Wyoming yet, but they do know about Yellowstone and the region. We are working hard to brand Wyoming in the Pacific Rim. In fact, a group of professional Taiwanese photographers will be visiting the Yellowstone region soon to take photos and display them in Asia to encourage curiosity and tourism in Wyoming.
WBC: What are your goals for the future of the Asia/Wyoming relationship?
CC: I have many goals for the next year. First, we need to increase Wyoming branding in the area to raise awareness about everything the state can offer the Pacific Rim.
I will continue to coordinate and host Wyoming companies on exploratory trade missions. I hope to take several Wyoming companies or industries to trade shows in the region. There are opportunities for coffee roasters, outdoor apparel, wine and spirits, and many more.
I will continue to pursue beef exports and hope to incorporate blockchain tracking to add even more value.
I want to expand into additional markets such as technology, tourism and education. Educational exchanges are a great way to increase awareness of both regions.
And I want to look at exporting to other areas such as Hong Kong, Japan and South Korea, as well.
Tagged:
beef
economy
Tiawan
trade
Wyoming Business Council