Wyoming's 2017 births were lowest in more than a decade
By Seth Klamann
Casper Star Tribune
Via Wyoming News Exchange
There were fewer than 7,000 babies born to Wyoming residents last year, the first time the birth total dropped below that level since 2005, according to the state Department of Health.
The figure — 6,904 births in 2017 — was a 7 percent drop from 2016, when there were 7,384. It continues a recent trend of decline. Births have dropped by more than 800 since 2015, when there were 7,716 infants born.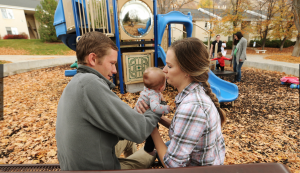 There are a handful of possible explanations, said Health Department spokeswoman Kim Deti. For one, Wyoming's overall population has fallen in recent years, itself a statistic likely related to the state's struggling economy.
In December, the state's Economic Analysis Division found that nearly 6,500 residents have left Wyoming since the energy industry here took a nosedive. That's the most significant population dip since the bust of the 1980s, in which 57,000 Wyomingites left over seven years.
Deti also pointed to a drop in teen births and to the state's aging population as other factors in the decline in resident births. Health Department officials have said the latter is a problem that will exacerbate an already-stressed state Medicaid system.
Deti cautioned that Wyoming's low population can produce somewhat drastic swings when the numbers shift.
"It's something to pay attention to, but you have to take that step back and say our numbers are unusual in some ways because of our low population," she said.
Resident deaths, meanwhile, ticked upward slightly to 4,762 in 2017, from 4,706 the previous year. Deti said that might also be related to the aging population, but she "didn't want to assign … a trend there prematurely."
There were also fewer marriages — 4,125 compared to 4,145 — and fewer divorces — 2,278 to 2,461 — in 2017 from the previous year.
Emma and Wyatt were the most popular names given to the babies who were born last year. Both also topped the list last year. Ava, Harper, Olivia and Charlotte were the top choices for girls names after Emma. Carter, Liam, Oliver, Benjamin and Logan fell behind Wyatt for boys.
Deti noted last year that name popularity often tracks pop culture, which may explain Charlotte: Princess Charlotte is the three-year-old daughter of England's Prince William and his wife, Catherine.
Tagged:
Casper Star-Tribune
Seth Klamann
Wyoming News Exchange