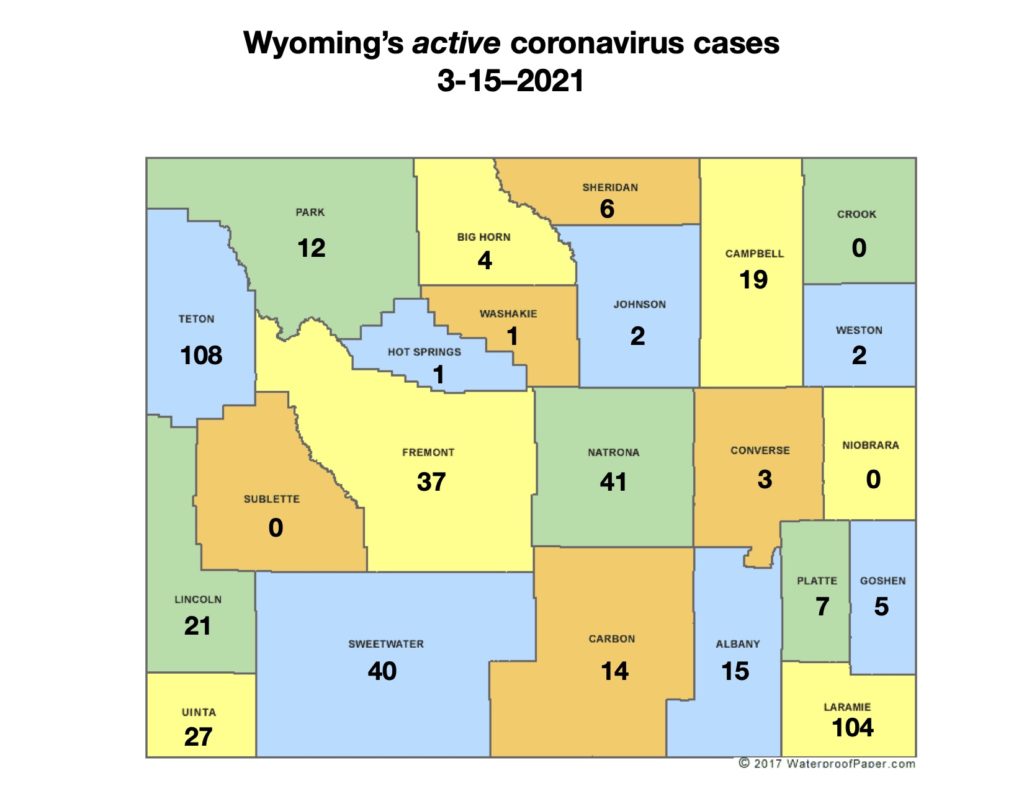 By The Wyoming News Exchange
The number of active coronavirus cases in Wyoming stayed relatively stable over the week ending Monday, with the number of active cases rising by 11.
Wyoming Department of Health figures showed that in the week between March 8 and Monday, the state saw 339 new laboratory-confirmed COVID cases and 85 new probable cases.
At the same time, the number of recoveries from either confirmed or probable cases increased by 404 for an active case count of 469, an increase of 11 from last week.
Teton County had 108 active cases as of Monday; Laramie County had 104; Natrona County had 41; Sweetwater had 40; Fremont had 37; Uinta had 27; Lincoln had 21; Campbell had 19; Albany had 15; Carbon had 14; Park had 12; Platte had seven; Sheridan had six; Goshen had five; Big Horn had four; Converse had three; Johnson and Weston had two, and Hot Springs and Washakie had one.

Sublette County on Monday joined Crook and Niobrara counties in reporting no active coronavirus cases.
New confirmed cases were reported over the week in 19 counties. Laramie County had the highest number of new cases at 79, while Teton had 72.
The increases in confirmed and probable cases brought the total number of people diagnosed with COVID since the first case was detected in Wyoming one year ago to 55,327.
Of those, 54,167 have recovered, according to Health Department figures.