29th Annual Hill Climbs happening in Grover this weekend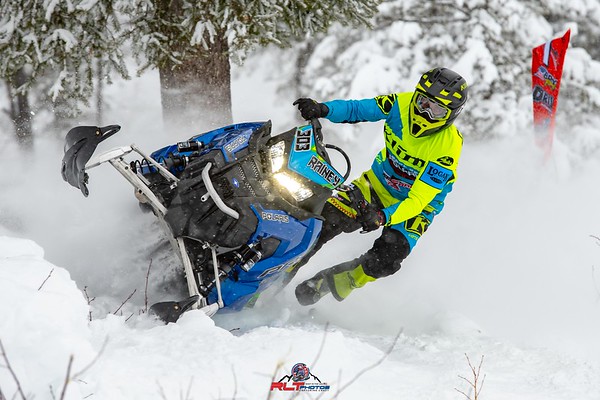 ◆ Spectators are welcome to ride a shuttle from Grover up to the Park during racing hours throughout the weekend.
Fans of snowmobile hill climbing can enjoy the 29th Annual Simplot Hill Climbs in Grover Park this weekend. Since 1993, Star Valley has hosted climbers on a hill second only in difficulty to the world championship hill at the Snow King in Jackson.
Up to 600 members of the Rocky Mountain States Hill Climb Association (RMSHA) come from Utah, Montana, Idaho and Wyoming to participate in the three-decade tradition that begins Friday, February 25 and runs through Sunday the 27th.
"We do have some local racers that are part of that association," explained Dirk Hillyard with the organization committee. "We usually have Brandon Titensor, Luke Rainey, Cole Thomas, Tanner Thomas, Dustin Thomas and Andy Thomas. But most [competitors] come from out of town.

Spectators are welcome to ride a shuttle that will run continually all weekend during racing hours from Grover up to the park where food, beverages and apparel vendors will help make them comfortable.
Bleachers are available for seating, and everyone is welcome to bring their own chairs.
"Friday, we will run the semi-pro and amateur classes," explained Hillyard. "On Saturday, we will run all the pro classes, and Sunday, we will final all the pros. What will see is the snowmobile and rider versus the mountain. It's steep. It's gnarly. It's got stones and rocks, deep trenches. It's challenging! Our racers will tell you that it's the hardest hill next to [the National Championships] because of its natural challenges."
As part of the climbing circuit, each competitor who enters the Simplot climb works throughout the season to accumulate points at each event to qualify for National competition. This event features the nations top climbers.
"It's a really cool event," added Hillyard. "It's spectator-friendly and offers lots of action."
For more information, visit rmsha.net or the RMSHA Facebook page.
Let us know what you think!
Tagged:
Afton Simplot Hill Climbs
Andy Thomas
Brandon Titensor
Cole Thomas
Dustin Thomas
Grover Park
Luke Rainey
RMSHA
Rocky Mountain States Hill Climb Association
Snow King
Tanner Thomas