Afton Food Pantry Fundraiser to be held behind SVI parking lot Thursday July 28th from 11-1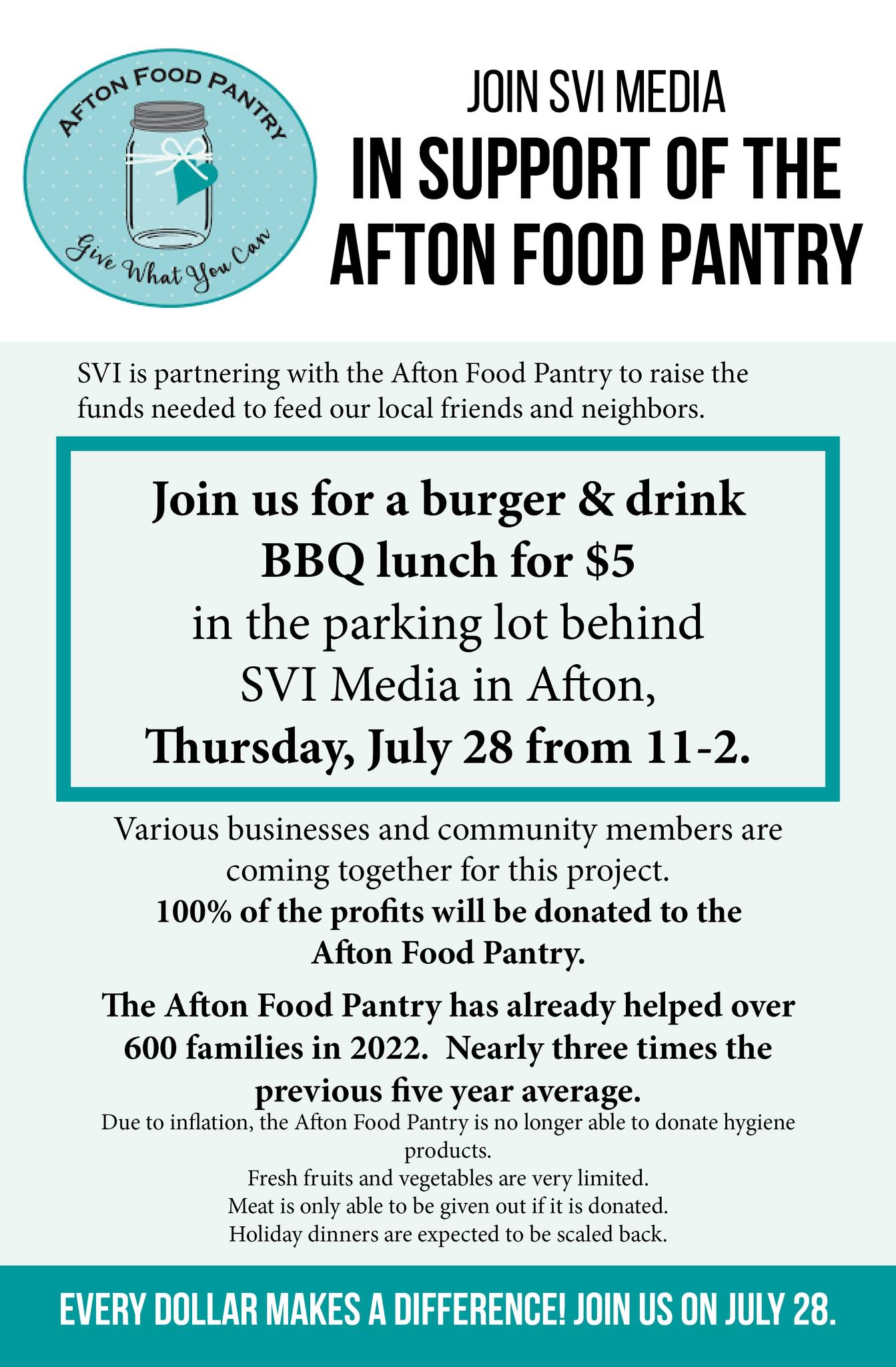 The Afton Food Pantry is joining with SVI to hold a fundraiser Thursday July 28, from 11-1 in the parking lot behind the SVI building.
The event will be a BBQ where hamburgers, chips, and drinks can be purchased for $5 and all the
proceeds go to supporting the organization. Director of the Afton Food Pantry Sierra Mitchell says the shape of the economy has put more pressure on the pantry.
"That all trickles down to the patron that's in need," Mitchell said. "And that trickles down to the pantry that can't maybe supply items because of lack of donations."
She says inflation with higher food prices and gas prices all play a factor and this has created issues with helping those patrons.
"Our numbers are double what they should be this summer," Mitchell said. "Just last week we had eight new people we've never seen."
General Manager of SVI Duke Dance says the goal is to raise a couple thousand dollars for the
organization. Mitchell says that money could go a long way.
"We could buy an entire month, two months worth of food," Mitchell said. "That's how far we can
stretch our money when we're shopping on a very tight budget."
Dance highlighted the businesses that are helping to put on this event.
"We really appreciate the Bank of Star Valley, they're providing the grills for this," Dance said. "We've got First Bank, Assist 2 Sell, Northern Title Hastings, Rocky Mountain Yeti, Skyview Lanes, Silver Star, Hale Financial, Lower Valley Energy [and] Star Valley Health."
"All those businesses [are] donating employees, a lot of them are donating money to help cover the food costs."
The two also highlighted Valley Market as a big help for this event too with providing food. Mitchell says they are a great support to the Food Pantry.
"They actually help all three food banks in our community," Mitchell said. "And have since day one that we opened."
Dance says that he hopes this event will provide immediate assistance, there will be opportunities to help from a long-term perspective.
"What we've done as SVI is partner with the Food Pantry," Dance said. "To make a way to sign up for automatic online donations."
The goal with this is to help the Food Pantry have consistent donations each month to help provide funds. He also says you can sign up for any amount that you wish to donate even if it is as low as $1. He also acknowledges the public has been so good with helping the Food Pantry, but tougher times has increased demand.
Mitchell says consistency in donations could really help her organization. She says a lot of people think of them during the holidays and the big food drive in October, but people get busy and can forget about them. She says it is understandable.
"It totally happens, I am guilty of that too," Mitchell said. "So, we're going to try and make this easy and say, 'Oh don't you worry we'll pull that amount out of your account for you'."
She also says money can often help more than food donations because they can get the different food needed.
"Because right now the Afton Food Pantry does not need any more cans of beans, ever," Mitchell said with a laugh.
She says that a lack of funds has forced them to stop buying certain foods. She also says the holidays are the hardest time and so they may need to save money for that potentially.
Dance says they will have a couple of computers to help people set up automatic payments. If you need more info you can go to the organization's website aftonfoodpantry.com.

Let us know what you think!
Tagged:
Afton Food Pantry
fund-raising for Star Valley food pantries