Afton man found guilty in child abuse case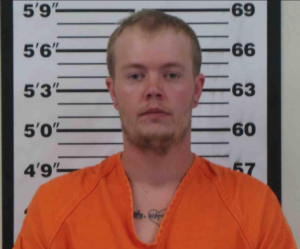 According to information obtained from the Lincoln County Attorney's Office, an Afton man has been found guilty of two counts of Aggravated Child Abuse and was taken into custody on September 19, 2019.
"On September 19, 2019 a Jury of twelve Lincoln County residents found Ty Putnam of Afton, Guilty of two counts of Aggravated Child Abuse stemming from an incident on November 2nd, and 3rd, 2018," the news release stated. "Following the verdict he was remanded into the custody of the Lincoln County Sheriff pending a sentencing hearing. That hearing will take place in the coming weeks."
According to Lincoln County Attorney, Spencer Allred the trial lasted four days in Kemmerer where "testimony was provided through witness accounts, medical personnel, and law enforcement officers. The investigation began when a six month old baby was brought to the Emergency Room at Star Valley Health on the morning of November 3rd, 2018 suffering life threatening injuries. It was immediately apparent by medical staff there that the baby had a major head injury that could not be explained by any accident."
At this point the baby was flown by helicopter to Primary Children's Medical Center in Salt Lake City "where they found two skull fractures, bleeding on the brain, retinal hemorrhaging, and a broken collarbone. Law enforcement conducted an extensive investigation which included multiple search warrants, interviews, review of forensic, electronic, and medical evidence."
According to the Attorney's Office, "Putnam, who was the live in boyfriend of the baby's mother, was arrested on January 15, 2019 following an interview in which he made several admissions as to his role in the baby's injuries."
Each count is punishable by up to 25 years of imprisonment and no more than a $10,000 fine

"We are very pleased with the verdict in this case," said Allred. "This has been a difficult case for everyone involved, especially for this young baby that had to fight for her life. The effects of this abuse will remain with her forever, but we hope that this will at least bring some justice to the situation."
Allred pointed out the various organizations who were part of the investigation.
"We would like to recognize and personally thank members of the Afton Police Department, Lincoln County Sheriff's Office, the Sublette County Sheriff's Office, and agents from the Wyoming Division of Criminal Investigation for their tireless work and dedication in this case," he said. "We would also thank all of the medical professionals at Star Valley Health and from Primary Children's Hospital for their life saving care of this little girl."
Let us know what you think!
Tagged:
Lincoln County Attorney's Office
Lincoln County Sheriff
Primary Children's Medical Center
Star Valley Health
Ty Putnam