Board approves first reading of LCSD No. 2 busing proposals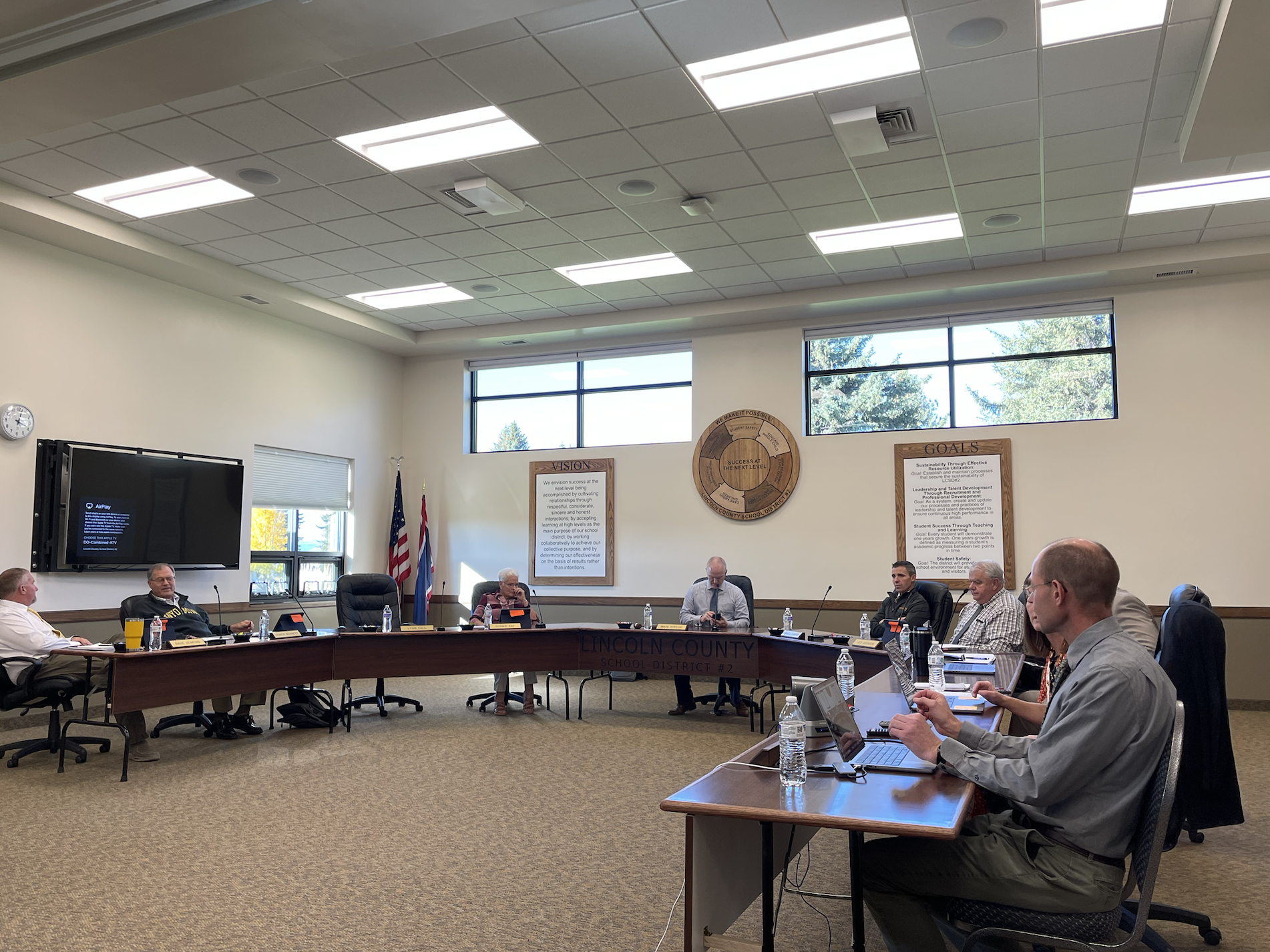 In a special meeting of the Lincoln County School District No. 2 Board of Trustees designed to address changes to bus routes, the board voted unanimously to pass two proposal on first reading. A second-reading will take place for the same two proposals at the next regularly scheduled LCSD No. 2 Board meeting on November 8, 2023. 
Both motions on Cokeville and Star Valley proposals were unanimously approved by the board on Tuesday, October 24. 
Proposed adjustments for Phase 3 of bus routes were presented by Transportation Director, Ryan Lyman. These adjustments would be put in place for the remainder of the 2023-24 school year. Many of these proposals are contingent on a Memorandum of Understanding or MOU between the district and private road owners as those owners would need to approve the use of their road as a turnaround. The proposals included:
1. Backing buses on routes, stuck buses on routes, private property use by buses, need for buses to have snow chains, routes with steep road grades, school bus seat belts.
2. Modified Phase 3 in Cokeville: Bus types and ride times will be determined by the number of students riding. We will work closely with drivers, parents, and students to promote the wearing of seat belts if the bus is equipped with them. The stops in the westside subdivision and within the Cokeville town limits west of the railroad tracks will remain at neighborhood street corners.
a. Two-route scenario – Until a special needs route is available, the district will utilize the 2 routes to develop the best sequence of stops. There may be delays for the secondary PM run as the elementary run is completed. On CR 207 (Cokeville-Utah Line road) the bus will turn around at the turnout as proposed by the Cokeville spokesperson at the September 24, 2023 work session. Students on CR 207 will meet the bus at the county road. The district will provide for two runs per day on CR207. Ten or less stops will be available on US 30/89 to include any private property owners willing to enter an MOU agreement. Students who live on John's Lane and Pine Creek county roads will have stops at the county road.
b. Three route scenario – A special needs route may be available for courtesy riders on WY232 and Pine Creek as allowable per district procedure.
————
3. Modified Phase 3 for Star Valley
a. Chokecherry – Bus stops will continue as is.
b. Cottonwood – Route will start in the AM and end in the PM with Cottonwood. Two or less stops will be available. We support the neighborhood's proposal of a larger turnaround and parking areas or an alternate location with an MOU. We also support their proposal of increased enforcement of parking regulations. We'll work closely with the residents to increase awareness of challenges affecting a safe turnaround.
c. Forest Dell – We'll continue to utilize the new bus stop location.
d. Heiner-Suter – A bus stop will be available at Floyd Drive once an MOU is approved by the school board.
e. Spring Creek – A bus stop and turnaround may be available prior to the hill and curve and on the east side of the county road once an MOU has been approved by the school board. The specific location to be determined by the neighborhood.
———–
One of the primary differences in the proposals is the change of utilizing private property to turn around and make student exchanges. This would get students off of U.S. 30 and U.S. 89 particularly in the Cokeville area.
Once MOU's are filled out and returned by December 1, , the school board will consider taking action for December's board meeting on December 6. If approved, route changes would go into effect on Monday, December 11. 
Two public comments were scheduled with both expressing appreciation to the school board and the transportation department for their efforts in considering the safety of Cokeville student in particular. 
Let us know what you think!
Tagged:
Cokeville schools
Lincoln County School District No. 2
Phase 3 bus routes
Star Valley schools
Transportation Director Ryan Lyman