By Seth Klamann
Casper Star-Tribune
Via- Wyoming News Exchange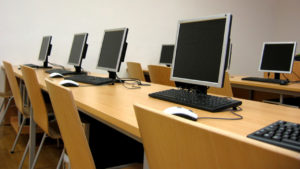 CASPER — It's now up to Gov. Mark Gordon to approve Wyoming's first computer science standards, after the state Board of Education approved the guidelines at its meeting late last month.
"The state board consistently supported the adoption of new standards for Computer Science, that (they) would be rigorous and help prepare students for the jobs of today and tomorrow," Walt Wilcox, the state board's chairman and an administrator in the Natrona County School District, said in a statement.
The board voted unanimously to adopt the standards at its Nov. 22 meeting. The standards had previously been approved by the board in the spring, and the board opened up the guidelines to public comment. In June, the body also asked the state attorney general's office for guidance on some of the standards.
Computer science is the latest edition to the state's educational "basket of goods" — meaning the group of content areas that must be taught to Wyoming's students. Computer science was created as part of legislation during the 2018 session and is the first new addition to the basket since it was created in the 1990s.

The standards had a small hiccup earlier this year, when the state board sent them back to a review committee because there was concern that they put too much of a burden on teachers.
"The teachers are tasked with some pretty heavy lifts, especially in those early grades because you're getting a huge variety of where those students are," Ryan Fuhrman, a Sheridan County junior high teacher and member of the state board, told the Star-Tribune in May. "We're holding (teachers) accountable as a state to their reading and math scores. When we're essentially creating a whole new standard, teachers were rightly like, 'We're already working to get this reading and math score, it's not like we have some extra time in the day where we're sitting around.'"
But the state board's approved in the spring and vote last month sends the standards to a final hurdle in the form of Gordon. The governor will have 75 days to review the standards. The standards include some that are priority — meaning required — while others are set as "enhanced" or "supporting" standards.
The state's 48 school districts have until the 2022-23 school year to implement the standards, which must be finished and submitted to schools by Jan. 1, 2022.
To support the effort, multiple grants and programs have started over the past year to support computer science. The University of Wyoming has hosted a training camp for teachers, while Microsoft provided a grant to help jump start the new content area.
Let us know what you think!
Tagged:
Governor Mark Gordon
standards for Computer Science
University of Wyoming
Wyoming Board of Education