Braves battle to 3rd place finish in return to 4A Class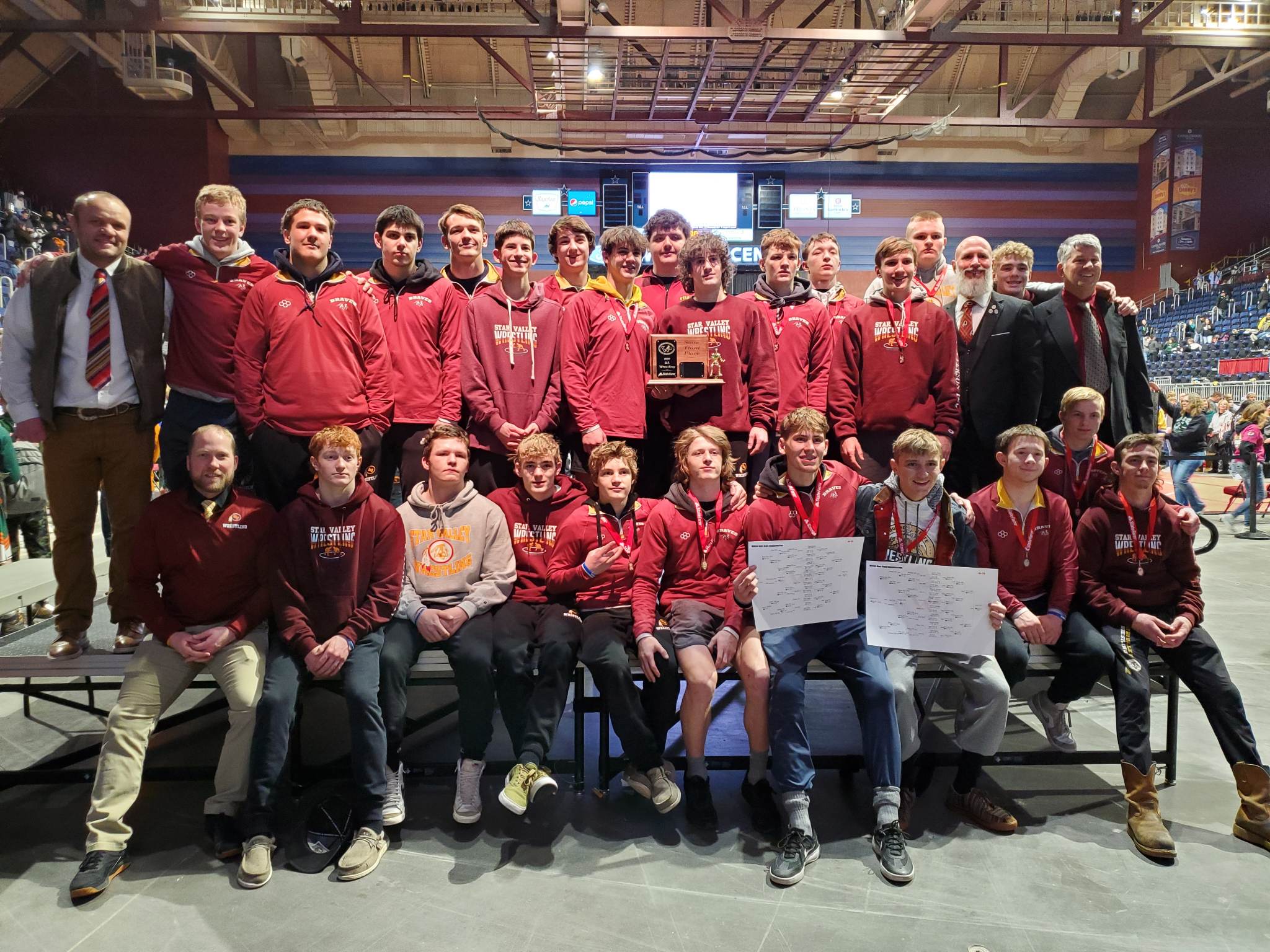 • Byrd, Parry and Weiss win state championships – 
The Star Valley Braves wrestling program graduated 14 seniors and saw the vast majority of their point scorers depart due to graduation. In addition, the program rejoined the 4A Class for the first time since 2011 which encompasses Wyoming's largest schools. 
It is unlikely that Star Valley, based on recent growth, will ever return to the 3A ranks. But it it weekends like this one that remind both the locals and the rest of the Cowboy State that they will be just fine. 
The Braves built and developed over the course of the 2022-23 campaign and finished third in Wyoming's 4A with 235.0 team points on Saturday night in Casper. The Sheridan Broncs took the championship with 260.0 and Thunder Basin finished in the runner-up position with 247.5.
Natrona County, who edged Star Valley for the 4A West Regional crown last week, was more than 40 points behind the Braves this week for fourth place. 
"The crazy thing is I talked to a few guys who coach in the 4A as we were making that move," stated Head Coach Eddie Clark. " I [said] how many does it take to win it and they said 225 will  win it almost every year. We scored 235 so that's just the way it went."
The Braves advanced eight into the semifinals and four into the finals. Of those four, Levi Byrd (106), Tel Parry (126) and Grant Weiss (170) claimed state championships. Joseph Naef (145) was the runner-up in a tight 7-5 decision.
"We wrestled outstanding," Clark said. "Thunder Basin had a great [Saturday] morning and Sheridan had a great Day 1. We Never really had a bad round. Thunder went perfect; didn't lose a match in the consolations semis; I've never heard of that. We just didn't have enough points to catch up."
Considering all the challenges the team faced with graduation, the class shift and injuries, the staff was well-pleased with the team's efforts.
"Super proud of our kids," Clark added. "There's not a bit of disappointment. We wrestled super well and our kids competed really hard. I felt the growth of this team was one of the best we've had in a long time. This was supposed to be a rebuild year and the kids bought in and came a long way."
Clark also commented on the champions which includes the rarity of a freshman state champ in Parry. 
"Levi had an awesome tournament. He was the favorite and he performed to those expectations. He lost to the kid he beat in the semis earlier in the year and he worked on some things and those things paid off. Tel with an outstanding freshman year. He's beat a lot of really good kids.  It's been a long time since we've had a freshman champion. Joey had a great finals match and was in it until the bitter end. And Grant? We had a game plan for Grant and he stuck to it and got the job done."
In conclusion, Clark stated that the rest of the 4A schools have a different opinion of the Braves than they once did. 
"We're right there," he said. "The other coaches were coming up after saying they knew we'd bring a lot but didn't realize how much. They were very complimentary of our kids. In the past they were disappointed we showed up and now they're excited because they think we've brought a great level of competitiveness to the class." 
• Podium Consistency 
In 24 seasons under Coach Clark, the Braves wrestlers have finished in the top three of the state tournament an amazing 22 times including this season. It is the 14th consecutive year Star Valley has finished in the top three spots of their class. In those years Star Valley has won the state championship 11 times and finished as the runner-up seven times.
The staff includes Eddie Clark, Winston Patterson, Casey Parry and Adam Baker.
Star Valley State Qualifiers: (* = All-State)
106: Levi Byrd – State Champion*
113: David Weiss – (1-2)
120: Bridger Smith – 3rd Place
120: Caleb Morrison – 5th Place
126: Tel Parry – State Champion*
126: Malachi Patterson – 3rd Place
132: Paxton Wolfley – 4th Place
132: Payton Andrews – (1-2)
138: Cameron Kendall – 4th Place
138: Ty Thompson – (1-2)
145: Joseph Naef – State Runner-Up*
152: Porter Merritt – 3rd Place
152: Damien Burgess – (1-2)
160: Kooper Burk – 3rd Place
160: Tristan Jensen – (0-2)
170: Grant Weiss – State Champion*
170: Jayden Kunz – (2-2)
182: Grant Thomson – (2-2)
195: Joseph Warren – (2-2)
220: Ryan Talbot – (1-2)
285: Weslee Turner – 5th Place
285: Brysen Baxter – (1-2)
Let us know what you think!