Bryson Quinney receives Dreams in Motion award whole-heartedly
On March 5 it will be a year since Bryson Quinney, a young man from Lyman, WY, got a new heart. When Quinney was born 14 years ago, the right side of his heart didn't develop the way it should have, so last year his heart was struggling to keep up.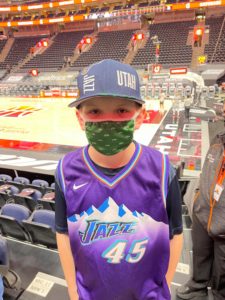 His dad, Eric, explained, "He had to wear oxygen all the time and things started to kind of fail on him." Bryson received his heart right at the beginning of the pandemic, but his body "hasn't loved his new heart."  
Dad, Eric, said, "He's a trooper. He's plugging along and, and he's 14 now––just begging to go to school. What 14-year-old boy wants to go to school? He just wants a little normalcy, and slowly we're getting there. We're just not there yet"
Bryson's plight captured the attention of the Dreams in Motion organization and Bruce Tippets, who is also a transplant recipient himself. 
Eric Quinney is a well-known referee for a variety of sports around the state, so that's how Dreams in Motion learned of Bryson's difficulties.  
Bryson received a letter explaining that he was awarded as the first hero for Dreams in Motion to go see a Jazz game in Salt Lake City. It was a complete surprise for Bryson and a perfect pick-me-up for him. 
Quinney explained that there was an unusual side benefit to receiving a heart transplant during the pandemic: "The entire population is very aware of the need to social distance and to stay away from people that are immunocompromised. It was a big help that people understood to protect Bryson, so we're not going to come visit."
Bryson has to take an extensive amount of pills morning and night, about 15 pills in the morning and about another 15 at night. They have to be taken precisely at 8:00 a.m. and 8:00 p.m. and can't be off by 5 minutes before or after those times.
Currently, Quinney is having to do daily shots to keep his white blood cell counts up to fight off infection in his body. Doctors are trying to keep his body in good shape to accept his new heart, but he needs his immune system to fight off the bugs.
"It's not just COVID we've got to keep him away from the flu, the stress, the minor colds and sniffles and, or food-borne illnesses that our bodies typically can fight off. His immune system is just so suppressed right now that we just got to keep him healthy and happy, which means isolation," said Eric Quinney.
Bryson Quinney is a huge sports fan, so he was thrilled to receive the invitation to attend the Jazz–76ers game. He said, "Heck yeah, we can go watch him play it because I want to watch Donovan Mitchell beat up on Ben Simmons." 
Quinney yelled for Mitchell even though Simmons scored 42 points. According to dad, he had a great time and loved it.
 "It's a big deal. And we're looking forward to supporting Dreams in Motion to help other kids and, and people as well. You know, I love high school sports. I love sports in general, said Quinney. "We're just so grateful for everyone's support, and also just one little plug at the end: if you haven't chosen to donate your organs to somebody that needs them when you no longer do, please make that choice and donate life to others. It certainly has blessed our family, and we hope that we can be engaged in that movement as well."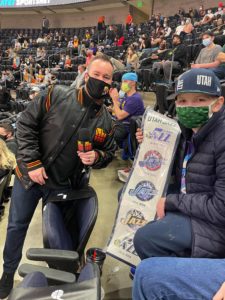 Let us know what you think!
Tagged:
Bryson Quinney
Dreams in Motion
Eric Quinney
Lyman Wyoming
Utah Jazz