Celebrating your 'whys,' your 'reasons'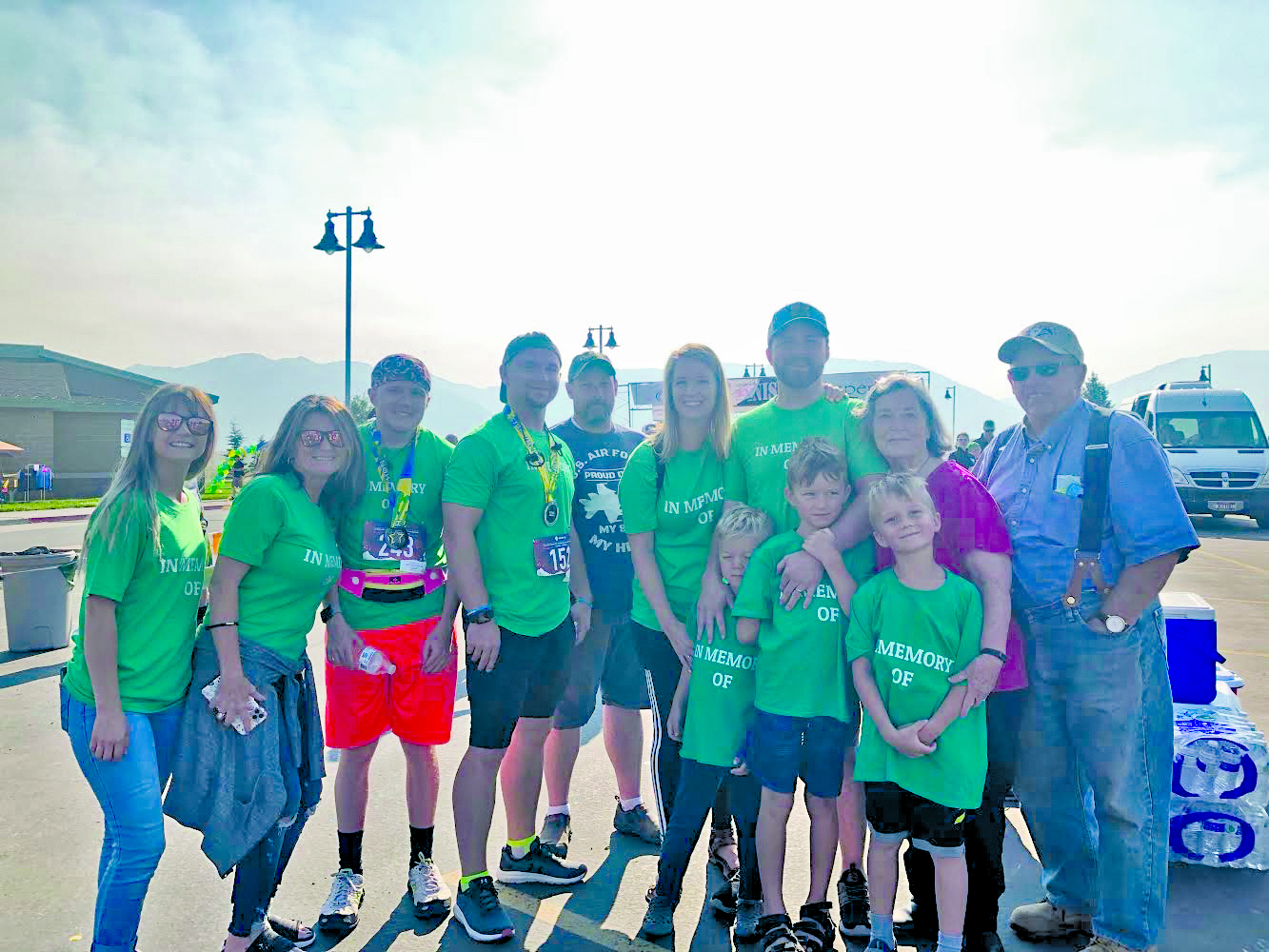 ◆ Sons of family man who died of cancer finish Star Valley Half Marathon 'for dad'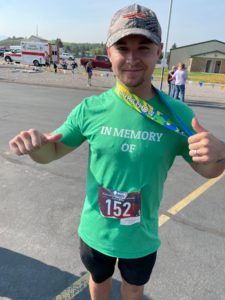 Find your why. Be the reason.
This, in essence, was the message the family of Dwight Graham hoped to share as they gathered July 10 for the Star Valley Half Marathon to cheer two conquering sons. As Dustin, 22, and Tad, 24, crossed the finish line at Thayne Elementary, they were greeted by family members all wearing the same green T-shirts with the image of a smiling husband, son, father and grandfather.
And that photo on the shirts – green for Dwight's favorite color – exudes the kind of hope Holly Graham and her children want to give the valley.
Taken just two weeks after a diagnoses of cancer, Dwight Graham just kept smiling. Through it all. Through tests, chemo, pain and facing death, the 57-year-old father of five and grandfather of six already knew his reasons.
"You can do hard things. You can show love for everyone no matter who they are. That's what his life was about," Holly told SVI Media the week after the half marathon.
"His life was very difficult,, but he was rising above it. He wanted everybody to know that it's possible to do hard things."
But most of all – "you can do anything with love."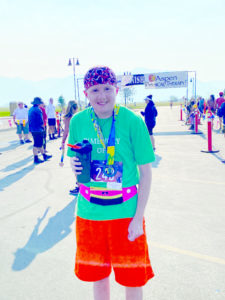 That was a motto for not only the way Dwight Graham lived, but for also the way he died. His greatest fear after being diagnosed last summer with stage IV pancreatic cancer was not pain or death, as related by his wife, Holly.
His only fear concerned the feelings of others. "That was the number one thing for him, making sure he wasn't doing anything or saying anything that would be hurtful."
Seeing the green T-shirts at the finish line, SVI Media caught up with Holly and her son, Tad, to tell the story of a man known and loved for 10 years at Star Valley High School as an aid for special needs students.
"We had 36 years together," she added, looking back. "We were inseparable."
Married in Seattle, Washington, in 1985, the Graham family began life in Washington State, where they raised their two oldest children, Alyssa, now 34; and Patrick, 33. After an 8-year gap, they had three more children, Ross, now 26; Tad and Dustin, who were 10, 9 and 7 when the family pulled up stakes 16 years ago and moved to Star Valley.
Holly has worked at Etna Elementary and now teaches kindergarten at Afton Elementary. Dwight, along with special needs at the high school, also built homes at Teton Village – almost right up until his death.
Only two weeks after the diagnoses in August, the family took a family photo — with Dwight's inset being used for the T-shirts. "Our whole family got together. We didn't know how much time Dwight had," Holly said.

As the weeks passed, Holly related, she noticed something about her husband. "It was almost like he was changing getting ready for heaven. He was good to people and positive, even amongst the pain."
Then in late March, "everybody came home for spring break. That was our last week for the family. Our kids and grandkids. Spring break was like a miracle week. We all did family activities together and what not."
And Dwight did them right along with the family, Holly said, at times with emotion, emphasizing the "miracle week."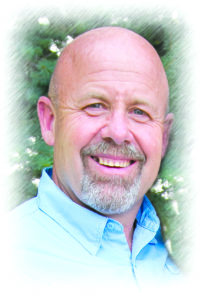 On April 10, Dwight Melvin Graham passed peacefully – something else his wife calls a tender mercy. "He didn't have to suffer."
In the weeks leading up to that day, Dustin sat down with his dad. "I'm thinking about running the half marathon. But Dad I want to run for you," Dustin told Dwight.
He asked his dad if he'd be there to watch. "Dwight said, 'Buddy, I don't know. But I'll be watching from up above if I'm not,'" Holly recounted.
That's really a tender time. He wanted to run for his dad. [Then] Tad was like, 'We need to be both doing this, Buddy.' Dustin gave him the training schedule.
They both crossed the finish line July 10. "Tad was very emotional crossing the line, and that, of course, made Mom emotional. He looked right up to the sky and thumbed up to the sky for Dad," Holly said.
As Dustin finished, Holly told his dad was proud. He said, "I know, Mom."
Only oldest daughter Alyssa with her family, who live in Washington State, couldn't be present.
For Tad, running with his little brother was what his dad would have done. In fact, Dwight finished the half marathon in 2017, or thereabouts. Dustin had also finished once before.
"My dad was always somebody who never did anything halfhearted. He was always 100 percent when he did something. It hit me that my dad did a lot of hard things in the last nine months of being on earth. If Dustin is running for dad, why not me, you know?"
Bonding closer with his brother was a cherry on top. "To have that connection with him I thought that would be super special."
Tad Graham said the cheering at the end from family and friends boosted his spirit. "I saw my nephews running up to me cheering. [My family], my grandparents. To see them out of love and joy…."
That support in life, Tad emphasized, is crucial. "There are people around you to support you in your race. And you look for them or ask for that help.
"Everyone has their reason – why you go through hard things. Dad would want us to come together and celebrate the hard things he did."
And the joy of his reasons.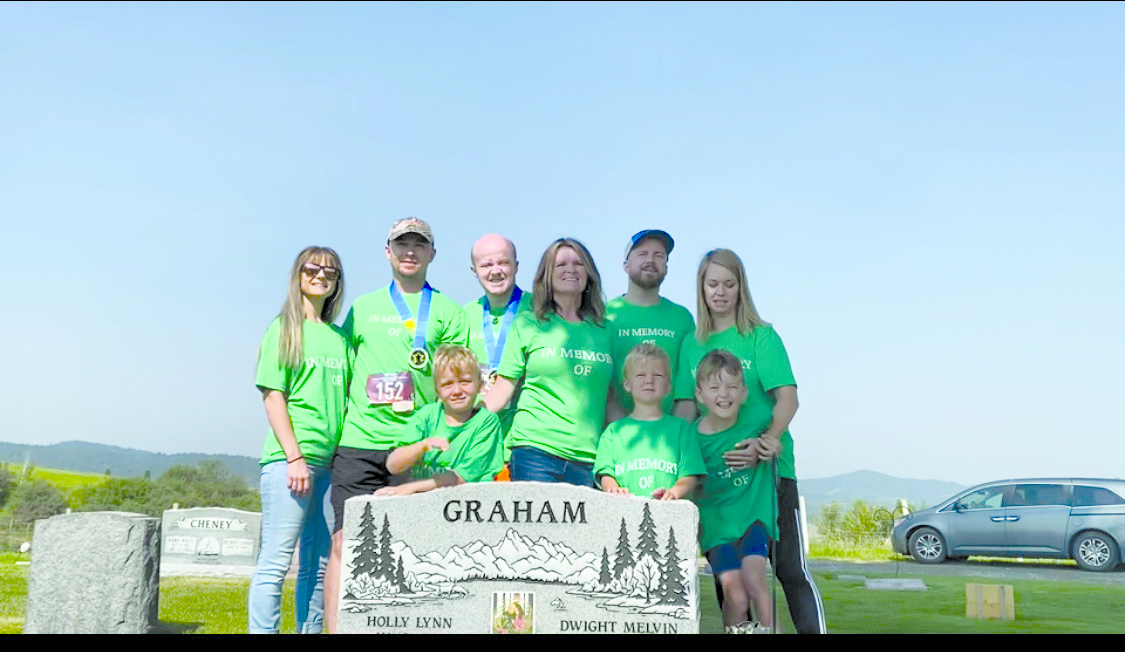 Let us know what you think!
Tagged:
Dwight Graham
Holly Graham
Star Valley Half-Marathon