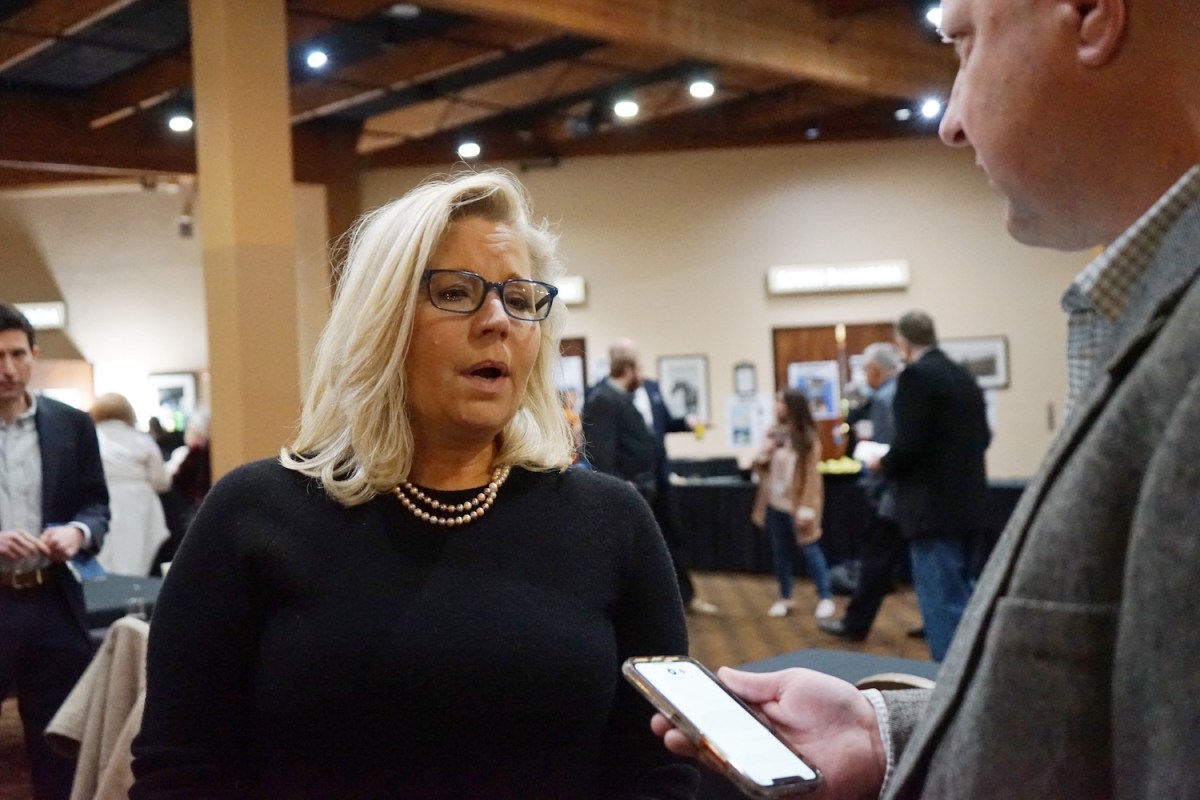 By Jonathan Make
Wyoming Tribune Eagle
Via- Wyoming News Exchange
CHEYENNE — Rep. Liz Cheney, R-Wyo., played a major role at a prime-time televised hearing Thursday evening of the congressional committee she belongs to which is investigating the Jan. 6, 2021, attack on the U.S. Capitol.
She used the opportunity to directly and repeatedly criticize one of her main political foes: former President Donald Trump.
Appearing on live television from Capitol Hill as only the second legislator to address this session of the Select Committee to Investigate the Jan. 6th Attack on the U.S. Capitol, Cheney laid out some of the evidence she said the panel had gathered.
Much of what she discussed purportedly showed that Trump continued to try to overturn his loss of the 2020 presidential election, even though he knew that he did not legitimately win.
Cheney spoke in much greater detail about such evidence than even the panel's chairman, U.S. Rep. Bennie Thompson, D-Miss., who had opened the hearing.
As Thompson turned the hearing over to Cheney so she could give her opening remarks, he also took time to praise his congressional colleague.
"She's a patriot. A public servant of profound courage and devoted to her oath and to the Constitution," Thompson said of Cheney.
Responding, Cheney stated, "Let me echo those words about the importance of bipartisanship."
She later went on to say that Trump's apparent support for the aims of those who went to the Capitol on Jan. 6, as Congress was formally tabulating the electoral votes to elect now-President Joe Biden, helped to fuel the ensuing riot that led to injuries and deaths.
Trump believed his supporters at the Capitol "'were doing what they should be doing,'" Cheney said, quoting from some findings during the panel's investigation. She said the public would hear testimony from some half-dozen Trump White House staff that "the president did really want to put anything out," in the words of the investigation.
Cheney remains vice chair of the select committee, which has only one other GOP member. That second Republican member, Rep. Adam Kinzinger of Illinois, is not running for re-election this year, unlike Cheney.
On the Saturday of this year's Memorial Day weekend, Trump traveled to Wyoming to stump for one of Cheney's main Republican rivals in the congressional primary, Harriet Hageman. That day, Trump spoke to many thousands of his fans in Casper, which is viewed as a hometown of sorts for the Cheney family.
In a nod to the unusual nature of having a nighttime hearing instead of the usually staid, daytime affairs, Thompson, as he began the session, thanked "everyone watching tonight."
The idea behind holding this outside of regular business hours is to achieve "impact and public exposure," noted analyst Rick Edmonds of the Poynter Institute for Media Studies.
"A purpose of these kinds of hearings, particularly on a divisive thing like this, may be rallying the base, rather than changing anybody's mind," Edmonds said by phone Thursday afternoon.
So while the remarks from Cheney and others may not change the minds of any Trump supporters, it may be a goal of the hearing's organizers to inform the public after a lengthy investigation, the longtime media expert added.
This gives Cheney a good "chance to stand out," although she already is a prominent politician, who until recently was part of House GOP leadership, Edmonds said.
"On a very polarizing issue, she's on the opposite side of many Republicans," he noted.
It is uncertain how Cheney will fare in Wyoming's Aug. 16 primary election, as there has been no independent polling that has been made public so far, experts have noted in recent days.
While there may not be a clearcut frontrunner, especially between Cheney and Hageman, in the GOP primary, it does seem likely that the winner would go on to win the general election on Nov. 8.
The Cook Political Report appears to show that Wyoming's sole congressional seat is essentially a lock for a Republican to win.
Perhaps illustrating the divided nature of Americans and of some of the media they consume, the nation's No. 1 cable network, Fox News Channel, did not show all of the hearing, unlike many other television networks. Asked for comment about the discrepancy, spokespeople provided a news release showing that the event would be live streamed on several of its websites. But at least one of them also did not appear to have shown the entire hearing. And a spokesperson noted that the hearing was also being televised on Fox Business Network.
At Thursday's hearing, Cheney went over some of the interviews that investigators had conducted with former officials of Trump's administration.
Much of what she recapped showed aides did not themselves believe that he had won a second term.
During Cheney's remarks, videotaped interviews were shown of such former officials as ex-Attorney General William Barr, communications strategist Jason Miller and even at least one member of Trump's own family.
Barr recounted having told Trump that claims he won a second term were not accurate, as far as he could determine. Barr said he told the then-president "in no uncertain terms that I did not see evidence of fraud that would have affected the outcome of the election."
In the one and a half years since then, Barr said he had seen nothing to contradict this assessment.
Speaking later during the hearing, and also via previously videotaped remarks, Trump's daughter, Ivanka Trump, indicated that she accepted some of Barr's conclusions about voting in the election. Recalling Trump's actions on the day of the deadly riot on Capitol Hill, Cheney said he did little to tamp down the dangerous situation.
Early that evening, for instance, the lawmaker recalled, "after he spent hours watching a violent mob" attack the Capitol, "he tweeted, but he did not condemn the attack. Instead, he justified it."
Cheney listed an array of Cabinet and other officials whom Trump did not contact during the early hours of the riot to try to seek more law enforcement and military assistance to stop the incident. Trump, in her telling, "was yelling, was really angry at advisers" who wanted him to do more to stop the melee. Trump reportedly said his vice president, Mike Pence, "deserves it."
The president had for hours failed to "immediately instruct his supporters to stand down and to evacuate the Capitol'," Cheney said. As the incident was unfolding just "a few blocks away, President Trump sat watching television in a dining room next to the Oval Office," Cheney said.
The investigative committee will demonstrate with social media posts and information from court and other documentary information that "on this point, there's no room for debate, those who invaded our Capitol … were motivated by what President Trump told them," namely that he was the rightly elected candidate and not Biden, Cheney said.
Members of the Jan. 6 committee said that there may be a few more hearings in the coming days and weeks.
At one of those, Cheney said, it will be shown that Trump and/or his staffers "knew that he had, in fact, lost the election, but despite this, President Trump engaged in a massive effort to spread false" information "that fraud had stolen the election from him."
As Cheney wrapped up her opening remarks (later on, she asked questions of witnesses), she had some words for her fellow Republicans.
Her words were aimed at those who might continue to supportTrump.
"There will come a day when Donald Trump is gone. Your dishonor will remain," Cheney said.
She said she hopes "to set aside partisan battles, to stand together, to perpetuate and preserve our great republic." She then turned the proceedings back over to Thompson. About an hour later, Thompson wrapped up the hearing for the night.
Let us know what you think!
Tagged:
President Donald Trump
Rep. Liz Cheney R-Wyo.
U.S. Capitol