Coburn Fire burning on the Snake River Range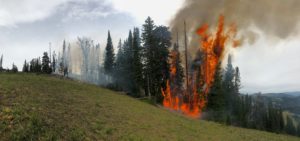 The Bridger-Teton National Forest has a new fire to report on the Jackson Ranger District. The Coburn Fire was discovered on August 22 in the Snake River Range. Located at 9,000 feet in elevation on a ridge in upper Coburn Creek, the fire is one-half mile east of the Caribou-Targhee National Forest boundary. This fire, estimated to be a quarter-acre in size now measures three-quarters of an acre.
The Coburn Fire is burning in timber and brush wish some tree torching and spotting into adjacent timber. Firefighters on scene include two Teton Helitack members with Helicopter 35HX, two firefighters from Engine 441 and eight smoke jumpers from West Yellowstone. Firefighters on the ground have completed chainsaw line about 50-percent of the fire and the helicopter is dropping buckets of water.
The cause of the fire is unknown and under investigation.

Let us know what you think!
Tagged:
Bridger-Teton National Forest
Caribou-Targhee National Forest
Coburn Fire
Teton Helitack