Colorado man's 'illegal' heli landing is the latest spin in Grand Teton's aerial drama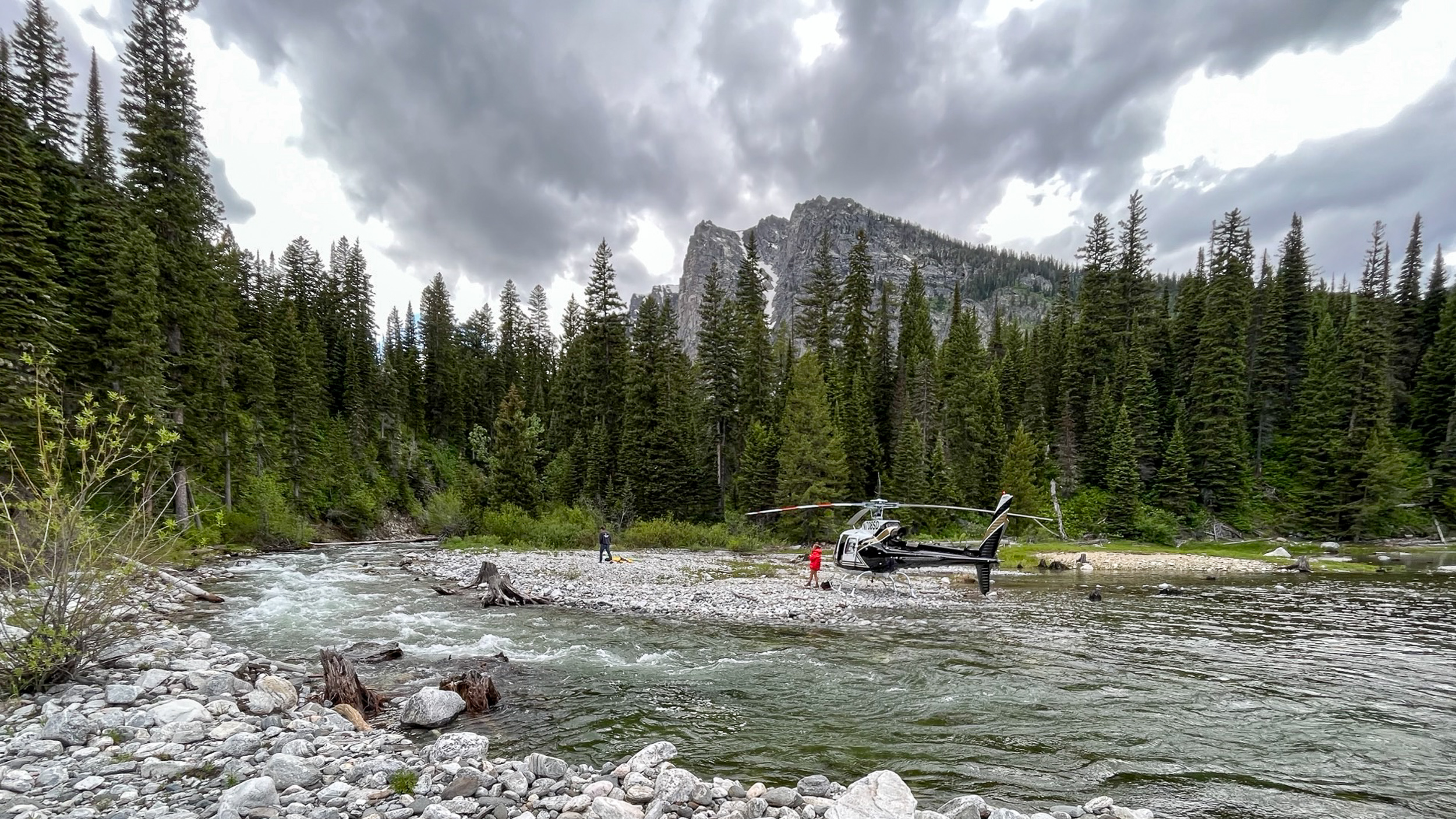 • Park, airport have spent years grappling with aircraft tours.
By Billy Arnold
Jackson Hole News&Guide
Via- Wyoming News Exchange
JACKSON — When Grand Teton National Park announced Monday that a Colorado man illegally parked his helicopter on the west shore of Jackson Lake a few weeks ago, the pilot denied the park's claim that he was "picnicking."
Jackson Hole aviation watchdogs rolled their eyes.
"It's pretty clear that this guy's just throwing whatever he can up against the wall," said Dave Sollitt, executive director of the Jackson Hole Conservation Alliance, which has spent years fighting helicopter tourism in Teton park, arguing it doesn't belong among the peaks.
As the pilot, Peter Smith, of Gunnison, Colorado, publicly contests its story, the National Park Service is continuing to press charges against him.
"Nothing is changing," Grand Teton spokeswoman Valerie Gohlke said Monday afternoon.
The Park Service says that Smith illegally landed his chopper June 24 on Moran Bay and that he has a history of illegally operating aircraft in national parks. A press release, which came out Tuesday, said rangers caught Smith "picnicking" with a companion near his helicopter.
Smith said that the charges against him are misguided — it wasn't a "picnic," he said — and that he does not have a history of illegal overflight in national parks.
On Wednesday, the day this article was published, Grand Teton officials clarified that Smith had not been charged over a national park, but a national recreation area next door.
Both tracts of land are managed by the National Park Service.
The incident was the latest installment in a yearslong drama about whether aircraft tourism should be allowed in, or can be barred from, Teton park. In the past, debate centered around a heli-tour company owned and operated by Tony Chambers, of Hoback Junction, who recently offloaded his Jackson Hole air tours to a Montana firm. Another business, Fly Jackson Hole, owned by Pete Lindell, also stirred controversy with scenic airplane flights.
But the latest incident shows that interest in exploring the park's airspace comes from far beyond Jackson Hole. The park and airport have received complaints in recent years about Montana heli-tour companies flying over noise-sensitive areas. Smith, an air tour operator, told the News&Guide that he flew to Jackson from Colorado, but did not say whether he was flying for personal or professional reasons.
"The implication is that the parks are no longer for the wildlife," Sollitt said, adding that the incident shows that the Teton skies are increasingly becoming a place for people of means to play around. That, he said, is troubling.
"It's going to destroy the park experience for a lot of visitors," he said.
The incident comes as the number of airplane flights in and out of Jackson Hole Airport has increased exponentially over the last 30 years. The facility is the only commercial airport inside a national park and operates on a special agreement granted in 1983 by the U.S. Department of the Interior. At the time, commercial jet traffic was limited to six flights a day.
But in August the last three years, the number of arrivals and departures in a single day has exceeded 140. On Aug. 16 and 17, 2021, there were a total of 173 arrivals and departures each day, most of them private jets, according to the FlightAware tracking site. Airport officials have said those figures could be even higher, as the airport tracks some aircraft that FlightAware cannot.
Meanwhile, the 1983 operating agreement stipulates that there would be "no significant increase in cumulative or single-event noise." A primary objective, the agreement states, is that "future airport operations are controlled in such a manner that aircraft noise exposure will remain compatible with the purposes of Grand Teton National Park."
The mid-June snafu and Monday exchange between the Park Service and Smith also follow a string of other clashes among helicopter pilots, land managers and advocacy groups across the mountain West.
In April, Chambers, the former operator of Wind River Air, pled no contest to stealing another man's snowmobiles off the Bridger-Teton National Forest. In 2020, a Bozeman man was fined $500 for illegally landing his helicopter in a wilderness area to fish. He apologized.
Public Employees for Environmental Responsibility also has spent years suing the Federal Aviation Administration and National Park Service over the two agencies' failure to produce plans for managing air tourism in parks that see more than 50 overflights a year.
Teton park historically has been excluded from the group that courts have ordered to produce air tourism plans. Following a heated controversy over helicopter tours in the late 1990s — which spawned the Alliance's "Heli No!" bumper stickers — U.S. Sen. Craig Thomas, a Wyoming Republican, drafted a bill to ban all scenic flights over Teton park, but it never became law.
Teton park has far fewer overflights than national parks like the Grand Canyon or in Hawaii that see tens of thousands of tourism flights annually. As part of a recent proposal, two Hawaii national parks proposed reducing the number of flights over their parks by the thousands.
Park Service officials did not respond to a request for comment Tuesday about why they don't have an air tourism plan and where, exactly, pilots can fly — or drop their choppers — in the park.
Generally, the Federal Aviation Administration asks pilots to stay 2,000 feet above the ground.
Sollitt said approving a plan in Grand Teton actually may have an unintended effect: green-lighting future overflights.
Sollitt said the lack of a plan could signal how difficult it has been for the FAA and Park Service to agree on what level of air tourism is appropriate. In 2021, when the Jackson Hole Airport considered reissuing Chambers a permit to operate from its airfield, the Park Service opposed the permit.
But FAA officials told the airport that failing to issue Chambers a permit would lead to an investigation and threaten federal funding.
"Parks have specific goals to work with in terms of wildlife, experience, all that kind of stuff," Sollitt said. "The FAA has promotion of commercial aviation as their primary goal, as their primary objective — and those things are going to be necessarily disparate."
Smith threatened this newspaper with a lawsuit for reporting Teton park's claim that he has a history of run-ins with aviation law near national parks, but he backed off after an online story was updated with his view.
At the time, Smith said any future contact with the paper would be through a lawyer. Court documents show that Smith is representing himself against the U.S. government.
Later, Smith called the paper back to say that he'd been interviewed by the FAA, which had dismissed its case against him. The FAA, however, declined to comment.
"The FAA does not confirm or comment on investigations of individuals," spokesman Ian Gregor said via email.
Smith did not say why he was flying in the Tetons or who he was with — whether his passenger was a guest or a client. Gohlke said rangers referred to the duo as a "couple."
The pilot owns West Elk Air, which offers helicopter and bush plane tours and other aviation contract work, according to the company's Instagram page. The page, which has more than 1,700 followers, was private Monday afternoon, the day the Park Service announced charges against Smith. The company's website also was down, although internet archive databases show it was active as recently as June 2.
On Monday, Smith also spoke with the Cowboy State Daily, telling the online outlet that he had landed for only 10 minutes.
But Gohlke said he was likely there for longer.
Visitors reported Smith's landing at 3:02 p.m. June 24. Park law enforcement got in a boat, crossed the lake and contacted Smith at 4:53 p.m., almost two hours later.
"It was him and his female companion," Gohlke said.
Smith said that when he was approached by rangers, he had stopped on the lake shore because of weather conditions. He had intended to fly over the Tetons but wasn't able to because of flight conditions, he said.
"That was an emergency landing that we performed because of weather and a sick passenger," Smith said.
Smith said he was worried about the clouds and realized he'd need to land after flying into Jackson that morning. He said he looked up wilderness boundaries — helicopters are not permitted to land in wilderness — and assumed that wilderness boundaries were outside the park and parked the chopper on the lake shore. The northern portion of the park west of Jackson Lake is managed as wilderness.
"We were trying to get over the Tetons and we couldn't, so we landed," Smith said.
Smith said he was thrown off by seeing boats in the bay.
"I would never assume they allowed motor boats and water skiers in a national park," he said. "It's still my fault where I landed, but it was a very innocent mistake that was made and quickly corrected."
Meg Jenkins, public information officer for Jackson Hole Airport, said Smith stopped there for fuel and paid for overnight helicopter parking on the evening of June 24. Jenkins didn't know where he was headed.
"We have no idea," Jenkins said. "At that point, it's kind of like a gas station and a parking space — they don't tell us where they're going and what they're doing. Once they're in the airspace, it's all FAA."
Smith was charged with two violations under the Code of Federal Regulations: "operating or using aircraft on lands or waters other than at locations designated pursuant to special regulations" and "use of aircraft shall be in accordance with regulations of the FAA," according to park officials.
Each violation is a class B misdemeanor and could carry a $5,000 fine and/or six months in jail.
Gohlke said Smith is scheduled to appear before U.S. Magistrate Judge Stephanie Hambrick in August. Court documents show that the hearing is set for 9 a.m. Aug. 15 in Jackson.
The unauthorized landing of helicopters is prohibited in Teton Park to protect wildlife and other natural resources and to preserve the visitor experience, the park's release said.
In the Monday press release, park officials said Smith was cited in February for "flying a fixed wing aircraft below minimum safe altitude," which is against FAA regulations, in the Black Canyon of the Gunnison National Park.
In that case, Smith paid a $530 fine set by a federal judge. Smith, however, said the violation did not occur in the Colorado national park.
"It was north of the Black Canyon; it was north of the national park," Smith said.
On Monday, Gohlke said the mention in the release of Smith's prior violation was the information she received about the February incident. On Wednesday, Gohlke clarified that the violation occurred over the Curecanti National Recreation Area, which is directly adjacent to the park. Both parcels are managed by the National Park Service.
Let us know what you think!
Tagged:
Grand Teton National Park
helicopter pilot Peter Smith
Moran Bay
National Park Service