Community colleges seek $30 million
By Kevin Killough
Powell Tribune
Via- Wyoming News Exchange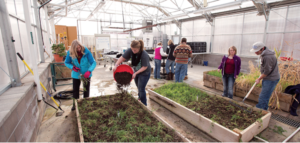 POWELL — Wyoming's community colleges are hoping to get $30 million in state funding to support their operations, which was proposed to Gov. Mark Gordon but not included in his budget.
"We need more money to do the things we're expected to do by the state, and by 'we,' I mean not just Northwest College, but all community colleges," NWC President Stefani Hicswa told the college's board of trustees this month.
In her role as the president of the Wyoming Community College President's Council, Hicswa presented Gordon with a $30 million funding proposal in November.
It requested funding in four "critical areas" of need: $10 million for economic development and diversification, $7.5 million for faculty recruitment and retention, $7 million for scholarships and student recruitment advertising, and $5.5 million for increased campus security measures.
The governor didn't include the funding in his budget, but said in his budget message the colleges' introductory letter to the proposal was "compelling."

Hicswa said at the board of trustees meeting this month that the colleges now intend to request the funding from the Legislature.
"Thirty million dollars sounds like a lot, but when we take our cuts that we've received and add the inflationary factor … that means there's a shortfall of $53.8 million to make us whole again," Hicswa explained, referring to a shortfall across all community colleges in Wyoming.
The colleges will pursue the funding as a block grant, as they don't want four separate pieces of legislation for each of the areas of funding, Hicswa said.
On behalf of Wyoming community colleges, Laramie County Community College President Joe Schaffer will be presenting the proposal to the Joint Appropriations Committee.
Besides declining state support, the college has also lost revenues from declining student enrollment. In response to the budget shortfalls, the college laid off several employees earlier this year, as well as other adjustments in spending.
While no programs were cut, the school has reduced some student services, and a few students have come forward to voice their complaints over the cuts during the public forum portion of the board of trustee meetings. This month, a couple faculty members also expressed dissatisfaction with annual salary increases not being met.
Hicswa and the board discussed the possibility of students and faculty coming to legislative committee hearings to tell their stories so lawmakers can hear from those impacted by the college's financial difficulties.
Speaking after the meeting, Hicswa urged NWC faculty and students to work together on solutions.
"It's important that we come together now to direct our combined energy at finding avenues to reverse this trend," she said, "including visiting with our local legislators about our stories and how the budget crisis is harming real people. We're stronger together than we are apart."
Hicswa also plans to approach the Legislature's Management Council with a proposal to have the Joint Education Committee oversee community colleges, which would allow the colleges to make budget requests to the Interim Joint Education Committee when they meet in the summer.
Funding requests would then go from the Joint Education Committee to the Joint Appropriations Committee.
Currently, there's no clear process outlined by which the colleges can request funding, so they usually go directly to the governor or the Joint Appropriations Committee.
Let us know what you think!
Tagged:
Northwest Community College
Wyoming Community College President's Council
Wyoming community colleges