Contestants Selected For Teen Vocalist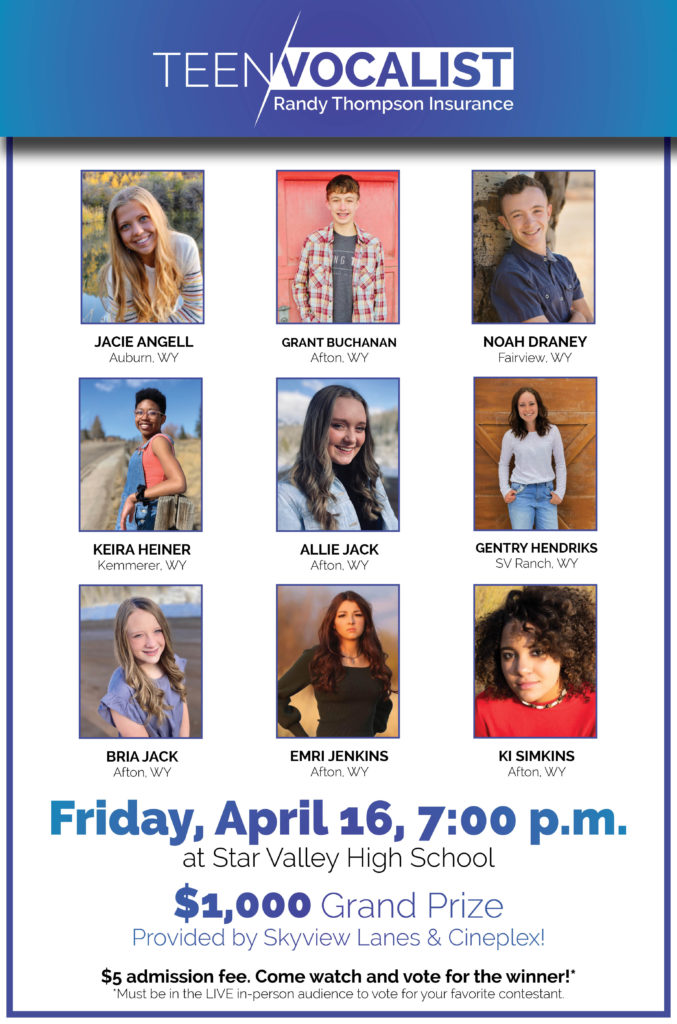 ◆ Nine Youth Singers from Around Lincoln County to Compete for $1,000
The contestants have been selected for Teen Vocalist: Presented by Randy Thompson State Farm Insurance after a competitive audition process. A record number of auditions were submitted, with only nine contestant slots available.
Noah Draney (Fairview), Grant Buchanan (Afton), Allie Jack (Afton), Bria Jack (Afton), Ki Simkins (Afton), Emri Jenkins (Afton), Jacie Angell (Auburn), Gentry Hendriks (Star Valley Ranch) and Keira Heiner (Kemmerer) were the contestants selected to compete. Simkins, Angell and Allie Jack are returning contestants from last year.
"This was one of the toughest selections we've had to make since we started Teen Vocalist," said David Cazier, co-organizer of the event. "It was really difficult for the selection committee to decide who got in and who didn't. We had to get really picky with the auditions. There were some really good singers who didn't make the cut, but just by razor thin margins."
In fact, it was so difficult that the committee decided to add an extra seat. Normally only eight contestants compete, but this year it will be nine. "It got to the point where the committee just couldn't justify why one singer should be in and another should be out. So we decided to expand the field," Cazier said.
The nine contestants will now begin preparing for the competition which will take place on Friday, April 16 at 7:00 p.m. in the Star Valley High School auditorium. Skyview Lanes & Cineplex has donated a $1,000 prize to be given to the winner. The winner will be chosen by a combination of three on-stage judges who will make up 25% of the vote each. An audience vote which will make up the other 25%.

"The format will be very similar to what our Vocalist competitions have been in the past," stated Cazier. "Each contestant will compete in the first round. Then four contestants will advance to the final round where they will sing again followed by the winner being chosen."
Cazier explained that the event will be broadcast live on SVI Media and will be free to watch around the globe. However, unlike the main Vocalist competition held during the Lincoln County Fair, only those attending the event in-person, not those watching the broadcast, will be allowed to cast a vote during Teen Vocalist. This is done to help level the playing field so contestants with a larger social media following don't have an advantage.
New to the Teen Vocalist event this year is the addition of a secret judge. This person will join the event remotely and will provide feedback and comment along with the other two judges. However, the judges face and voice will be disguised so no one will know who it is until the person is revealed between the two rounds.
Cazier stated that Teen Vocalist is "very excited about the addition of the secret judge. It will add an element of intrigue that other singing competitions don't have." Cazier further explained that this secret judge is also a big name in the music industry. "You'll recognize who it is when they are introduced," he said. "This judge has performed all over the world and has five number one hits. We are really excited and blessed to have this person."
E.J. Pauni of Cokeville and winner of The Vocalist in 2018, along with professionally trained singer and vocal coach Karen Wallentine of Kemmerer, will be the other two judges during the event.
During Teen Vocalist there will also be announcements made regarding the main Vocalist event that will be held during the Lincoln County Fair on Monday, August 9. Audition dates will be given along with an announcement on who the new celebrity guest judge will be.
"This is shaping up to be the most exciting season of The Vocalist yet," said Cazier. "And it all starts with Teen Vocalist on April 16. It's not a show you want to miss."
Tagged:
Allie Jack
Bria Jack
Emri Jenkins
Gentry Hendriks
Grant Buchanan
Jacie Angell
Keira Heiner
Ki Simkins
Noah Draney
Skyview Lanes
Teen Vocalist