Dispatchers in Lincoln County recognized for outstanding service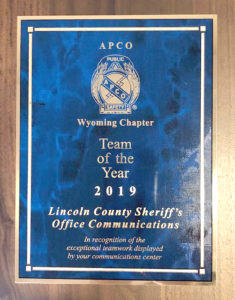 It was high praise this month for the Afton and Kemmerer dispatch centers in Lincoln County this month.
The local dispatch service was selected as "Team of the Year 2019" from the Wyoming Chapter of The Association of Public Safety Communications Officials and the National Emergency Number Association.
The award was presented at the organization's annual conference November 4-6 in Casper.
"This is an honor to our dispatchers and a reflection of the hard work they put in daily for our citizens and visitors in Lincoln County," said Sheriff Shane Johnson. "Congratulations to each member of our communications team."
The award was presented to the dispatcher centers in Lincoln County "in recognition of the exceptional teamwork displayed by [their] communications center."
Maryanne Christensen, of the Afton Dispatch Center, was also named as "Supervisor of the Year."
According to Sheriff Johnson, most people live day in and day out without having to use emergency services of law enforcement.
"That's a good thing," he said. "But when something does happen our dispatchers do a great job. What a neat thing it is for them to be recognized for what they do."
In addition to the awards ceremony, the conference included training sessions and group discussions on topics related to public safety.
Let us know what you think!
Tagged:
Afton Dispatch Center
Kemmerer Dispatch Center
Maryanne Christensen
Wyoming Chapter of The Association of Public Safety Communications Officials and the National Emergency Number Association