Drive For Five: Braves complete fifth title run with 244.0 team points.
With a stellar Saturday morning combined with Friday night's efforts, the Star Valley Braves Wrestling team mathematically wrapped up the 2020 3A team title by the time those in attendance went to the lunch break on the final day of the Wyoming State Championships at the Casper Events Center.
The title is the fifth straight for the Braves who finished with 244.0 team points, keeping a comfortable cushion on all the other 3A teams for the duration of the tournament. The Douglas Bearcats finished second with 198.0 team points.
"This is a special group," head coach Eddie Clark said of the 2019-20 campaign. "Clear back to last summer there was a great chemistry and feeling in the room this is an incredibly hard-working group of guys who supported each other all season long."
It is the ninth state title in Clark's 21 seasons at SVHS. He is assisted by Adam Guild, Winston Patterson and Casey Parry.
In all, Star Valley put together 15 state placers from their group of 24 who competed in the tournament. Ten of those placers will be eligible to return next season including four finalists who earned All-State honors and finished second. Those finalists were Jacob Guild (sophomore), Waylon Nelson (junior), Winston Green (sophomore) and Brayden Andrews (junior). David Walker advance to the finals and finished second as a senior.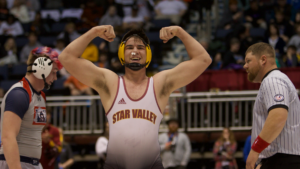 Trent Clark (195) and Parker Merritt (285) capped off repeat state titles in their senior year. Merritt completed an undefeated season at 38-0. Clark flexed both biceps to the huge Star Valley contingent before making the shape of a heart and blowing a kiss to his mother in celebration. Merritt underlined the "Star Valley" on the front of his singlet before putting up two fingers.
Other returning eligible placers for next season are Joseph Naef (5th at 113), Joseph Thompson (3rd at 132), Haze Child (3rd at 138), Kale Johnson (3rd at 145), Zac Patterson (4th at 160) and JaAren Smith (4th at 182).
The team will lose placing seniors Spencer Larson (3rd at 126) and Ren King (4th at 152).
Look for more detailed coverage including the traditional commemorative poster in the March 4, 2020 edition of the Star Valley Independent. also look for photos gallery this week here at svinews.com.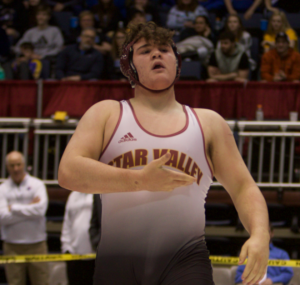 • Controversy
After awarding the Green River Wolves the 4A team title at the conclusion of the tournament,  the Wyoming High School Activities Association (WHSAA) found a scoring error in the tournament which then gave the team title to Kelly Walsh who finished with 211.0 to Green River's 208.5. Reportedly the Wolves were on their way home and were in Rawlins when they received the news. The title gives the Trojans a repeat championship after winning their first ever last season.
*** Update: Green River High School is citing WHSAA rules that state all clerical errors must be resolved within 30 minutes of the end of the tournament are are refusing to return the trophy. Officials from GRHS and the WHSAA are meeting on Monday March 2.
• 4-Timers
Dawson Schramm of Kemmerer became the second Ranger to claim a fourth state title in as many seasons as he defeated Dustin Simmons of Glenrock by technical fall (16-1) to win at 132 pounds. Schramm joins Donny Proffit who accomplished the feat for KHS last season.  Five minutes later, Jace Palmer won his fourth title for Kelly Walsh, also at 132 pounds.

• LCSD #2
The Cokeville Panthers got a late present as they clinched fourth place in the 2A standings after Lovell's Coy Trainor pinned Will Baker of Southeast in the 285 pound weight class. The win cemented the Panthers spot as they sat with 119.0 team points and kept Southeast in fifth with 117.5 total points.
Cokeville was led by Wes Teichert who won the title at 160 pounds over Hunter Garoutte of Moorcroft. Cael Thompson (120) also advanced to the finals where he lost in sudden victory to Kemmerer's Connor Vickrey.
FOR FULL RESULTS OF THE WYOMING WRESTLING CHAMPIONSHIPS CLICK HERE.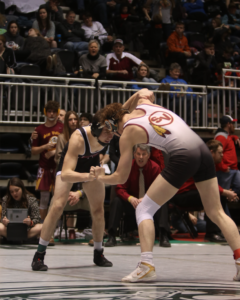 3A Team Scores
Star Valley  244.0
Douglas  198.0
Worland  168.5
Powell  158.5
Lyman  117.0
Cody  116.0
Pinedale  107.5
Burns-Pine Bluffs  94.0
Riverton  87.0
Rawlins  69.0
Buffalo  59.0
Newcastle-Upton  58.0
Wheatland  56.5
Lander  47.0
Jackson  46.0
Mountain View  40.0
Torrington  30.0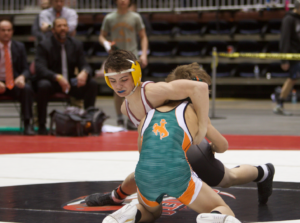 2A Team Scores
Moorcroft 203.5
Lovell 137.0
Shoshoni 29.0
Cokeville 119.0
Southeast 117.5
Thermopolis 114.0
Wright 113.5
Greybull-Riverside 112.0
Kemmerer 110.0
Wind River 104.0
Hulett 96.5
Niobrara County 81.5
Glenrock 80.5
Big Piney 76.5
Lingle-Ft. Laramie 57.0
Rocky Mountain 46.5
Tongue River 31.0
Sundance 26.0
Saratoga 21.5
H.E.M. 14.0
Dubois 4.0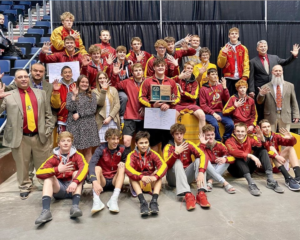 4A Team Scores
Kelly Walsh 211.0
Green River 208.5
Cheyenne East 202.0
Thunder Basin 189.0
Natrona County 185.0
Sheridan 156.0
Evanston 100.5
Rock Springs 100.0
Cheyenne Central 84.0
Campbell County 74.0
Cheyenne South 35.0
Laramie 33.0
Tagged:
Parker Merritt
Star Valley Braves Wrestling
Trent Clark
WHSAA
Wyoming state championship wrestling