Etna students fundraise and donate money to support local health care providers
Students from Etna Elementary's student council led the school in a random-acts-of-kindness fundraiser during the month of February––and donated the proceeds of over $500 to Star Valley Health Care Foundation this week. 
Students and staff at Etna were given the opportunity during the week of Valentines to purchase "Candy Grams" as part of the random-acts-of-kindness effort. Students could purchase the Candy Grams for 50 cents and write an anonymous, kind note to another student with a small piece of candy attached.
Student Council Adviser and school counselor, Abby Kurt-Mason explained, "At Etna Elementary we like to put a spin on Valentines Day. Instead of bringing cards and treats to our friends, our student council loves spreading kindness, anonymously. During whole class mindfulness lessons I teach, we often discuss gratitude, generosity, and how we can be mindful of others. The Candy Grams event gives an opportunity to put these ideas into action." 
Etna Elementary principal, Keith Klein, also commented proudly about the students at Etna: "It is very rewarding to see the enthusiasm in our students as they rally around a cause that will benefit others. The giving just got bigger and bigger as the week went by. During these times it's great to see something other than COVID be that contagious."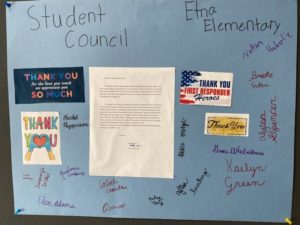 Student Council President, Brooke Suter, wrote a letter to Star Valley Health explaining the students' choice to donate: "The Student Council Representatives from Etna Elementary have noticed that you have been a big help during the pandemic to our community. There is no doubt that during this time it has been difficult. But because of you and your service, we were able to feel safe and keep the schools open. We are grateful for your service."
Suter explained the mechanics of the fundraiser in the letter and wrote, "We hope this money can help you with whatever is needed. We want you to know that you are in our thoughts and we know this pandemic has had an impact on you as well. We are grateful you sacrificed your health for ours."
Jodi Hill of Star Valley Health Care thanked the students at Etna for their generosity saying, "We are thrilled to be working with Etna Elementary and proud of their hard work & achievement in fundraising for the Star Valley Health Charitable Foundation. The Foundation allows the hospital to participate in community outreach and events, purchase state-of-the-art equipment, upgrade our facilities and provide education and training opportunities to our staff. Although young, these children have set a wonderful example for our community about service, dedication and giving back. We're so grateful for their contribution."
Each year Kurt-Mason looks forwards to this event. "Seeing kids' faces light up when given an anonymous treat is priceless." She often sees those students return the favor in a Candy Gram for someone else. "And this to me shows true character- a skill we often attempt to teach with packaged curriculums," said Kurt-Mason.
"I'm always blown away by the amount of money we raise, and this year, the cause was of utmost importance. The student council chose to donate their earnings to our Star Valley Medical workers for all of their efforts during this unique time. I am grateful for the opportunity to work with these kids, watching them make a difference in our school and community," commented Kurt-Mason.
Let us know what you think!
Tagged:
Counselor Abby Kurt-Mason
Etna Elementary
Principal Keith Klein
Star Valley Health
Star Valley Health Charitable Foundation