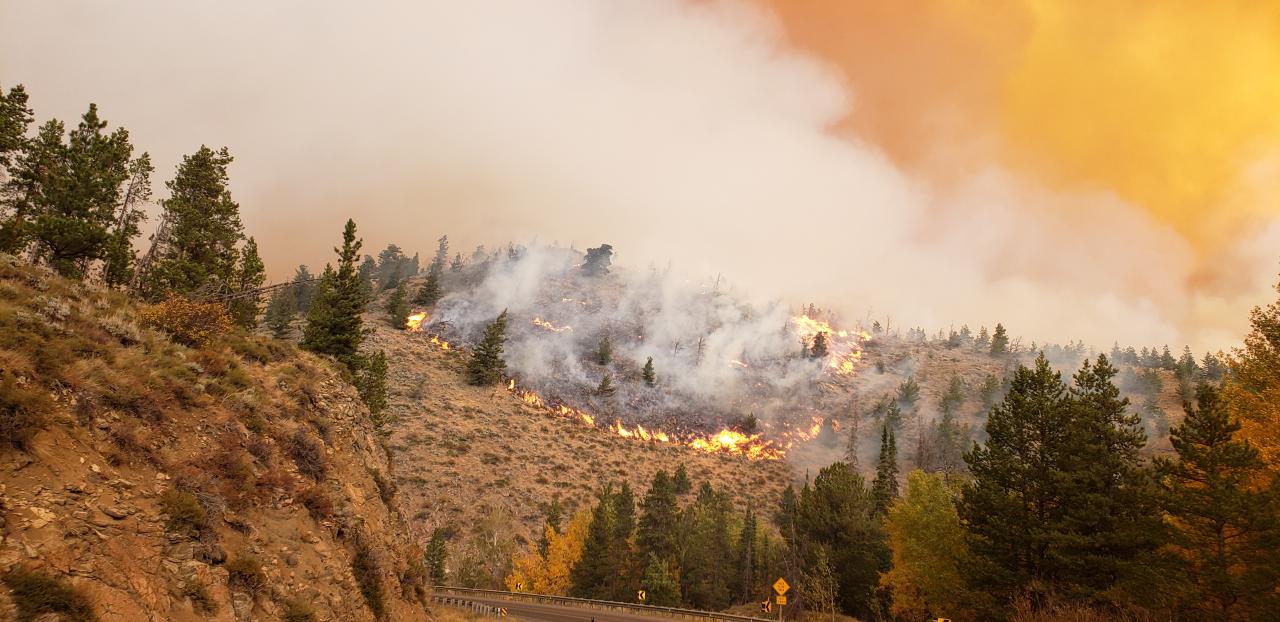 ———-
By The Laramie Boomerang
Via- Wyoming News Exchange
LARAMIE — There were no doubts the critical weather conditions and natural fuels feeding the Mullen Fire burning in the mountains about 40 miles west of Laramie went from bad to worse from Thursday to Friday.
Then the unimaginable became a stark reality by Saturday evening for many people in the fire's path as multiple mass evacuation orders throughout the day sent them toward escape routes in differing directions as the fire raced mostly to the northeast, east and southeast. Strong winds from west to east with gusts of more than 50 miles per hour fanned the wall of flames.
The Mullen Fire, which consumed a little more than 18,000 acres from Thursday to Friday, had the worse and most explosive 24-hour period yet, burning 32,328 more acres from Friday night to Saturday night.
The total of torched mountain terrain raced up to 68,138 acres according to an update at 8:10 p.m. Saturday night on the U.S. Forest Service's Incident Information website: https://inciweb.nwcg.gov/ incident/7208/.
A cold front that was forecast to move through today bringing cooler temperatures, higher humidity and a chance for snow showers couldn't arrive soon enough for aerial and ground firefighting efforts during the preceding winds.
The blustery conditions sent a massive smoke plume and falling ash through the Laramie Valley and into the city of Cheyenne for most of Saturday.

On Saturday morning, The U.S. Department of Homeland Security's Federal Emergency Management Agency (FEMA) released a statement authorizing the use of federal funds to help with firefighting costs for the Mullen Fire.
FEMA Regional Administrator Lee dePalo approved the state's request for a federal Fire Management Assistance Grant (FMAG) after receiving the request and determining that the fire threatened such destruction as would constitute a major disaster.
"At the time of the request, the Mullen Fire was threatening approximately 300 homes in and around the subdivisions of Albany, Jelm, Keystone, Rambler, Woods Landing and Double Creek," the FEMA press release stated. "The authorization makes FEMA funding available to pay 75 percent of the state's eligible firefighting costs under an approved grant for managing, mitigating and controlling designated fires."
All roads into, through and out of the expanding evacuation zones were closed with assistance from the U.S. Forest Service,
Albany County Emergency Management Office, Albany County Sheriff 's Office and multiple other responding agencies.
Throughout the day Saturday, one after another new mandatory evacuations by the Sheriff's Office were issued for: South Centennial Valley, east of Highway 11 along Sheep Mountain; Sheep Mountain and Lake Hattie Area, Sheep Mountain to Lake Hattie Reservoir and north of Highway 230; the Highway 10 corridor to the Colorado border; the Highway 230 corridor from Woods Landing to Lake Hattie Reservoir.
The Albany County Emergency Management Office also set up an assistance location at 4 p.m. Saturday for all affected Mullen Fire evacuees at the parking lot of the Walmart in Laramie. Information was provided at that location about lodging and assistance from the Red Cross.
Throughout Friday night and into Saturday morning, powerful and gusty winds caused extreme fire behavior with the fire front approaching about a mile north of Fox Park, extending east to just south of Lake Owen, as per the Forest Service's incident update at about 11 a.m. Saturday.
The subdivisions of Keystone and Lake Creek were impacted by the fire. Firefighters were able to access the areas after the flaming front passed and continued to perform structure protection actions.
Evacuations that happened earlier in the week included the Foxborough area, including Fox Park, Pelton Creek Cabins, Wold Tract, Mountain Home and Wycolo.
Areas under mandatory evacuations for about a week were: Lake Creek community; Rambler community; Rob Roy community; and the Keystone communities of Keystone proper, lower Keystone, Langford/ Ricker, Moore's Gulch and 507C cabin grouping.
Total ground firefighting personnel increased Saturday to 458, managed by a Rocky Mountain Area Incident Management Blue Team. Most of the planned actions continued to include structure triage, structure prep and point protection.
The fuels in extremely rugged terrain consisting of dense vegetation and live, blowdown and beetle-killed deadfall lodgepole pine trees are also contributing factors to increased fire activity.
It was unclear in the Saturday evening update if a sizable fleet of firefighting aircraft were able to operate in high winds.
More than 10 aerial firefighting aircraft, including a VLAT (very large air tanker), multiple LATs (large air tanker), single-engine air tankers, CL-415 scoopers and smaller scoopers (fire bosses) and helicopters have been working the fire since the early stages protecting structures and cooling the perimeter to slow its rate of spread.
Tagged:
Cheyenne smoke
Federal Emergency Management Agency
Laramie Valley
Mullen Fire
U.S. Department of Homeland Security
U.S. Forest Service Incident Information