Flood watch issued for the Jackson Hole area Friday through the weekend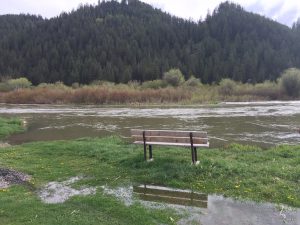 JACKSON (WNE) — Widely scattered showers and thunderstorms in the forecast will bring a chance of localized flooding in parts of the Jackson Hole area and surrounding mountains this weekend.
The National Weather Service's Riverton bureau has issued a flood watch for the area from Friday through Sunday. Teton County Emergency Management officials noted that a flood watch does not mean imminent flooding but that the storms could provide the ingredients for flash floods. A flood warning means flooding is underway.
Rainfall could be 1 to 1 1/2 inches, mainly in higher elevations, the National Weather Service said, and multiple showers and storms crossing the same locations over multiple days could increase the risk of flooding. River flooding is not expected, but localized flash flooding in small streams, creeks and areas with poor drainage is possible.
"If recreating in the backcountry, stay tuned to Weather.gov/riw for the latest developments or listen to your NOAA All-Hazards Weather Radio," Emergency Management officials recommended.

Let us know what you think!
Tagged:
Jackson Hole flooding
National Weather Service - Riverton
Teton County Emergency Management