Game and Fish to host Kids Fishing Day event in Jackson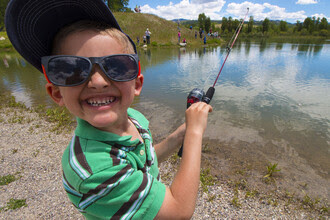 JACKSON- Kids up to 13 years old are invited to "get hooked on fishing" at the 32nd annual Jackson Kids Fishing Day on Saturday, June 3. The event, hosted by the Wyoming Game and Fish Department with several partners and volunteers, will feature FREE activities and take place at Rendezvous Park ("R" Park) near Wilson from 10:30am to 2:00pm.
The pond at R Park is being stocked with hundreds of Snake River cutthroat trout and there will be an array of fun educational activities including:
Fish anatomy
Boating safety
Aquatic insects
Aquatic Invasive Species
Fish obstacle course
Wetlands
"R" Park is located just north of the intersection of highways 22 and 390 at 4270 River Springs Drive, Wilson. Registration will begin at 10:30am. Enjoy a FREE hotdog lunch served by the Jackson Hole Lions Club at noon followed by fishing in the pond. Kids who participate in the learning stations will be able to keep their fishing equipment at the end of the day due to a generous donation from the Jackson Hole One Fly Foundation. Activities will conclude at 2:00 pm, but kids can continue to fish on their own after the event. Participants are urged to use alternative forms of transportation to attend, such as START Bus or the community pathway system. Parking will also be available at the Stilson parking lot.
Saturday, June 3, is also Free Fishing Day across the state of Wyoming, when anyone may fish without a fishing license or Conservation Stamp. However, all limits and other fishing regulations still apply. More details on Free Fishing Day are listed in the Wyoming fishing regulations booklet and on the Wyoming Game and Fish website. There are Kids Fishing Day events held across Wyoming in celebration of National Fishing and Boating Week.
Adult volunteers are always needed to help out at the event and can serve as "fishing guides" for the kids. If you would like to volunteer or learn more, contact Wyoming Game and Fish Jackson Fish Biologist Diana Miller at the Jackson Game and Fish office at 307-733-2321. "This truly is a group effort with many volunteers and generous sponsors who donate both time and money to make this event such a success each year," said Miller. "We couldn't do it without them."
An additional Kids Fishing Day event will also be offered in Afton at the Valley View Golf Course Pond behind the Mountain Inn. This event is hosted by the Bridger-Teton U.S. Forest Service, Wyoming Game and Fish Department, and the Star Valley Chapter of Trout Unlimited from 9:00 to 1:00 with a FREE hot dog lunch and an appearance by Smokey Bear! Kids will also be able to keep their equipment at the end of the day due to a generous donation from Jackson Hole One Fly Foundation.
The Game and Fish supports the Americans with Disabilities Act. Anyone needing auxiliary aids to attend this event should call the number listed above. Every effort will be made for reasonable accommodations.
Let us know what you think!
Tagged:
Jackson Kids Fishing Day
Rendezvous Park
Snake River cutthroat
Wyoming Game and Fish Department