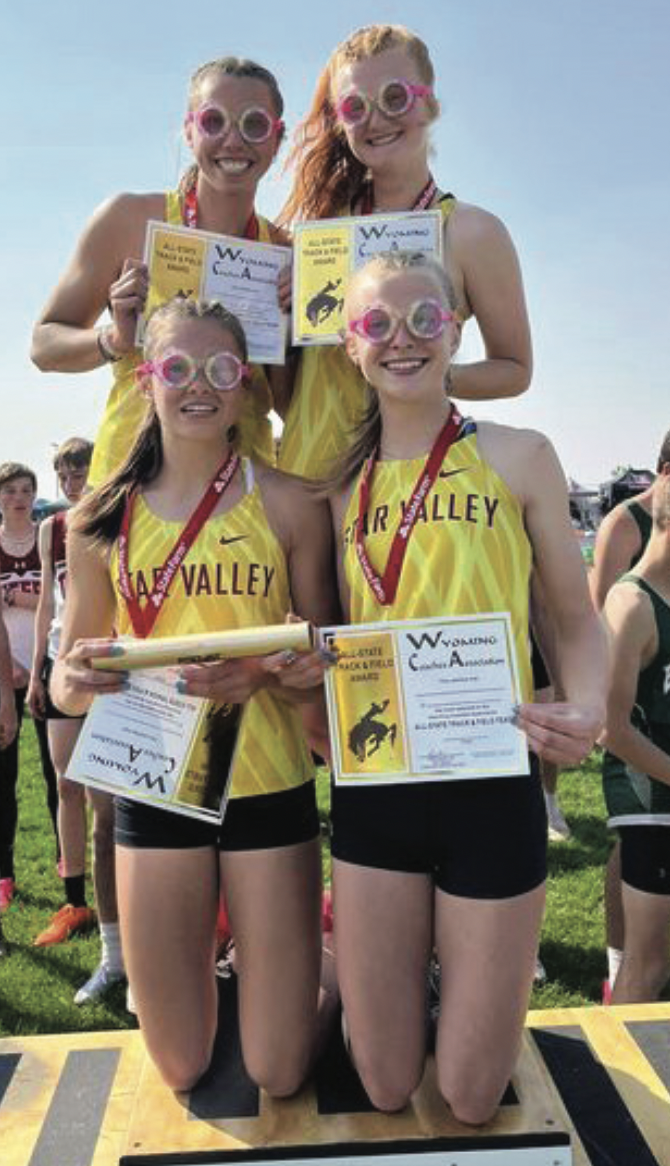 The Star Valley quartet of Valerie Jirak, Kammi Merritt, Ava Morgan and Gracie Collins are in Eugene for this weekend's Nike Outdoor National's which is taking place on Hayward Field at the University of Oregon. The group will be running the 4 x 100 Meter Relay in which they set a new school record three times in May.
In addition, Morgan will be competing in the Emerging Elite division of the 100 Meter Hurdles, Merritt will be running in the Championship division of the 400 Meter Hurdles and Jirak will be battling in the Heptathlon. 
Video and live results of the event which runs through June 18 is available via the Nike Outdoor Nationals website. 
The SVHS athletes are scheduled to compete at the following times: 
Friday June 16
10:46  100 Hurdles – Heptathlon (Valerie Jirak)
11:30 High Jump – Heptathlon (Valerie Jirak)
1:00 Shot Put – Heptathlon (Valerie Jirak)
2:10 200 Meters – Heptathlon (Valerie Jirak)
Saturday June 17
11:00 am  Long jump – Heptathlon (Valerie Jirak)
12:47 100 Hurdles – (Ava Morgan)
1:00 Javelin – Heptathlon (Valerie Jirak)
2:47  800 Meter – (Valerie Jirak)
6:07 – 4 x 100 Meter Relay (Gracie Collins, Ava Morgan, Kammi Merritt & Valerie Jirak)
6:42 – 100 Hurdles Final – (Ava Morgan)
Sunday June 18
11:14 400 Meter Hurdles Final – (Kammi Merritt)
11:51 4 x 100 Meter Relay – (Gracie Collins, Ava Morgan, Kammi Merritt & Valerie Jirak)
The following story ran in the May 31, 2023 edition of the Star Valley Independent – 
Record-breaking quartet heading to Oregon
By Dahl Erickson SVI Media
At the Wyoming State Track and Field meet, the quartet of Gracey Collins, Ava Morgan, Valerie Jirak and Kammi Merritt ran a time of 48.79 in the 4 x 100 Meter Relay to win the event in the 4A Class. It edged out the Natrona Fillies' time of 48.95 and was less than four-tenths of a second from a new Wyoming State record and was the third time they had set a new school record this season. In addition, it qualified the group for the Nike Regionals in Eugene, Oregon next month.
"We're all really close to each other and I think that helps a lot," said Jirak when the group spoke with SVI Radio this past week- end. "When we start races we help each other get our nerves down. Kammi and I have been handing the baton off for years now so we have that bond.
Morgan agreed with her teammate about the teach chemistry.
"I think a big thing is the team bonding," she said. "The first time we ran together was in Idaho Falls, a girl broke her toe so we changed things up and we hadn't practiced together but we just decided to go out there and see what happens and it's been great."
The group has had to be patient as well, even when they know they've run well but the tech of the meet has to catch up.
"We were at BYU and they had the unofficial times in and we would have broke it by .2 but they messed up our times so they had it at 51 instead of 49," Merritt added. "It was a little frustrating at first but it was awesome once they fixed it."
SVI also learned there is a fifth member of the group who goes by the name George. "We say it's all in the baton; We named it George," Jirak replied. "We've broken so many records with George. If we don't have George we don't run good so we keep it hidden so that we always know where he is."
"That thing has so many records," Merritt added.
In addition to working out with platforms such as CrossFit, the group trains with each other when they can and tries to be ready for the day when they need to perform.
"We have a hard practice at least once a week and then we try not to be hurting on the day that we run," Morgan stated.
Jirak currently holds the school records for the High Jump, the 100-Meter, the 400-Meter and the Long Jump. Morgan set new marks for the 100-Meter Hurdles and the Triple Jump. Merritt set a new best in the 300-Meter Hurdles with a time faster than either Audrey West or Erin Kirby who both competed for the University of Wyoming. The latter is in the UW Athletics of Fame. When we pointed this out to her this was her response.
"I did not know that," she said. "I'm excited. I'm really excited. This year's been awesome. I've cut like five seconds off my time this year I'm just excited about next year."
Now this talented group will be off to Eugene for their turn to run against some of the nation's best, fueled by fruit snacks and caffeine gum as they disclosed during the interview.
The event takes place over several days from June 15-18. Jirak has a special connection to the venue.
"I know I'm super excited because my mom finished one of her marathons at the old stadium field so I get to run there as well," she said.
"I wasn't going to go because I had different plans of the summer," Morgan added. "These girls convinced me to go and I'm glad they did. It's a once in a lifetime experience and it's going to be so fun."
"It's hard to get everybody's schedules aligned right but we are working on getting together to get some really good practices in," Collins added.
Finally, the group said they have received several questions as to their protective eyewear for their Best of the Best podium pho- to. In other words, what's with the goggles?
"It started last year at state when it was so snowy that we said we should wear goggles," Jirak said.
"At Regionals it was just so rainy," Merritt chimed in.
"And sometimes the mats have fuzzy things that fly up and get in your eyes," Collins added.
"The goggle-thing just kept going," Morgan said.
"So at Wal-Mart we got some and Kammi's dad said we wouldn't wear them on the podium so we did," Jirak concluded.
No idea if the goggles will make an appearance in Eugene, but you can bet on George making the trip.
Let us know what you think!
Tagged:
Ava Morgan
Eugene Oregon
Gracie Collins
Kammi Merritt
Nike Outdoor Nationals 2023
Valerie Jirak