Golf and XC teams host area schools
Day two of the Snake River Shootout golf tournament took place at on the Cedar Creek course at Star Valley Ranch on Thursday where the Evanston teams are proving to be the teams to beat through three weekends of the season. The Devils swept the team titles for the third straight weekend. It was a close finish as the Evanston girls won by just two strokes over Jackson and the guys won by three strokes over Riverton. 
Ceci Bruno won the individual girls title by two strokes over Riverton's Tylynn McDonald. Star Valley was led by junior Jordyn Horsley who finished in a tie for fourth place. 
Parker Paxton of Riverton and Hayes Milham of Jackson dueled it out with Paxton winning by three strokes having shot a pair of 69s. P.J. Horsley led the Braves with a seventh place finish with a score of 159. 
It was the second year of the concept which saw Jackson Hole High School host on Day 1 with Star Valley High School hosting Day 2. Last year Jackson held their round at the Jackson Hole Golf and Tennis Club with this year played at Teton Pines.


• "I Need More Cowbell!"
Thursday was also the More Cowbell Invite as Star Valley Cross-Country hosted teams from the region in Afton. On the boys side Habtamu Wetzel and Jase Burton finished first and second as all five scoring Braves finished in the top eight with Peter Lorch, Colton Cranney and Matt Heywood. They scored a 20-point team total. 
The Lady Braves placed second behind perennial Idaho power Soda Springs with a team total of 50. The Cardinals had 31. Carlee Angell led the team with a 4th place finish. Kaelle Opitz was 6th, Alexis Angel was 8th. Katilyn Bach was 10th. 
Star Valley handily won the combined team score and the coveted Christopher Walken trophy. The teams will be at the Cardinal Classic in Soda Springs next weekend.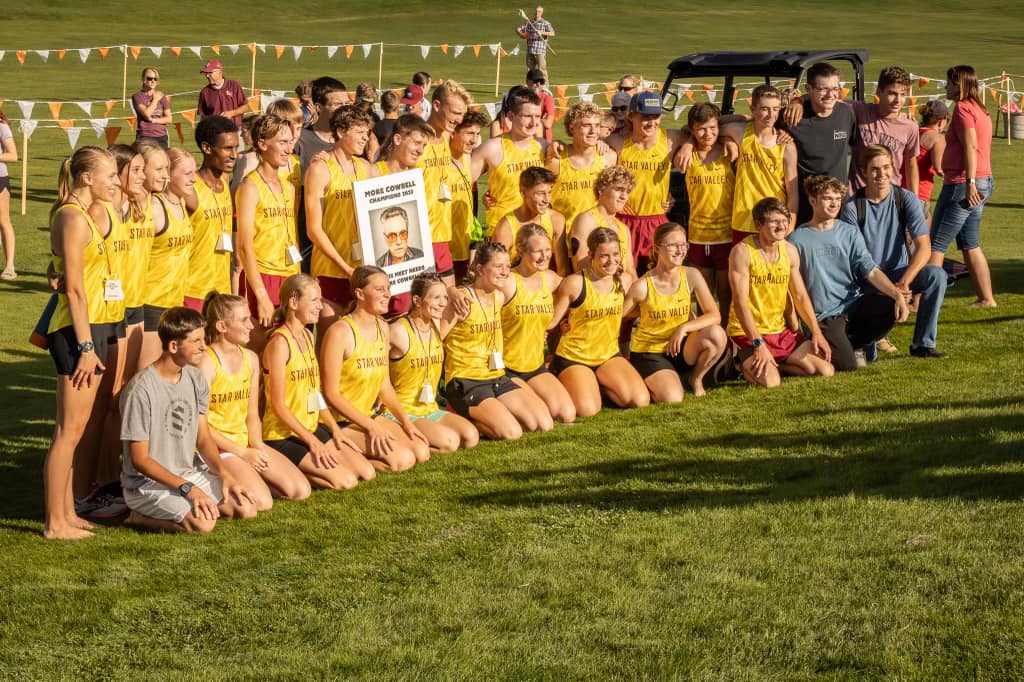 Boys Team Scores
Star Valley 20
Evanston  64
Mountain View  74
Teton  91
Lyman  142
Soda Springs  171
Bear Lake  191
SVHS Boys
Habtamu Wetzel  16:43  1st
Jase Burton  16:56  2nd
Peter Lorch  17:43  4th
Colton Cranney  17:50  5th
Matt Heywood  18:10  8th
Drake Plowman  18:16  10th
Brigham Hahn  18:45  
Beau Skinner  18:54
Girls Team Scores
Soda Springs  31
Star Valley  50
Evanston  60
Lyman  142
Mountain View  144
Bear Lake  148
Teton  149
SVHS Girls
Carlee Angell  23:01  4th
Kaelle Opitz  23:27  6th
Alexis Angell  23:47  8th
Kaitlyn Bach  24:07  10th
Gracey Visser  26:06  22nd
Maddie Strgar. 26:55
Kenna Merritt  26:59
Combined Team Scores
Star Valley  70
Evanston  124
Soda Springs  202
Mountain View  218
Teton  240
Lyman  284
Bear Lake  339
Let us know what you think!