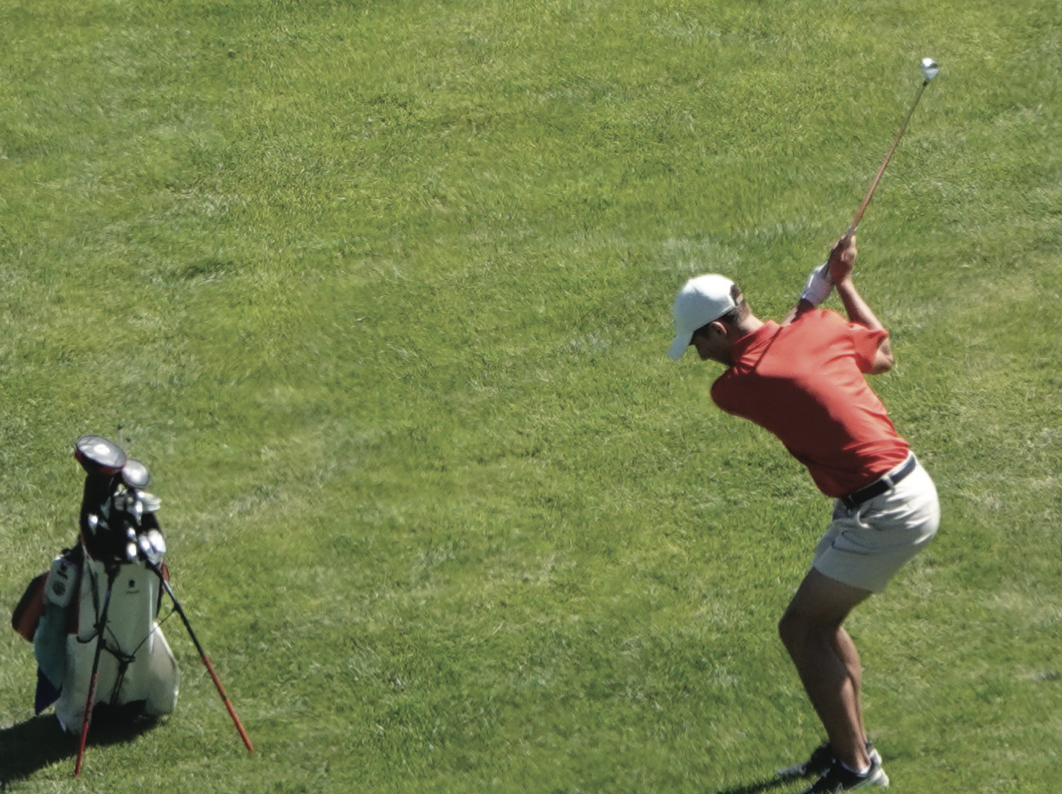 • Star Valley View hosting regional teams this Wednesday and Thursday –
The 2023-24 Wyoming high school prep sports season began on Monday with the start of golf and 4A football practices. No sport pushes the season more than the golfers who will be handing out trophies and all-state awards before October. Star Valley has been toeing the line between the 3A and 4A classification for the last half-dozen years but those days are over. A look at the latest Average Daily Membership (ADM) numbers show that SVHS is the 11th biggest school in the state at over 900 strong and growing. In other words, last year's move to 4A for the golf team looks to be a permanent one.
"It kind of changed our goals a little bit," head coach Kelly Fullmer said of the 4A designation.  "It makes a difference. In 3A, when we were average we were near the top, in 4A when we are average, we are trying to qualify for state. You have to qualify and we are able to do that last year. I don't see us going back to 3A."
While the competition will continue to be fierce, it appears the Braves and Lady Braves have a strong returning group of players.
"On the boys team we're bringing everybody back," Fullmer said. "We have more coming in as well so the future looks really good. We have some younger kids coming up that are already shooting scores that would put them on the varsity team. We are as loaded as we've been for a very long time and we should be competitive for a while."
Leading the pack is PJ Horsley who tied for eighth last year and earned all-state honors.  PJ Horsley was all-sate last year. He's back and leading the team. Sean Stout was a top-25 finisher last year and Fullmer pointed out the Ordyna twins, Benson and Brigham, live on the course and should be improved as well.
The Lady Braves will be led by PJ's younger sister, Jordyn, who finished 18th as a sophomore last year to lead the team at State. Also back for her senior campaign will be Sheridan Coles who finished tied for 33rd at State last season. Fullmer also said the team is likely to benefit from two seniors training in their volleyball uniforms for golf clubs this fall.
The challenge for the staff will be to wrangle the expected 50 players out this week and pare them down to a usable number.
"It's not new, but we've never had this many," Fullmer said of the number of tryouts. "We've had to cut it the last few years, but it's become the cool thing at the high school. This summer you're lucky to find a parking space. We have a lot of kids who have jumped on that bandwagon. The difficult thing is we can't treat everyone the same because we only have so many spots. We don't have a freshman or underclassman team. But we want to keep them around as well. On the plus side, it's a little easier because the scores speak for themselves."
Fans of the local players will appreciate the schedule which is heavy on regional tournaments but is also filled with Star Valley courses. This week the season literally opens on Wednesday and Thursday at Star Valley View in Afton with schools such as Rock Springs, Green River, Kemmerer, Lyman, Evanston, Jackson and Pinedale expected to attend. In addition, Afton has agreed to host Regionals after Laramie declined.
"Afton is a little more civic-minded than some of the other towns in the state," Fullmer said. So we are hosting Regionals. In addition, Star Valley Ranch and Cedar Creek is hosting us for a day as part of the Snake River Shootout where we play one day in Jackson and one in Star Valley. So a lot of our season will be at home.
Fullmer thanked the area courses for their willingness to work with the team.
"These courses don't have to open themselves up to us and they potentially take a big hit financially but they are willing to host us so we are very appreciative of that."
Let us know what you think!
Tagged:
Benson and Brigham Ordyna
Jordyn Horsley
Kelly Fullmer
PJ Horsley
Sean Stout
Sheridan Coles
Star Valley High School Golf
Star Valley View Golf Course
Wyoming high school sports