Golf teams rack up the miles as season begins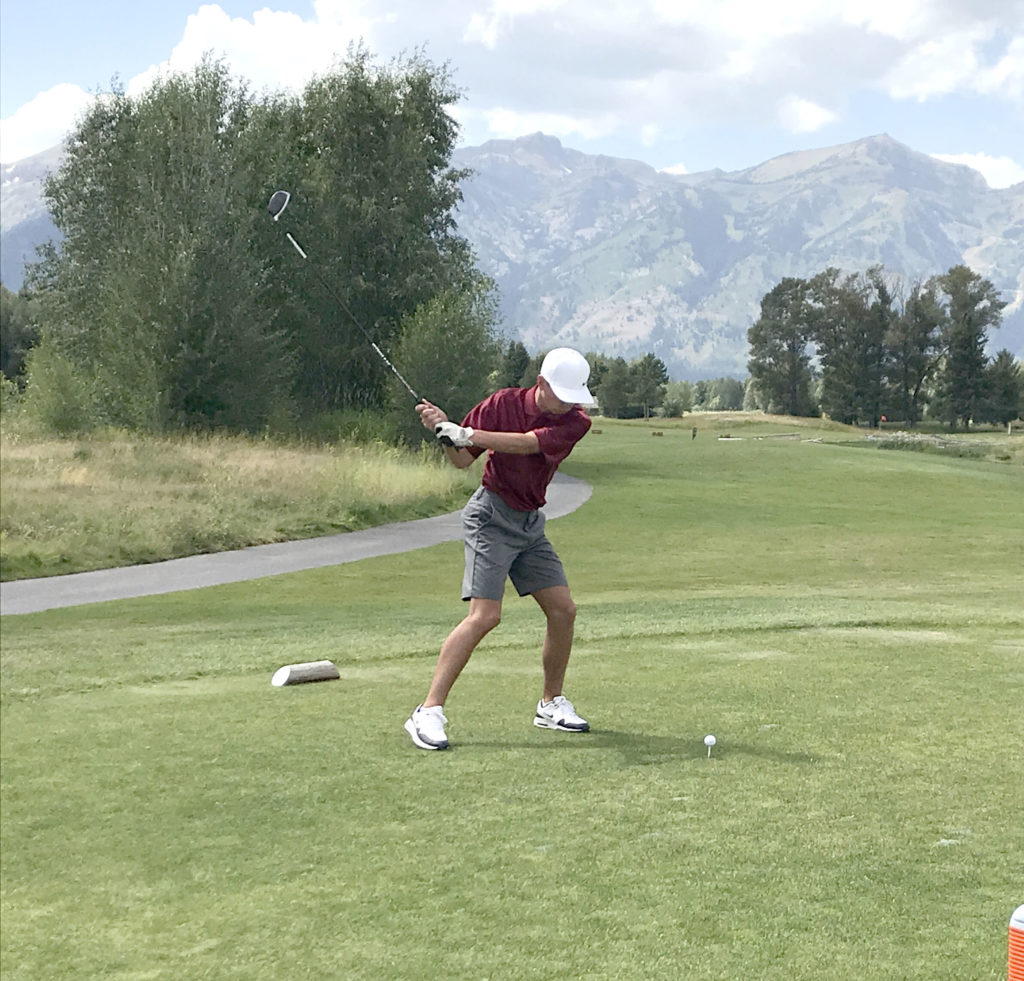 —————————-
◆ Star Valley View Golf Course hosting teams this Thursday and Friday.
While the rest of the area teams have been anxiously awaiting the start of fall practice, the golf program has already tucked away three events in the first seven days of their 2020 campaign.
"Fast and furious season so far," replied head coach Kelly Fullmer. "No overnight trips means we have to travel twice as much this season for the same days of competition as previous years."
The team opened up competition last Wednesday with a duel against Jackson Hole High School at the Golf and Tennis Club in Teton County.

"We looked rusty, but playing the difficult but excellent course quickly knocked some of that rust off for our players," Fullmer stated. "We were particularly pleased to see the hard work Taylor Erickson has put in over the off-season pay off as she has notably improved. She led our girls in Jackson. We also watched freshman PJ Horsley lead our boys in Jackson. It's always a very pleasant surprise to have a freshman show up who immediately helps the varsity team. PJ also spent many hours practicing over the summer."
The Jackson teams got the better of the Star Valley teams in the team scores. The Lady Broncs in particular appear to be one of the teams to beat this season for the 4A girls team title.
From the mountains of Jackson to the plains of Kemmerer the program played at Fossil Island Golf Course on Friday against several regional teams.
"In Kemmerer high winds and fast, sloping greens kept our boys team in the 90's with the exception of senior Tanner Thomas's 89 to lead our team," Fullmer continued. "Only two girls made this trip on Friday but both Taylor Erickson and Taylor Anderson shot in the 90's. Breaking 100 is a benchmark we set for our varsity girls, and we were pleased to see them reach it with a 97 and 99 respectively."

Evanston High School took both the team honors in Kemmerer although with a third player the Lady Braves would have had a good chance of winning the meet.
Finally, the team saw some of the top competition in the state as they played at the Terry Berg Invite in Lander on Monday of this week.
"We faced the 3A state champion favorite Worland Warriors as well as top contender Riverton in nearly 100-degree heat," Fuller described. "At the tournament, two-time individual champion Jarin Calkins from Lander squared off again against 2018 state individual champion Karsten Simmons; however, both of these standouts fell to freshman Parker Paxton from Riverton who shot a three-under-par round 68 to best the two veterans' par scores of 71."
Fullmer pointed out that Parker's older brother Easton is now playing golf on scholarship at North Carolina State.
"Senior Karsen Spaulding led the Braves with an 85; top-ten finish," Fullmer said. "The team finished fourth out of seven teams in Lander. The Lady Braves took second out of four teams in Lander with an excellent team score of 301. Another benchmark we have for our girls is a team score of 300 or better each day. So their effort in Lander showed them to be very competitive in 3A this season. Senior Taylor Erickson again led the team shooting a top-five finishing score of 93 while junior Taylee Stoker turned in a 100 for a top-ten finish in the field."
The teams will be on their home course in Afton as they host on Thursday beginning at 11 a.m. Play will resume on Friday morning at 9 a.m.
@ Kemmerer
Tanner Thomas 45 / 44 – 89
Blake Smith 46 / 48 – 94
P.J. Horsley 46 / 49 – 95
Karsen Spaulding 49 / 49 – 98
Brandon Edwards 48 / 52 – 100
Taylor Erickson 48 / 49 – 97
Taylor Anderson 51 / 48 – 99
@ Jackson Hole
Jackson Boys +67
Star Valley Boys + 95
P.J. Horsley 89
Karsen Spaulding 93
Tanner Thomas 100
Blake Smith 101
Brandon Edwards 107
Jacob Hodges 109
Carson Hart 113
Jackson Girls +56
Star Valley Girls + 118
Taylor Erickson 103
Taylor Andersen 115
Norrah Nielsen 116
Jackie Simmons 116
Talia Titensor 130
@ Lander (Boys)
Worland 301
Riverton 322
Jackson 353
Star Valley 361
Lander 422
Pinedale 408
Lyman 441
Karsen Spaulding 85
Tanner Thomas 89
P.J. Horsley 93
Blake Smith 94
Brandon Edwards 102
@ Lander (Girls)
Jackson 260
Star Valley 301
Lander 306
Lyman 349
Taylor Erickson 93
Taylee Stoker 100
Taylor Anderson 108
Norrah Nielsen 116
Jackie Simmons 132
Let us know what you think!
Tagged:
Jackson Hole Golf and Tennis Club
Karsen Spaulding
Kelly Fullmer
P.J. Horsley
Star Valley High School Golf
Taylor Erickson
Terry Berg Invite