Gov. Gordon talks energy while in Kemmerer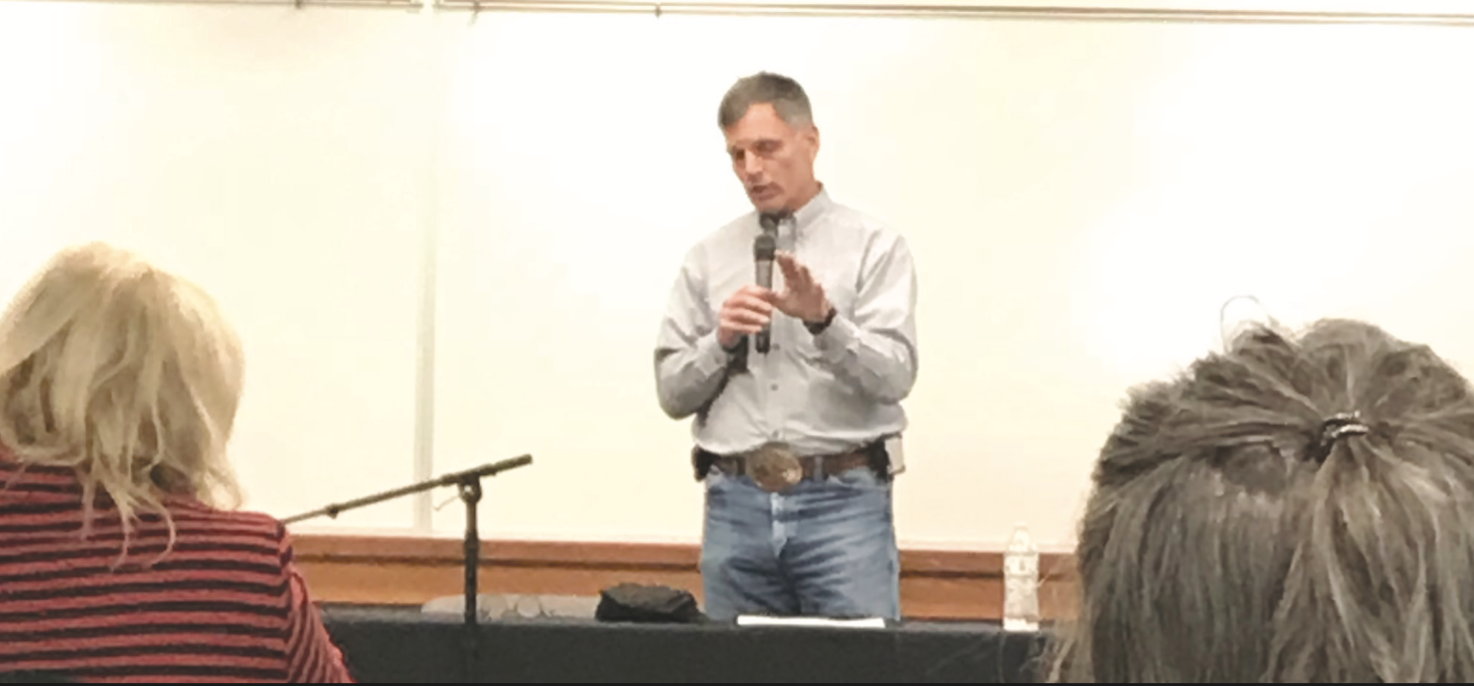 ◆ "I do see that there's a strong future for coal." –Gov. Gordon
Following his visit to Cokeville for the naming ceremony of the now "Nate Dayton Field" at Cokeville High School, Wyoming Governor Mark Gordon took time to visit south Lincoln County. Gordon toured downtown Kemmerer, visiting some of the historical sites, including the recently dedicated J.C. Penney statue at Triangle Park.
Gov. Gordon also took time to speak to the community later in the day, focusing the majority of his comments on the future of Wyoming's energy based economy.
"Wyoming's economy continues to be pretty much driven by what we do with energy resources," Gordon stated while standing in the South Lincoln Training and Events Center. "We have an administration that has done everything it can, in it's brief time, to bring a full stop to fossil fuels. Particularly gas and coal."
Gordon said the state of Wyoming has done a good job slowing down the closure of fossil fuels legislatively, highlighting specifically the work done by Senate President Dan Dockstader (R-Afton). "There's two reasons we want to do that," continued Gordon. "Obviously the jobs and the value they bring to Wyoming. But also because I think it's very narrow minded and short sighted to be thinking we can just close these and we solve all our climate problems."

Gov. Gordon suggested that the answer to climate concerns comes through advanced technology such as carbon capture and sequestration, something the state has heavily invested in research and development.
Governor Gordon also touched on the lawsuits the state has filed against the federal government in response to energy policy, stating that the United States is transferring energy production overseas rather than doing it here at home. "We have something like 33 lawsuits that we have filed to make sure that we can open up energy production."
Gordon concluded by speaking on the combined efforts of renewable and fossil fuel energy sources. "It is great that we have renewables. But solar and wind alone…can not power a country. And anybody that thinks we can do all of this just on renewables has got to think again. So I do see that there's a strong future for coal. I do see that there's a strong future for oil and gas."
During his speech, Governor Gordon did not touch on the development of nuclear power in Wyoming. Kemmerer is one of four locations being considered for the development of modular nuclear reactors through a partnered effort between the State of Wyoming, Rocky Mountain Power and TerraPower. The announcement of where the first nuclear facility will be located in the state will take place before the end of the year.
The full comments made by Gov. Gordon can be found at SVInews.com/radio or on the SVI News app.
Let us know what you think!
Tagged:
Governor Mark Gordon
Rocky Mountain Power
South Lincoln Training and Events Center
TerraPower
Wyoming fossil fuels