Governor proclaims Dec. 7 as Pearl Harbor Remembrance Day
Wyoming Governor Matt Mead has signed a proclamation naming Thursday, Nov. 7, 2017 to be Pearl Harbor Remembrance Day in Wyoming.
"Whereas 76 years ago at 7:55 a.m. on Sunday morning, Dec. 7, 1941, in a surprise attack the Imperial Japanese Navy and Air Force attacked United States forces stationed at Pearl Harbor, Hawaii," the Governor's Proclamation reads. "For 30 minutes, dive bombers and torpedo planes struck airfields and naval vessels. A second wave of 170 planes launched another attack that lasted one hour."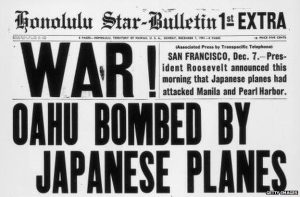 "Whereas, more than 2,300 Americans were killed, more than 1,000 were wounded, and 960 were missing in action following the attack on Pearl Harbor," the proclamation continues. "Nineteen ships were damaged or sunk, and 188 planes were destroyed on the ground. All of the ships — with the exception of the USS Arizona, Utah and Oklahoma — were salvaged and later saw action in World War II."
The Governor's Proclamation pays tribute to the men and women who lost their lives in the cause of freedom.
"Individually and collectively we owe a debt of gratitude to Navy and Air Force members who lost their lives in the attack – the "Day of Infamy" – and also to those who survived and continued to carry out their duties to ultimate victory," the proclamation says. "Commemoration of the attack on Pearl Harbor instills in all Americans a greater understanding and appreciation of the selfless sacrifice of the individuals who served in the armed forces of the United States during World War II."
In his proclamation, Governor Mead called upon citizens to "honor the great generation of Americans whose unparalleled exploits, persistence, devotion and bravery in the name of freedom have allowed our country, and many others, to prosper."
Let us know what you think!
Tagged:
Governor Matt Mead
Pearl Harbor
Pearl Harbor Remembrance Day in Wyoming