Have you seen this car? The Bonneville County Sheriff's Office is requesting your help
The following is a press release from the Bonneville County Sheriff's Office
Regarding the ongoing investigation of the Zions Bank Robbery that happened on Oct. 31st, the Bonneville County Sheriff's Office is seeking the public's help in locating the vehicle used in the robbery.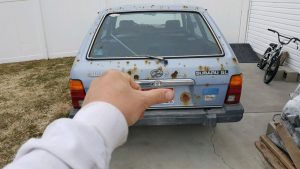 The vehicle in question is a 1984 Blue Subaru GL wagon with Idaho License Plate 8BJU976 and may have damage to the hood and body filler on the rear driver's side.
Anyone with information on this crime or the whereabouts of this vehicle are asked to contact the Bonneville County Sheriff's Office through dispatch at 208-529-1200, Crime Stoppers at 208-522-1983, or report online at Ifcrime.org.
Let us know what you think!
Tagged:
Bonneville County Sheriff's Office
Zion's Bank robbery