Independent Obituaries: December 23, 2020
The following obituaries appeared in the December 23, 2021 edition of the Star Valley Independent.
For more resources including headstones, please visit the Star Valley Historical Society.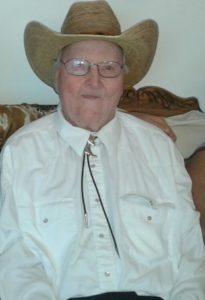 Donald Lavere Olson, "One of a Kind." Our beloved father and friend, Donald Lavere Olson died peacefully at his home with his devoted daughters and his family by his side.
He was born in Afton, Wyoming on March 30, 1921, the son of Charles Afton Olson and Eula "Cecil" Cline-Olson. Donald was the fourth of eight children and was raised on the family ranch in Afton. Donald attended six grades in Osmond and 7th-8th in Afton. Donald worked the ranch with his father and had a special "bond and relationship" with Charles Afton Olson. Donald continued to pay tribute to his father throughout his life and cherished the time he spent with his parents and family growing up in Afton.
In 1942 Donald received The Church of Jesus Christ of Latter-day Saints mission call to the Northwestern States of Oregon, Idaho, Washington, Montana and Wyoming. After the mission call Donald reported to Denver, Colorado for his military physical and World War II ended shortly thereafter.
In 1945 Donald returned to the ranch in Afton to help his father and worked many jobs to make ends meet. He was very talented and could do almost any job he wanted. In the early years he worked the following jobs; the Creamery in Afton, Palisades Dam in Idaho, Seed Company in Idaho, Steel Construction in Idaho, farming and ranching in Star Valley, Taggert Construction building roads from Alpine to Jackson Hole, the Saw Mill in Dry Creek and Greys River Wyoming, Forest Service in Greys River Wyoming and Wyoming Fish and Game checking Elk. Donald opened a Café on Main Street in Afton and managed the Café until moving to Utah.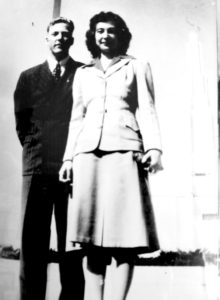 In Utah he continued to work many jobs, Ranching, Car Wash operator, Salt Lake Country Club, Salt Lake Stock Yards, Hotel maintenance, Nance Oil Company, State of Utah rehabilitation and finished working at Lynnleigh Farm in Salt Lake at the age of 90 years young. Working at Lynnleigh Farm for over 20 years gave Donald great joy and happiness. He always spoke fondly of everyone at Lynnleigh Farm including their patrons.
In 1946 he married Adelia Lindsay in the Idaho Falls Temple. Donald was one of a kind, his hard work, love of church, love of life right to the end and love of family are the great examples and legacy he leaves his children and grandchildren. We will miss Dad quoting of scriptures, singing, poetry, history of the Olson immigration from Sweden to America, growing up in Afton and his carefree unique personality.
Donald is survived by 10 children; three sons, Kim (Diann), Lex (Shannon), Layne (Melissa), and seven daughters, Lana (Clarence) Kaae, Cleo (Larry) Eppley, Relia (Larry) Talbot, Lorna Olson, Fonda (Victor) Diaz, Joan (Lee) Makin, Tonia (Michael) Cronin; 25 grandchildren; 68 great-grandchildren; 13 great great-grandchildren; brothers, Clyde (Roma) and Paul, (Joy); and numerous nieces and nephews.
He is preceded in death by his parents; brother, Melvin; sisters, Fern, Carol and Joyce; wife, Adelia Lindsay-Olson and son, Franchot L. Olson.
A viewing was held at Schwab Mortuary on Monday December 21, 2020. Funeral services were held at the Osmond Church building on Tuesday December 22, 2020 at 10 a.m. Internment followed the ceremony at Afton Cemetery.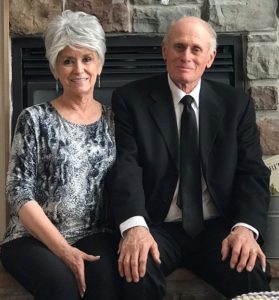 Bob and Joanne King, both 75, returned together to their heavenly parents on the 18th of December 2020, in the wake of a vehicle accident just outside of Afton, Wyoming.
Bob was born February 2, 1945 in Storm City, Iowa to Edward Lawrence King Jr. and Margaret Mary Kraus. He is the oldest of their six children.
Joanne was born in Austin, Minnesota to Donald Bernatz and Francis Nolan. She is a twin sister and the middle of the six children.
They were married August 12, 1967 at the St. Augustine church in Austin Minnesota. The marriage was later solemnized in the Salt Lake Temple of The Church of Jesus Christ of Latter-day Saints in 1974.
In their 53 year marriage they were blessed with 12 children; Lisa James (Steve) of South Jordan, Utah, Michelle King of Afton, Ann Barnes (Corey) of Litchfield, Minnesota, Brian King (Sasha) of Lehi, Utah, Robert "Bobby" King (Dallas) of Herriman, Utah, Renae Jones (Jon) of Pleasant Grove, Utah, Kari Hart (Keith) of Afton, Michael King (Jackie) of West Jordan, Utah, Marla Stewart (Justin) of Saratoga Springs, Utah, David King (Maria) of American Fork, Utah, Angela Snarr (Troy) of Payson, Utah, and Christina Middleton (James) of Maplewood, Minnesota.
Bob and Joanne both attended Pacelli High School in Austin, Minnesota and Bob graduated from St. Mary's University Theological Seminary with a teaching degree in 1967. He worked in a variety of fields throughout his life ending with his most recent post as Physical Facility Specialist of the local hospital, Star Valley Medical Center.
Bob loved serving in his many church callings from bishopric positions in Minnesota to Elders Quorum, teaching, and clerkship roles in his Wyoming ward. He spent his life in the service of others and never turned down requests or opportunities to help his family, friends, and neighbors.
Joanne spent many years as a nurse and working with children with special needs. She maintained her nursing credentials through 2006 and always loved her time spent in the service of others. She especially loved being a mother, grandmother, and most recently a great-grandmother to all her children. She spent much of the last few years in dedicated service with Bob in the Star Valley Temple doing family history work. They loved serving together in that capacity and found buoyed faith, joy, and peace in their church service.
Bob and Joanne are survived by Bob's mother Margaret King, five of Bob's siblings, four of Joanne's siblings, their 12 children, 53 grandchildren, and one great-grandchild.
They are preceded in death by Bob's father Edward King Jr., Joanne's parents Donald and Francis Bernatz, a brother Jim Bernatz, and three grandchildren: Faith Michelle Wright, Kaitlyn Jo Hart, and Jessica Ryann Wright.
Funeral services will be held Wednesday, December 23, 2020 at 12 noon in the Afton 4th Ward Chapel. Family and friends may pay their respects on Tuesday evening from 6-8 p.m. for a viewing at the Schwab Funeral Home in Afton. An additional viewing will be held on Wednesday morning from 10– 11:30 a.m. prior to the services at the church. Interment will be at the Fairview Cemetery immediately following the services.
Condolences may be sent to the family at SchwabMortuary.com.
Let us know what you think!
Tagged:
Bob and Joanne King
Donald Lavere Olson