Independent Obituaries: October 9, 2019
The following obituaries appeared in the October 9, 2019 edition of the Star Valley Independent.
For more area obituaries, please visit SchwabMortuary.com.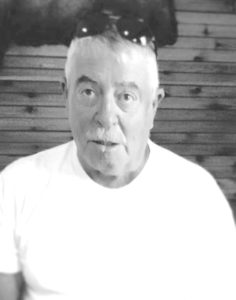 Bert Reid McNeel Jr. was born March 31, 1949 to Bert Reid McNeel Sr. and Delphia Johnson McNeel in Afton. Bert passed away on September 29, 2019 at his home in Thayne. Bert lived in Etna until he graduated from high school in 1976. In 1968 he joined the National Guard and did training for six months. He married the love of his life on July 12, 1968. He moved to Afton after they married and worked at the saw mill until 1972 when he moved his family to Jackson to work for Clarks Ready Mix until 1994 when he started his own gravel pit.
Bert married the love of his life Ranell Hemmert and welcomed his first child Robert Reid McNeel on September 17, 1969. The second, Stephanie McNeel, was born July 4, 1972. He had three sisters, Betty Joe Goodman, Pam Hentchel, and Jane Leeper. One brother, Lloyd McNeel. Bert had three grandchildren, Chelsy Lyn Bray, Curtis James Weber, and Gracie Jade McNeel. Two great-grandkids, Hayden Gordon Bray, and Haze Herold Bray. Bert is survived by his wife, Ranell McNeel, son Robert McNeel, daughter Stephanie McNeel Barrus, grandkids, Chelsy Bray, Curtis Weber, and Gracie McNeel, brother, Loyd McNeel, sisters, Betty Joe Goodman, Pam Hentschel, Jane Leeper and several nieces and nephews.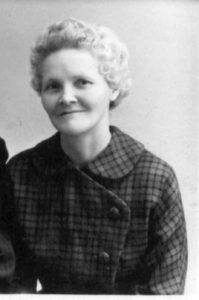 Eva "H" Turner, our dear mother, grandmother, great grandmother, great-great grandmother, and friend passed away in Grover on October 4, 2019 at 104 years of age. She was born in Grover to Joseph N. Anderson and Emma Hepworth Anderson, the second of five children. She was a sister to Hazel Grant, Roice Anderson, and Byron Anderson, all of whom preceded her in death, and is survived by her sister, Hilda Stitt, of Afton.
She attended Elementary School in Grover and High School in Afton, graduating in 1933. In 1935 she married Edward Lloyd Pead in the Salt Lake Temple. Together they had four children: Dixie Ann (Loren Herbert)–both deceased, Kathleen (John Franson), Jeannie (Tom Jeremy—deceased), and Valoy (Ramon Egan). Lloyd suddenly passed away in 1946, seven months before Valoy was born.
In 1947 Eva was appointed Postmaster for the town of Grover, a position she held for 30 years. She married Ernest E. Turner in 1953. Twins were born to them, Farrel (Christine "Tina" Blow) and Faye (Thomas Hepworth), making six children in all. In addition to this were 28 grandchildren, 129 great grandchildren, and 29 great-great grandchildren.
As a faithful member of The Church of Jesus Christ of Latter-day Saints she served in many positions, including Relief Society President. She ministered to her sisters and neighbors with never a complaint. She was an exceptional woman who truly enjoyed being involved in good works. She leaves behind shoes which cannot easily be filled.
A funeral service was held on October the 8th with interment in the Grover Town Cemetery.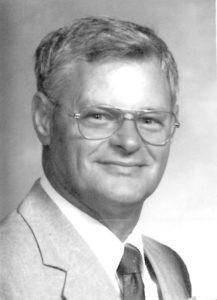 John Robert Ohnstead (93) received his angel wings on October 2, 2019, now he can soar with the angels once again. John was born to Olaus and Sophia Ohnstead in Gardner, North Dakota on October 16, 1925 and grew up in Fargo. He graduated from Fargo Central High School, class of 1943.
He was drafted in the Marines, went to San Diego for boot camp, and was sent to serve in the Pacific theater in WWII. After the war he trained as an auto body mechanic, then as a salesman. An opportunity came up to work for OK Tire Store. John saw the chance to become his own boss and became sole owner in 1960. Next year will be OK Tires 60th anniversary with 13 locations throughout North Dakota and Minnesota.
John joined the experimental Aircraft Association (EAA). In 30 years he and Rose never missed the annual trip to Oshkosh, Wisconsin for the show. 23 years in the making, John fabricated and finished his amphibian airplane called "COOT", made entirely from plans. John was a builder of all sorts. While building the "COOT" at Big Cormorant Lake, Minnesota, he also managed to add an addition to the lake cabin. John was married to his wife Rose for 73 years before she passed away in January 2018. John is survived by his son James (Catherine), daughters Kathleen (Court) Slabaugh, Wendy (Jeff) Smith, grandchildren Tawny (Brady) Brolin, Mallory (Jason) Radcliffe, Brittany Ohnstead, Vanessa (Alex) Knox, great grandchildren Adalynn Radcliffe, Calum Brolin, Leo Knox, brother William H. Ohnstead, brother-in-law George (Phyllis) Matthiensen, and many nieces and nephews.
John is preceded in death by his brothers Alden and Harold and his sisters Carlynn and Ester.
John came to live with his daughter Wendy and son-in-law Jeff in 2019.
There will be a service at Hanson-Runsvold Funeral Home in Fargo, North Dakota on October 17, 2019 at 2 p.m., preceded by a viewing.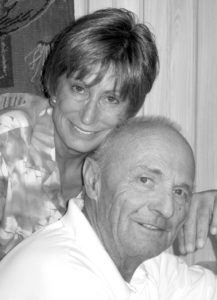 Leslyn Jean Mead (known as Les, Leslie, or Lesy to her friends and family) was the second daughter of M. Louise and Carroll Nord Ebeltoft. She was born in Seattle on the first day of June in 1946. Her family eventually settled in Boise where Leslie attended school and remained after graduating until she found her way to Wyoming, where she ultimately met the love of her life, Peter Mead. Pete and Leslie shared a love of flying and on the beautiful fall day of October 22, 1987, they piloted their Cessna to Hailey, Idaho and said their vows on the tarmac.
Her precious life ended on October 2, 2019, as she fought a returning diagnosis of cancer. She was surrounded by loved ones who were grateful for the chance to say goodbye on that early morning. Despite her small stature and tiny frame, Leslie was tough as nails when it came to fighting her disease. We never knew exactly how she was feeling or what pain she might've been in because she refused to complain about it. "Onward and upward," she said.
Leslie was an attention-giver, not an attention-seeker, and showered that attention on everyone she met whether they walked on two legs or four. She had a tenacious love for their dogs, cats, and horses, and that love carried over to a wonderful, wide circle of friends and family members.
Leslie is survived by her husband, Pete, son, Robert Satterfield, as well as Pete's three children, Brad Mead (Kate), Muffy Mead, and Matt Mead (Carol). She was a loving grandmother to seven grandchildren including Rob's stepdaughter Christeena, Brads kids Sam and Tucker, Muffy's kids Belle and Joe, and Matt's kids Neve and Pete. She had a very special place in her heart, too, for her beloved sister Lisa Voigt (Gary), and their daughter Brooklynn. She also leaves behind her other siblings, Linda Fultz, Loren Ebeltoft, and numerous nieces and nephews. Leslie was preceded in death by her mother, her father and her brother David Ebeltoft.
In lieu of flowers the family suggests donations to The Teton Valley Community Animal Shelter in Driggs, Idaho.
A celebration of Leslie's life will be announced at a later date.
Tagged:
Bert Reid McNeel Jr.
Eva "H" Turner
John Robert Ohnstead
Leslyn Jean Mead