Interstate 80 mayhem: Two major pile ups cause extended closure, shelters to open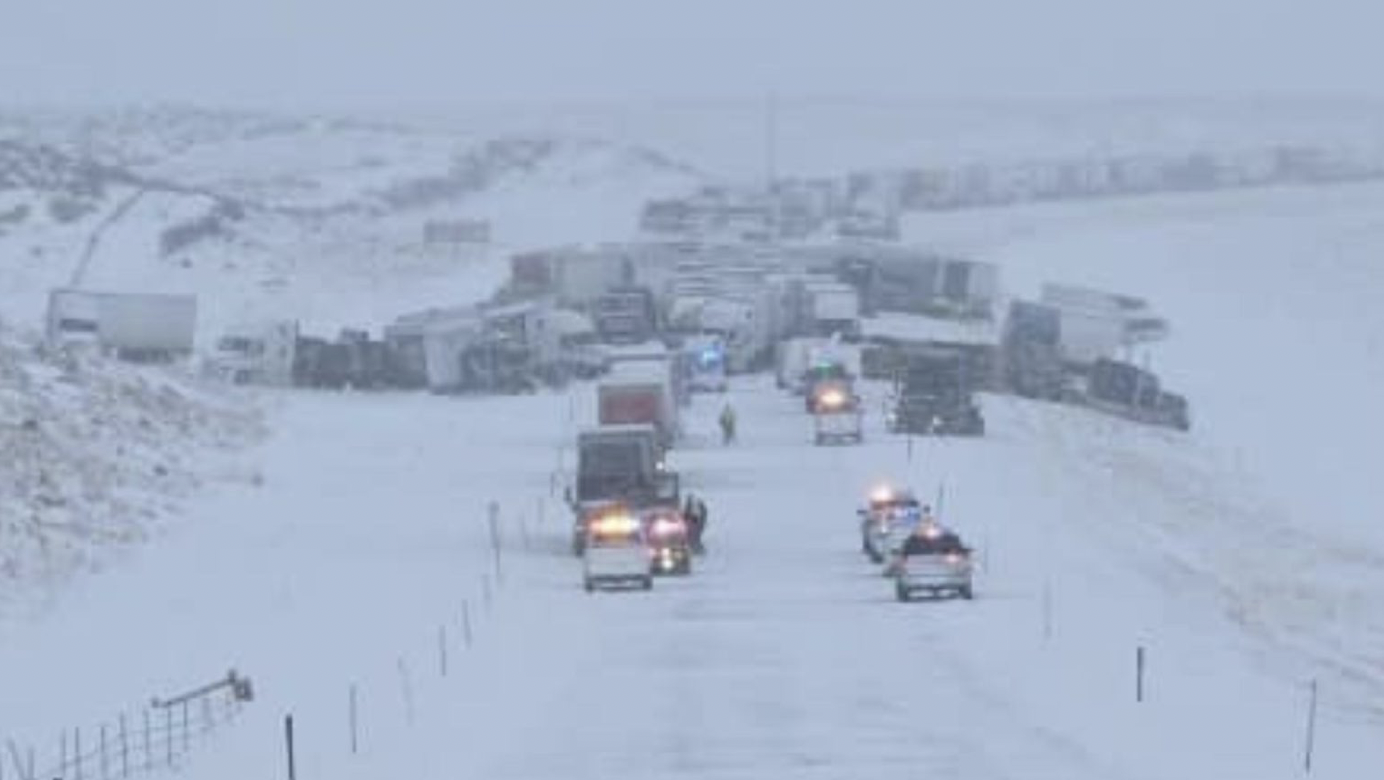 By Carrie Haderlie
Laramie Boomerang
Via- Wyoming News Exchange
LARAMIE — The Red Cross of Wyoming has set up more temporary shelters this winter than in recent years, a representative said Monday after multiple incidents on Interstate 80 left dozens of vehicles stranded last weekend.
"This has been a much worse winter than years before," Stephanie Munoz, the Red Cross of Wyoming's disaster program manager, said. "Across the state, we have opened up more warming centers than we have in five years. We haven't been this active in years."
Two large crash scenes on I-80 in Carbon County Saturday resulted in one fatality and other injuries. The Wyoming Highway Patrol is investigating the collisions, which occurred at mileposts 266 and 261 of I-80 between Elk Mountain and Laramie. A total of 44 vehicles collided between the two separate crashes, closing the interstate in both directions.
Non-injured occupants of vehicles involved in the crash were transported to the Albany County Fairgrounds as temperatures plummeted. The interstate was closed for much of the weekend, as crews cleared debris and vehicles from the roadway.
The Red Cross of Wyoming opened a warming center at the Albany County Fairgrounds in Laramie Saturday night for individuals affected by the multi-car pileup. People arrived at the center by bus about 7:45 p.m. Saturday night, after being provided with dinner at Washakie Dining Center on the University of Wyoming campus.

Red Cross volunteers worked with Albany County Emergency Management to provide affected individuals with a list of hotel rooms available, and an overnight Red Cross shelter was not required.
The Red Cross is always looking for local volunteers across the state who are willing and able to work at warming centers or shelter when the community is in need, Munoz said.
"We have had a lot of (shelter requests) in Carbon County, as well as Albany County," she said. "In the past we weren't as active, because we did not see as many of these types of disasters. We're starting to see a lot of home fires and closures on the interstate, so people who are interested in being trained in sheltering, we are always looking for that."
There was a volunteer husband and wife team at the temporary shelter in Laramie when around 22 people were bused in Saturday. About 19 people were given Red Cross "comfort kits," Munoz said, containing basic hygiene items for people involved in disasters. Several hotels in the Laramie area were also willing to offer discounts to those stranded, she said.
Albany County Sheriff Aaron Appelhans said that although the crash occurred just over the county line into Carbon County, his department responded because it was closer to transport people to Laramie than to Rawlins.
The Sheriff's Office assisted with busing people to shelter, and when it comes to removing damaged vehicles from the roadway, a combination of things can happen, he said. Law enforcement can clear away the damaged vehicles, or sometimes owners return for their cars. In severe cases towing companies are involved in the clean up, he said.
Let us know what you think!
Tagged:
Albany County Emergency Management
Albany County Fairgrounds
Carbon County
Elk Mountain
Laramie
Red Cross of Wyoming
Stephanie Munoz
University of Wyoming campus
Washakie Dining Center
Wyoming Highway Patrol
Wyoming I-80