Japanese woman travels to Kemmerer to connect to past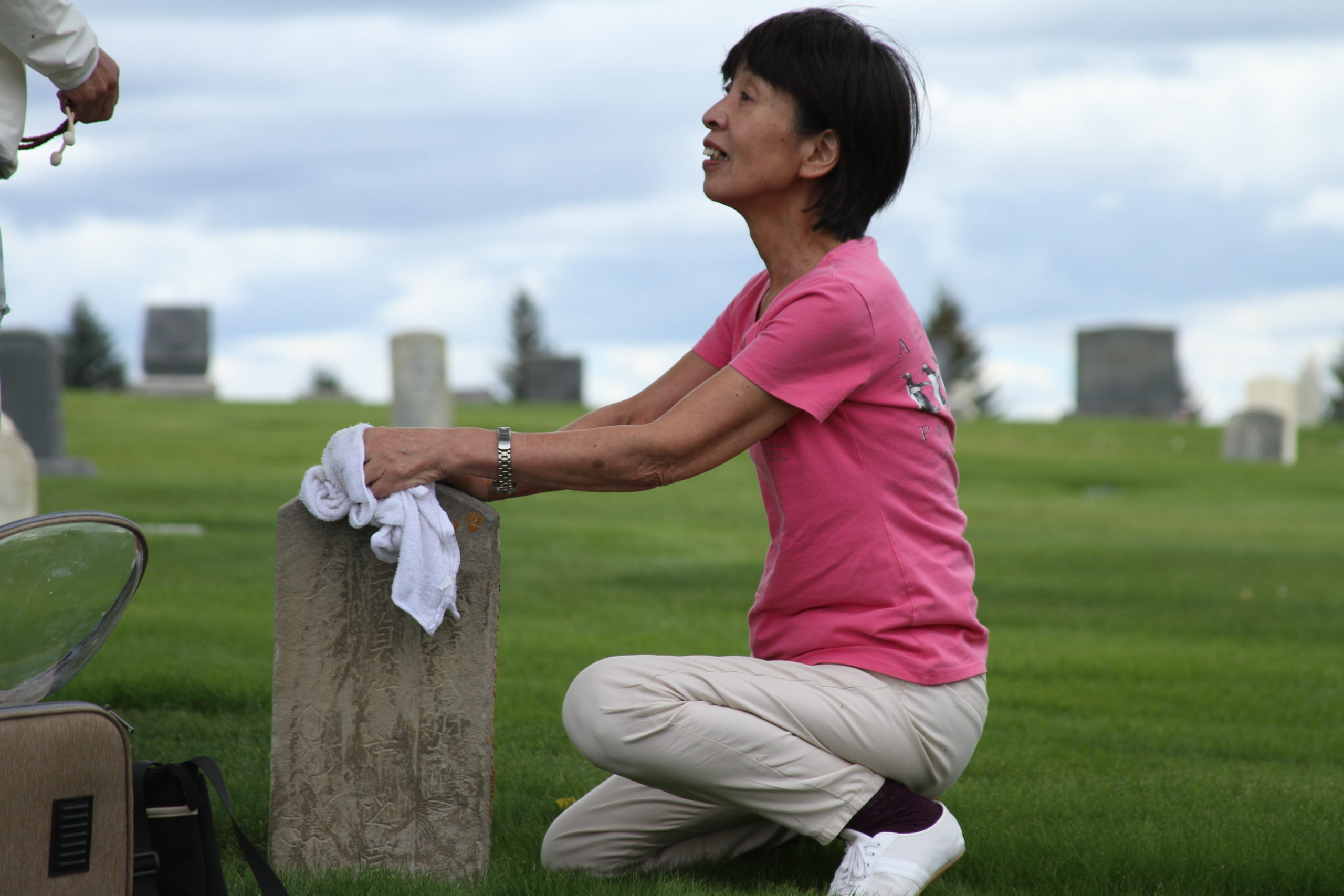 By Rana Jones 
Kemmerer Gazette 
Via- Wyoming News Exchange
KEMMERER — Mikiko Munesada and her husband, Masanori Takano, made an incredible journey from Hiroshima, Japan, to Kemmerer, to find the gravesite of Munesada's great-grandfather.
Her great-grandfather, Sakuichi Munesada, was a coal miner at Sublet No. 6 until he passed away due to an accident in 1917. 
The couple was in town on Saturday, Sept. 2. Along with Anna Ueda — and her husband, Janiru Herath, serving as their translator — the couple visited Sakuichi Munesada's burial place at the South Lincoln Cemetery. 
Ueda, who  works for a company called Family History Record, helps Japanese families reconnect with relatives.
"This heartfelt mission to honor their great-grandfather's memory provides a poignant narrative of intergenerational connections," Ueda told the Gazette. "Having this great connection after years of not knowing their roots means a lot to them. In Japan, every August … it is a cultural custom to visit graves of ancestors. This visit is very timely and carries deep symbolism, representing the fulfillment of a lifelong dream to connect with their roots and honor their great-grandfather's legacy." 
Munesada had heard that her great-grandfather moved to America, but she did not know the exact location. 
Upon learning about his death in Kemmerer, she found out that Sakuichi was a coal miner and died in the Sublette No. 6 mine from a mining accident. 
With the help of Fort Bridger resident Jan Kennah, Munesada was able to find the gravesite of her great-grandfather in Kemmerer. 
Kennah linked up with Munesada through a website called Find A Grave.
"My husband and I came to the Kemmerer cemetery with her great-grandfather's name but could not find the grave," Kennah said. 
Then they found out they had been given the name spelled in English and realized that it had been misspelled. Eventually they found the correct spelling and were able to locate the headstone. 
"What a wonderful thing to have it all come together," Kennah said. 
Ueda and Kennah's passion for history and commitment to preserving ancestral heritage brought Munesada's family story to light. Ueda had been helping the couple trace their family history for months. 
"Without Jan's help, this project could not have been completed," Ueda said. "What makes their story even more remarkable is the assistance they received from her. It demonstrates the power of community across cultures. Her knowledge and dedication proved instrumental in helping them locate the precise burial location." 
After multiple emails between Kennah and Munesada, they finally met in person at the cemetery with tears in their eyes. 
Then, Munesada saw the gravesite of her great-grandfather for the first time. Along with her husband, Takano, they prayed by Sakuichi's gravesite and poured Japanese sake on the tombstone. Munesada spread dirt from her great-grandmother's grave in Japan on Sakuichi's grave. 
With Ueda translating, Munesada shed light on the significance of remembering ancestors and the transformative effects of unexpected connections. 
With tears in her eyes she said, "I was born in a small town and had heard of my  great-grandfather moving to the United States. As I grew older, I thought about him and felt he was lonely when he died abroad." 
Munesada said she thought of her ancestor and prayed for him, and she felt immense happiness to find his gravesite. 
"I hope he feels happy because of our visit today," she said. "I think he wanted us to come here, and I am full of emotion." 
Local historian Norris Tratnik was at the cemetery to provide information he found about Sakuichi's death.  Records indicate that on Jan. 10, 1917, a rock fell and killed him when he was 45 years of age. 
After visiting the local cemetery, the group went to the Fossil Country Frontier Museum before heading to Kennah's home in Fort Bridger for the night.
Let us know what you think!
Tagged:
Hiroshima Japan
Masanori Takano
Mikiko Munesada
Sakuichi Munesada