Keeping avalanches off Teton Pass is Sisyphean task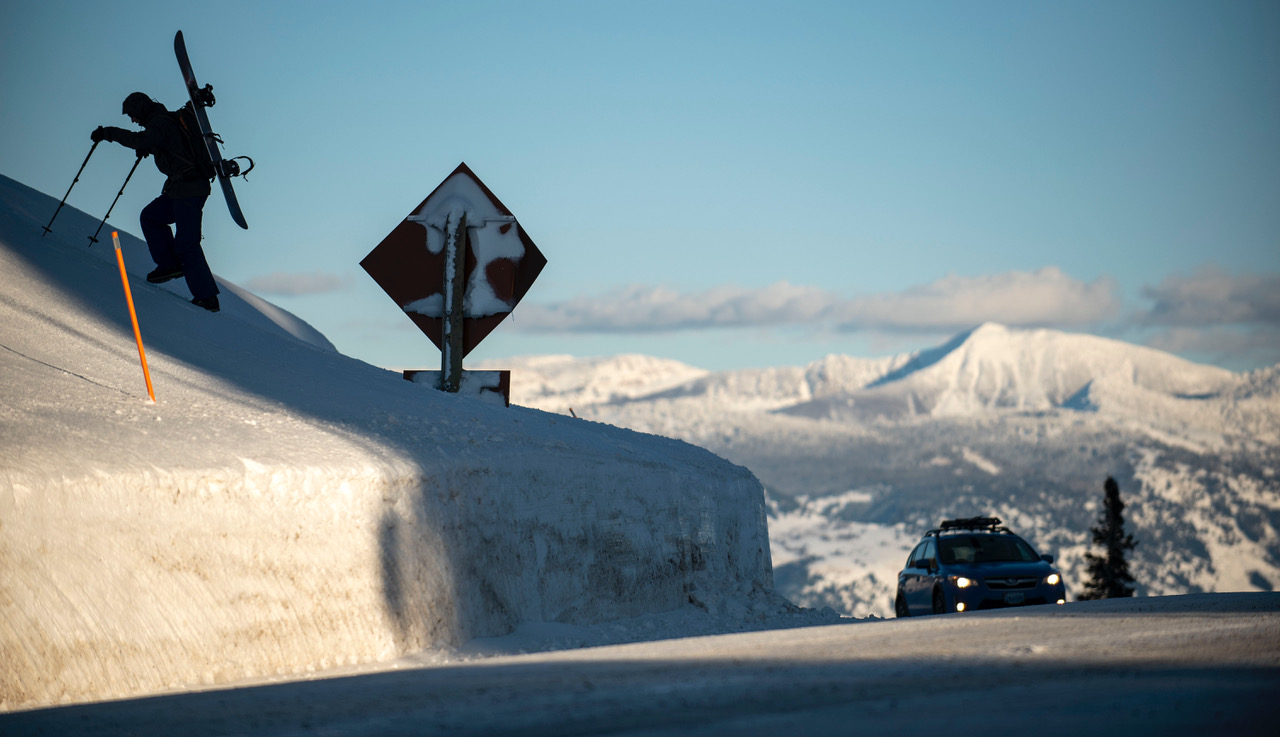 By Tom Hallberg
Jackson Hole News&Guide
Via- Wyoming News Exchange
JACKSON — An avalanche, believed to be skier-triggered, barreled onto Highway 22 from Twin Slides, entombing a Jeep and forcing the driver to "swim" out of the debris. A now famous picture captures the snow-choked vehicle caught in the 2016 slide near the summit of Teton Pass.
The 20-foot wall of snow closed the highway overnight, stranding commuters returning home to Teton Valley, Idaho. Drivers had to double back from the top of the pass to drive through Alpine and then over Pine Creek Summit, a more-than-90-mile detour that takes more than two hours in winter. The jeep's driver narrowly escaped with minor injuries.
Housing costs in Jackson are so high that nearly half the workforce lives outside Teton County, commuting either over Teton Pass or through the Snake River Canyon. Commuters — some in essential industries like law enforcement or health care — are forced at times to choose between going to work and being stuck on the wrong side of the mountains at the end of the day.
Weighing whether one might get caught in an avalanche is not a usual consideration for a commute, but the thousands of workers whose livelihood depends on Highway 22, the narrow artery skirting the southern end of the Tetons, know it well.
Shane Braman, a special education teacher at Jackson Hole Middle School, and his girlfriend (who is also a teacher) keep an eye on pass closures because their kids go to school in Teton Valley.
"A lot of people have kids, and some people have both husband and wife who teach over there," he said. If the pass looks likely to close, "your kids are over here, and so you've got to boogie back."
It would be one thing if Braman and his girlfriend were outliers, but the district relies on a contingent of teachers and other staff who commute. In the 2019-20 school year, 25 staff members lived in Lincoln County or Pinedale, and 30 resided west of the Tetons and drove over the pass.
Closures can significantly hinder the district's ability to educate students.
"It's definitely a burden on the school district," Braman said. "When it happens they are definitely strapped for substitutes and people to cover those classes."
Added to the hairy commute is the fact that Teton Pass boasts some of the best access to backcountry skiing in the country, so the slopes above the road are being skied as cars pass underneath them.
"Our primary goal is to keep natural avalanches off the roadway," said John Fitzgerald, avalanche program manager at the Wyoming Department of Transportation.
Photos of big slides, maps and binders filled with decades of data compiled since the avalanche program started in 1970 surround Fitzgerald, who is sitting in his office at the WYDOT building. These days, Fitzgerald and avalanche forecaster Brenden Cronin get most of their information off the computer, but the archives are both a trove of historical context and a reminder of how their job has changed as the popularity of skiing on Teton Pass has exploded.
"In reality, 100% of our focus is on the traveling public," Cronin said. "In a perfect world, we would never worry about skiers."
Teton Pass hasn't always been the thoroughfare it is today. Before the original road was built in the 1930s and state officials began plowing it, a sleigh ride was the only wintertime conveyance between Teton Valley, Idaho, and Jackson.
"The trip over Teton Pass has often been tedious, irksome to many who have had occasion to go in or out of Jackson Hole on business in winter," conservationist Olaus Murie wrote in a 1936 edition of the newspaper, Jackson's Hole Courier.
As Jackson became more of a destination and residents wanted access to the railroad that stopped in Victor, Idaho, maintenance of the road came in fits and starts. Plowing was expensive, arduous and dangerous, so state officials weren't always excited to pony up the money.
Much of that changed in the late 1960s, when the state started plotting a new route over the pass. The existing road, now called Old Pass Road, cut down Trail Creek after cresting the pass. The new highway would hug the flank of Mount Glory, cutting higher across the prominent slide path.
Perching the highway right under a pair of avalanche paths, Glory and Twin Slides, necessitated a proactive approach. In 1970, the Jackson Hole News reported that the highway department was starting "a modern avalanche control program" that included snow study plots, mitigation with explosives and a full-time forecaster, Will Bassett.
Today, that program has grown to include a pair of forecasters — Fitzgerald and Cronin — as well as heavy equipment drivers who clear snow from the roadways. Forecasters now use the Avalanche Guard, which throws explosive pucks, and Gasex exploders that use compressed, explosive gas to remotely trigger slides in the start zones of Glory Bowl and Twin Slides.
Despite greatly expanding the scope of avalanche control over 50 years, Glory and Twin Slides remain troublemakers for the traveling public.
"We have 70 avalanche paths that we manage," Fitzgerald said. "So we're talking about two of those paths. They're active, and they're chock full of people a lot of days."
If Fitzgerald and Cronin's primary goal is to keep natural slides from hitting the road during the day, they are pretty successful, though their success is truly defined by absence: The fewer natural slides that hit the road, the more successful they are. Three times in the past few winters slides have come down from Mount Glory's slopes and disrupted traffic, including the famous 2016 one that buried the Jeep, though small slides from the roadcut at the top of the pass have limited traffic to one lane from time to time.
In all those cases, however, it was suspected that skiers triggered the slides due to heavy ski traffic on the mountain, though that is hard to prove without culprits coming forward. Those skiers, and their potential to impact the road, are outside the WYDOT forecasters' purview to stop. Because the Bridger-Teton National Forest manages the slopes on Mount Glory, WYDOT doesn't have the authority to close them.
To manage what they can, WYDOT's forecasters follow a simple formula: close the road, bomb the slopes, clean up the debris. Using a digital alert system, they announce closures, which often take place in the early morning hours before commuters are on the road. Using the remote triggering systems, they ply the starting zones of Twin Slides and Glory Bowl in an attempt to induce a slide.
Usually when avalanche danger builds up during or after a storm, the WYDOT forecasters perform some kind of mitigation. The strategy is that the frequent small avalanches are more predictable than if the snowpack in the starting zones were allowed to build up all season.

A season's worth of snow is also likely to cause roadway damage that can cause long-term delays or reroutes for commuters. Fitzgerald pointed to a 2019 slide on southwestern Colorado's Red Mountain Pass as an example.
After heavy spring storms brought the entire snowpack down on top of a snowshed, a tunnel-like structure meant to allow avalanches to pass over the roadway, up to 60 feet of snow covered the road and filled the snowshed, closing the highway for two weeks.
"If you were to let it just build and build and build it could produce an avalanche, like what we saw in Red Mountain Pass," Fitzgerald said. "Then your road closure might be a long time."
Even with WYDOT's relatively well-oiled approach, Teton pass closures can be unpredictable, and the threat of avalanches remains constant. Sometimes closures start during the evening commute and last through the night. In February 2017, a five-day closure upended an entire work week for commuters.
Drivers sometimes reach the gate at the base of the pass in Wilson and have no way of knowing how long they'll wait. If it's just a small skiff of snow on the road, the closure might last an hour or less. A wall of snow that's 20 feet deep means they should just take the scenic route through Alpine.
"I wish there was a better way for us to know," said Colin Boeh, a wildlife guide who lives in Tetonia, Idaho, and works in Teton Village. "Maybe if there was some kind of better communication line between WYDOT and the state police and commuters."
Skiers sometimes play a role in that uncertainty.
WYDOT has to make sure all skiers are off Mount Glory before beginning mitigation work to ensure no one is caught in the slides they produce. If skiers are out when avalanche danger is escalating and WYDOT has announced an impending closure, the technicians aren't able to start bombing until the parking lot is empty, and those skiers could conceivably cause a slide while they are trying to clear the area.
The popularity of the pass means the danger from skier-triggered slides is ever present, and even with mitigation, natural slides will always be possible, too. Cronin and Fitzgerald, along with Teton Pass Ambassador Jay Pistono, report increased skier traffic is a trend that is unlikely to abate.
"The world population is not decreasing; skis have gotten fatter," Cronin said of trends that push more people toward Teton Pass. "Backcountry skiing is the largest area of growth in the skiing market."
WYDOT has few tools to deal with the danger of midday avalanches. Closures of Twin Slides and Glory Bowl are one, but skiers have indicated they would not support them.
Other avalanche-prone areas have turned to infrastructure for fixes.
Rogers Pass in British Columbia uses an intricate system of snowsheds, snow fences, remote triggering systems and skier permits to mitigate risk in an area that makes Teton Pass look "tiny," Fitzgerald said.
Snoqualmie Pass in Washington state doesn't face the same kind of skier traffic, but its avalanche program has seen success using elevated sections of roadway to separate drivers from avalanche paths.
WYDOT has long considered snowsheds as a possible improvement. As early as 1977, the Jackson Hole Guide reported that they were being floated as an idea, and the transportation department has studied them every decade or so.
As engineers and politicians debate funding and feasibility, traffic and skier volumes continue to increase: WYDOT engineer Bob Hammond said an average of 16,000 vehicles travel east from Wilson at the bottom of the pass each day, an increase of 25% since 2012, though it's not clear exactly how many of those are commuters. A Friends of Pathways counter during the winter of 2018-19 found that more than 600 people may ski the pass on a given day.
That growing use from both drivers and skiers means the potential for another avalanche event like the one that buried the Jeep is correspondingly increasing. All that puts more drivers in a situation that appliance salesperson and commuter Maggie Cane calls "terrifying, to be honest."
Tagged:
Highway 22
Teton Pass avalanches
Twin Slides