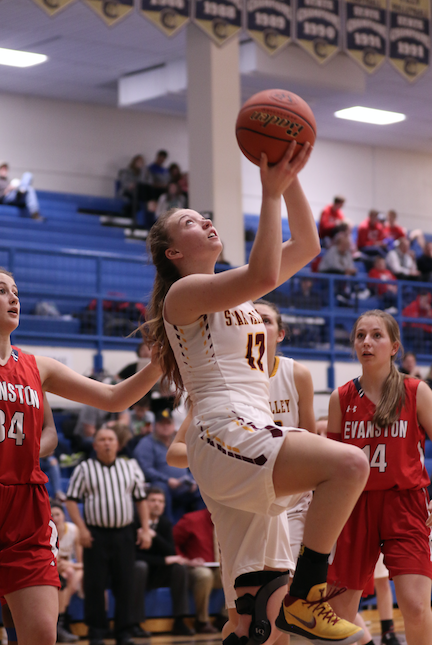 Despite being the program's first season back in Wyoming's largest classification, the Lady Braves are continued to win as they improved their overall season record to (21-3) and won the 4A West Regional title with a trio of wins in Cody over the weekend.
But adding three wins to their season winning streak which now stands at 14 wasn't an easy task.
The Lady Braves started off with a 51-42 win over the Riverton Wolverines, a team they had beaten by 21 and 25 points on two previous occasions.
"They probably shot the best percentage they've shot all season from the field," head coach Dave Moore said of the Wolverines. "They really gave us a great game."
Moore also pointed out this game turned out to be the theme of the weekend for the Lady Braves who rose to the occasion in every round.
"We struggled a bit but we rallied and I think that was the story of the whole tournament," Moore said. "We didn't have any highs or lows but we didn't panic and [the girls] just showed their grit in the face of some adversity."
Olivia Muir led the team with ten points but the depth of scoring continued to be a major strength for the program as Abby Coles and Millie Merritt each added nine and Shay Erickson and Otessa Olsen each scored eight.
"It makes it tough for teams because they don't know who they are going to stop," Moore continued. "They have to stop all of us."
The team then gutted out a semifinal win over Evanston 42-34 with a similar game profile. With six seniors and a veteran coaching staff, Moore says he knows what he's getting with this group of players.
"I guess I have trust in them that they know how to respond to the situations that come up," he said. "When I call a time out or bring up a situation, they understand and go out and do what we talked about. They respond so well after timeouts and little adjustments that we make. They are just a tremendous group of girls to have coached for four years and to see them improve every year; especially from last year to this year. This is one of those special moments in coaching; they are like senior daughters."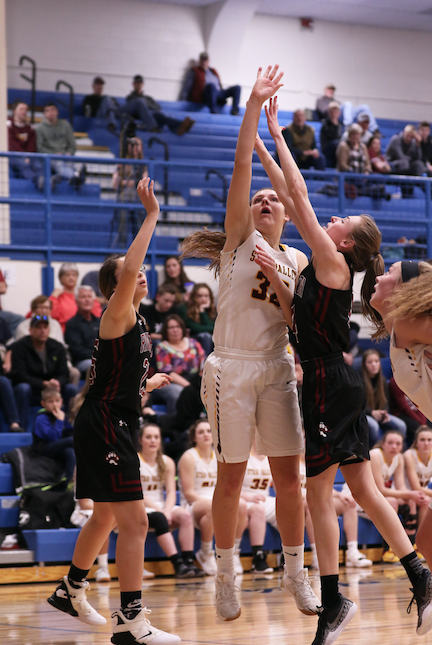 The team got 12 points each from Coles and Merritt in the win over Evanston.
In the championship game, the Lady Braves were once again down at the half but clamped down to pull away for a 42-33 win over Kelly Walsh, their third victory over the Trojans this season. Muir finished with 11 points, Coles had ten and Merritt had nine.
Now as the West's top-seeded program, the Lady Braves will take on #4E Cheyenne Central at 6 p.m. on Thursday evening. Even with the tremendous season so far, Moore feels the girls will enter this weekend with a small-school mentality.
"I feel like because we have been 3A that we've been the underdog, he said. "We are kind of new to the conference but the girls are not intimidated by these schools so they are using it as a challenge to prove that we belong. In a sense, I think they might be playing with a bit of a chip on their shoulder that they belong and they want to prove it."
To prove it they Lady Braves will have to overcome an Indians team that went (18-7) on the season.
"They are tall, they really like to drive," Moore said of Central. "They do a good job of rebounding and they bring pressure full court. That is kind of what our motto has been all season. Handle the pressure and don't give up second shot opportunities so that's what we will lean on again."
Tagged:
Cheyenne Central Indians
Star Valley Lady Braves Basketball
Wyoming 4A State Basketball Tournament