Lady Braves honor seniors and raise funds to battle cancer during last home match
• @ Kelly Walsh and @ Rock Springs
The Star Valley Lady Braves lived up to their #4 ranking over the weekend as they fell to #1 Kelly Walsh but defeated #5 Rock Springs to wrap up last weekend's road trip. Head coach Blake Peterson says there were some parallels to the last meeting which was in tournament play just two weeks ago.
"It's a little bit like the Casper Invite," he said. "They didn't play their best against Kelly Walsh. Things started off good; the girls had the lead 16-10 and then things just kind of fell apart. We just need to compose ourselves to make sure we compete."
The first set finished up on the side of the Trojans who won 25-22 and then swept the Lady Braves 25-14 and 25-17.

"I felt like our blocking did a lot better against Kelly Walsh," Peterson said. "It's kind of an inexact science but I was pleased with that. I think our defense can key on things and compete. We need to continue to make sure we focus on the process and compete regardless of the score."
With more road miles and a short turnaround time, the girls bounced back with a gutsy showing in Rock Springs.
"We started little slow," Peterson said of the Sweetwater outing. Rock Springs is a good team and I was proud of the girls and I told them that it was good for us to have some five-set matches and push through."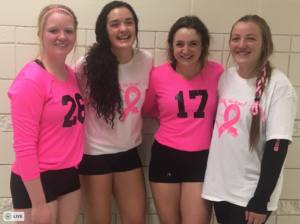 The Tigers mauled Star Valley in the first set 25-12 but the Lady Braves battled back to win the second 25-23. Game three was a mirror image as Rock Springs took the close win and forced the Lady Braves back against a wall. The fourth set was all SVHS in a 25-12 win which ultimately carried over for a 15-9 win in the fifth.
• Lady Braves sweep Evanston on Senior/Pink Night
The Lady Braves improved their record to (28-4) overall with a 3-0 sweep over visiting Evanston with scores of 25-20, 25-15 & 25-16.
Hannah Christie, Aisley Julander, Kaylee Hale and Otessa Olsen were honored prior to the match as the program's four seniors.  All four put together an impressive performance for the last night on the Star Valley court. Olsen finished with a dominating 21 kills assisted by Hale. Christie finished with six kills and Julander led the team in digs and had a pair of aces.
The Star Valley volleyball team will be in Jackson to face the Lady Broncs on Thursday  October 17.
• Pink Night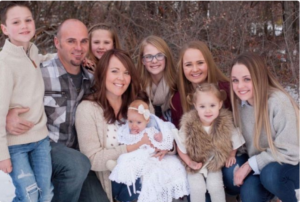 With October as Breast Cancer Awareness Month, the SVHS Volleyball team has produced a Pink Night which has often doubled as a fundraiser for a specific family going through that particular battle.
On Wednesday, October 16, the Lady Braves combined their Senior Night and their Pink Night as they not only honored the team's four seniors, but also helped provide some financial help for the Meghann Titensor family.
CLICK HERE TO DONATE TO THE MEGHANN TITENSOR FAMILY AT THEIR GOFUNDME PAGE.
"Sometimes life throws us a curveball," said Amber Titensor. "This beautiful family has been thrown a curveball. Meghann is a devoted wife and a mom of seven beautiful kids, ages 15 down to their one-year-old baby. "
According to Amber, Meghann was diagnosed with Stage 3 breast cancer and is currently undergoing treatment. She has a few more chemo treatments left with the possibility of surgery and/or radiation to follow.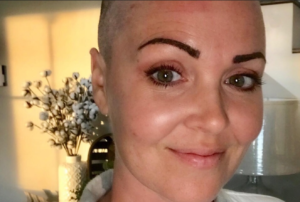 "In true Meghann fashion, she is facing this with faith and strength," she said. "Her positive attitude of hope, determination and commitment to her health and healing is inspiring to witness. As you know, a trial such as this comes with a significant financial burden. In hopes of allowing Nick and Meghann to keep their focus where it needs to be…on Meghann, her treatments, and her healing, we're hoping to help relieve some of that financial burden for them. Meghann, along with Nick and their kids have and will continue to feel and very much appreciate the love, prayers and support of all kinds that have been sent their way. Every donation, no matter how big or small, will compound into something significant that we know will bless their lives and be received by deeply humble and grateful hearts."
Funds from a bake sale, donations on site and during the SVI Media broadcast will all be donated to the family.  Those wishing to make a donation my do so via Venmo @StrongWith-Meghann.
Let us know what you think!
Tagged:
Breast Cancer Awareness
Evanston High School Volleyball
Meghann Titensor
Pink Night
Star Valley Lady Braves Volleyball