Lady Braves hope to harness gritty mentality of last year's finish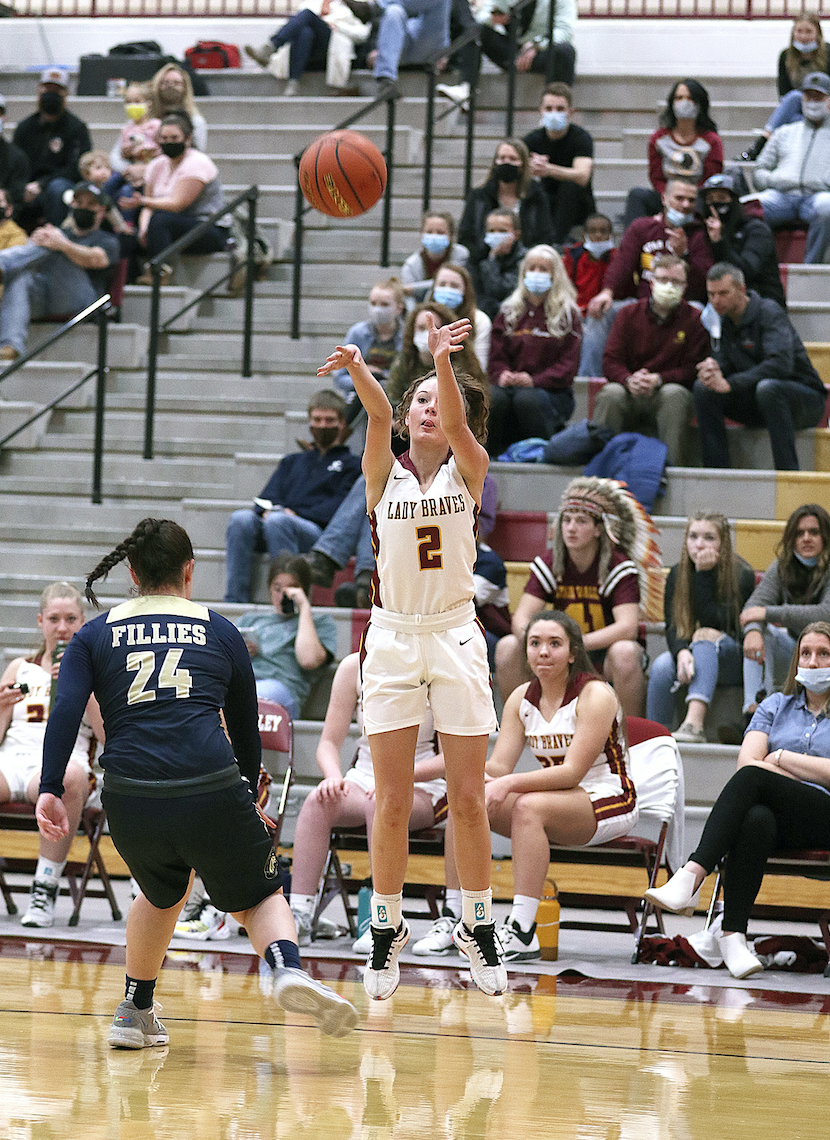 ◆ SVHS Girls Basketball will begin with tournament play in Riverton next weekend.
Last year's Lady Braves Basketball team was a case study in toughness.
They were almost always out-sized on the court and were often times forced to play extended minutes against deeper teams.
But a relentless defensive attitude that extended to the final seconds of the season finale proved to provide some memorable moments in a memorable season.
The ladies played eventual champion Cheyenne East as well as anyone in a 42-30 loss in the quarterfinals of the 4A State Championship before eliminating Cheyenne Central 39-38 the next day. The squad then gutted out a short-handed 41-23 finish against eventual Consolation winner, Thunder Basin.
This year's team will have to replace players such as Emma Thomson, McKenna Brog, Addie Butler, Emri Jenkins and Brierly Battleson.
This year's team will have some significant returning experience and some intriguing options in the paint with a trio of players who could be a touch match up for some teams.
"We have a big senior group this year," said Head Coach Kade Wilkes. "We ended up keeping seven seniors this year. Part of that was a small junior class. Mia [Hutchison] is back this year which will be a great help to us. Gracee [Cazier] is with us which will also be a great help."
Amber Milne will be the top returning scorer with a modest 5.0 ppg, but she played in all 24 games last season. Cameron Erickson played in 19 games as a sophomore.

"The varsity played 27-30 games over the summer," Wilkes said. "When we had everyone we played really well and played some tough and big schools and we went 4-1. Amber Milne is back with a lot of experience and Cameron Erickson as well. Whitnee [Hale] had some good experience and had that big game at state. McKenna Frazier will be a big part of what we do and I think we have a good solid group."
The Lady Braves did not light up many scoreboards with an average of 35.5 ppg last year, but they did cause nightmares for opposing teams because of their tenacious style of defense.
"The girls want to have that grit and integrity and fight no matter what," Erickson stated. "We know we may not have that extra luxury player off the bench so we are defensive minded. We have coach [Kade] Wilkes who makes us a gritty team. We were talking to some of our coaches and they complimented our grittiness. I'm excited about our inside presence and then you add Liv [Engelhardt] she is going to be a better ball player and she brings the practice time and she makes those around her better too."
Many of these players were on the Lady Braves Volleyball team who just had a very successful season as well.
"This group is very tight-knit and I think that is one of those things that can help down the stretch," Erickson concluded. "I'm excited about this group and the example they can be to the other girls. I think this is our biggest turnout we've had so far so we're excited to get going and see what we have and get better every game. "
Let us know what you think!
Tagged:
Amber Milne
Cameron Erickson
Gracee Cazier
McKenna Frazier
Mia Hutchinson
Olivia Engelhardt
Star Valley Lady Braves Basketball
Whitnee Hale