Lady Braves look to capitalize on opportunities as they open 4A Southwest Play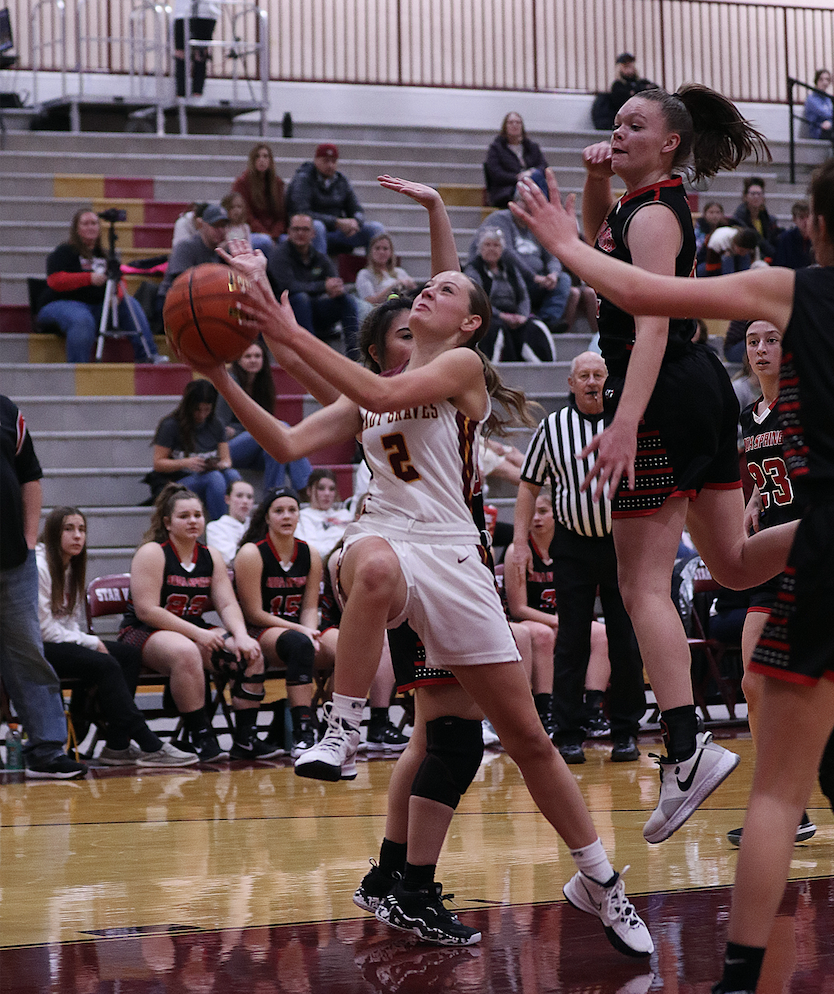 The Star Valley Lady Braves (3-6) will be playing a unique slate this week as they open up conference play against the Jackson Lady Broncs (2-4) on Friday night in Afton but also will return to non-conference play for one more evening on Saturday to complete a season series with Soda Springs (7-9) on the road.
Star Valley edged the Cardinals in Afton 30-29 on January 6. Since then the Lady Braves had a single game last Friday on the road, a 45-15 loss on the road to the #4 Preston Indians, a team they defeated at home. They hope the home court continues to be a good luck charm with the girls 2-0 on the familiar boards.
"It's been a good week," Head Coach Kade Erickson stated on Wednesday afternoon. "I feel excited about conference play for sure. We're 0-0 and we'll try and do our best here on out. Jackson is a pretty solid team. Better than they have been in recent years and I think we match up well with them and hopefully come away with a win."
The Lady Broncs picked up an impressive win over Cheyenne Central on the opening weekend of the season as well a win over Teton. Jackson dropped a pair of games this past weekend at home to the Pinedale Lady Wranglers (64-32) and the Lander Valley Tigers (54-34).

Erickson praised the Lady Broncs' athleticism including that of leading scorer, Karsen Breeding, who is averaging nearly 11 points per game. Rachel Noyce is scoring 9.8 per game and post-player Audrey Fouras scores eight points per game.
"I think the girls have a good mind set but Jackson has some good post players and some scorers so we'll match up our players as best we can," he said. "We've got to find a way to score and make those adjustments."
Points have been hard to come by for the Lady Braves who are averaging just 28.6 points per game but the team hangs their hat on their defensive effort which is currently ranked fourth in the Wyoming 4A Class (41.0).
Star Valley's leading scorer this season has been post McKenna Frazier who is averaging 6.9 points and 5.8 rebounds per contest. Sophomore point guard Kenlee Englehardt is averaging just over five points per game. She and senior guard, Amber Milne, combine for over five steals per game.
The effort should be aided by the return of Whitnee Hale who is often assigned to the opposing team's top scorer. And although she will not be able to play this week, the sight of Cameron Erickson in a walking boot continued to provide hope that she will be able to play again this season after suffering an injury on the opening weekend of the season.
After their clash with the Lady Broncs, the team will make the short trip to Soda Springs for a 7:30 pm tip-off on Saturday evening.
"We were talking about that and said even though it's not a conference game it's a good opportunity to go on the road on a different court and try and get a win," Erickson concluded. "I think it's important to try and get better and better and take advantage of those opportunities."
Join the Fall River Propane Countdown to Tip-off for the girls varsity games this week. Starting at 5:45 pm on Friday night and at 6:45 Saturday night. Find the watch link for the games here on this site and listen to the game via traditional radio on Swift 98 (98.7 FM) on online at svinews.com/radio.
Let us know what you think!
Tagged:
Amber Milne
Audrey Fouras
Jackson Lady Broncs
Kade Erickson
Karsen Breeding
Kenlee Englehardt
McKenna Frazier
Rachel Noyce
Soda Springs Cardinals
Star Valley Lady Braves Basketball
SVI Media