Laundry Just Got Easier: Let Dry Creek Novelties save you money.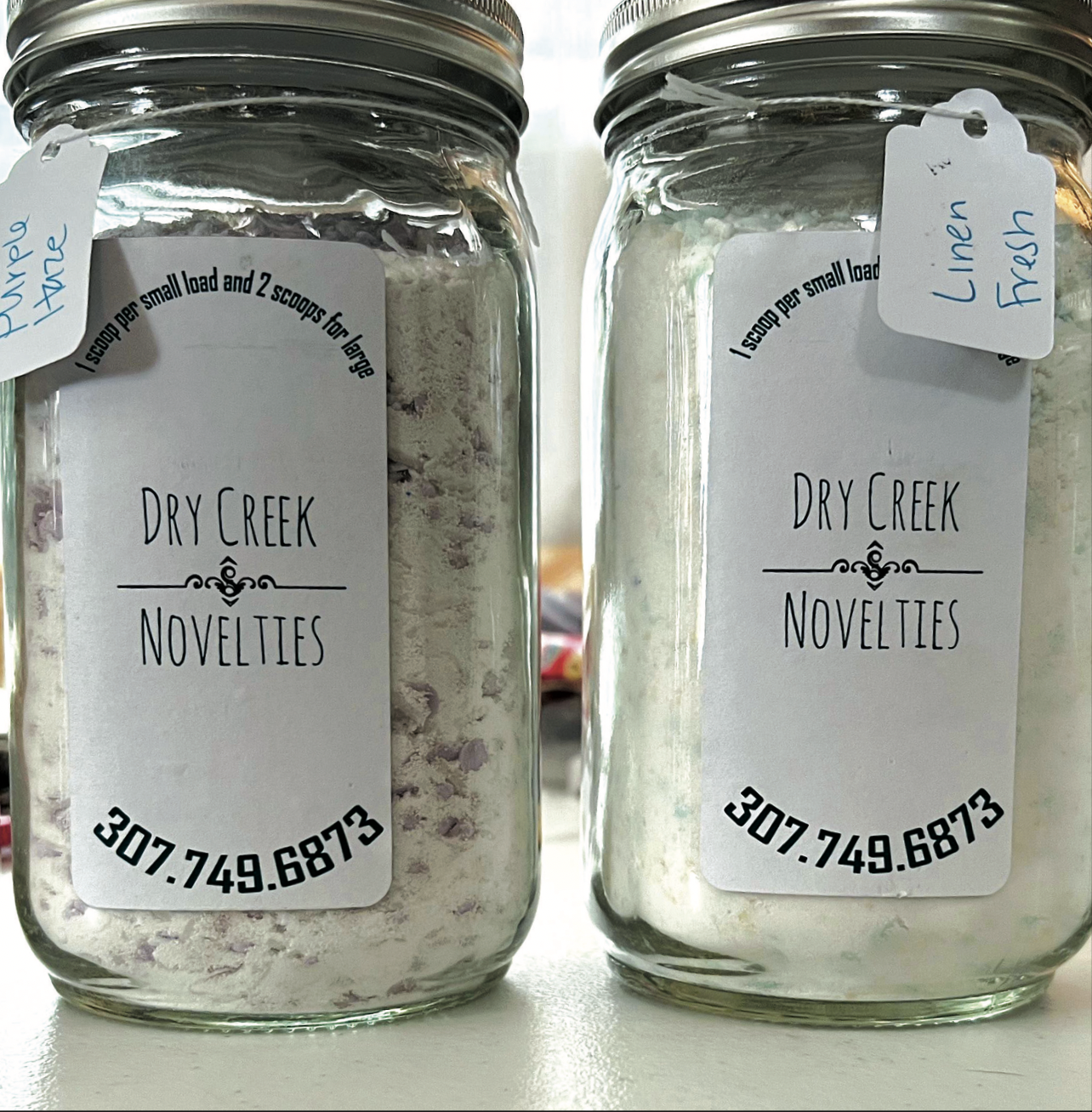 By Breanna Call, SVI Media
This article appeared in the March 1, 2023 edition of the Star Valley Independent in coordination with the Star Valley Chamber of Commerce – 
Procter & Gamble manufacture hundreds of products, and one that no one can skip out on buying is laundry detergent. We all need clean clothes, so while doing laundry is time-consuming and repetitive, no one should opt out on this chore. Procter & Gamble states that the average family washes approximately 350 loads of laundry a year, or about six to eight loads a week. And with laundry detergent prices increasing, it's costing more and more to have clean clothes. Luckily, Hanna Martinz at Dry Creek Novelties has just the trick to ease some of the burden that comes with your ever-populating mountain of laundry.
When Martinz was a teen, she attended a church activity where she learned how to make homemade laundry detergent. "I thought it was pretty cool," says Martinz. Soon, she was ditching store brands and making her own laundry detergent that lasted longer, smelled better, and was much, much cheaper. This past August Martinz decided, "Why not share it with everyone else?" She began creating more laundry detergent and selling it through her company, Dry Creek Novelties.
Her laundry detergent consists of a mixture of borax, baking soda, laundry booster, Oxiclean, Fels-Naptha soap, Zote soap, and a variety of the Downy Unstopables. "I want to help people get cheaper laundry soap that I know works," Martinz says. She sells her detergent in two sizes: a quart for $15 and a pint for $8. Each purchase comes with a scoop and user instructions. "A pint will last me a month or two with my little family of four," says Martinz. "Use a tablespoon for small loads and two tablespoons for larger loads." Store brands just can't beat Martinz's prices.
Martinz offers three varieties of laundry detergent: Linen Fresh, Purple Haze, and unscented. She also noted that customers with eczema or sensitive skin have had good results with her products.
To place an order or learn more about Dry Creek Novelties, contact Hanna Martinz at (307) 749-6873 or drycreeknovelties@ gmail.com. You can also follow her on Facebook at Dry Creek Novelties. "I love what I do," says Martinz, and I want to help other people find what works best for them as far as [laundry] goes.
Let us know what you think!
Tagged:
Dry Creek Novelties
Hanna Martinz
Star Valley Chamber of Commerce