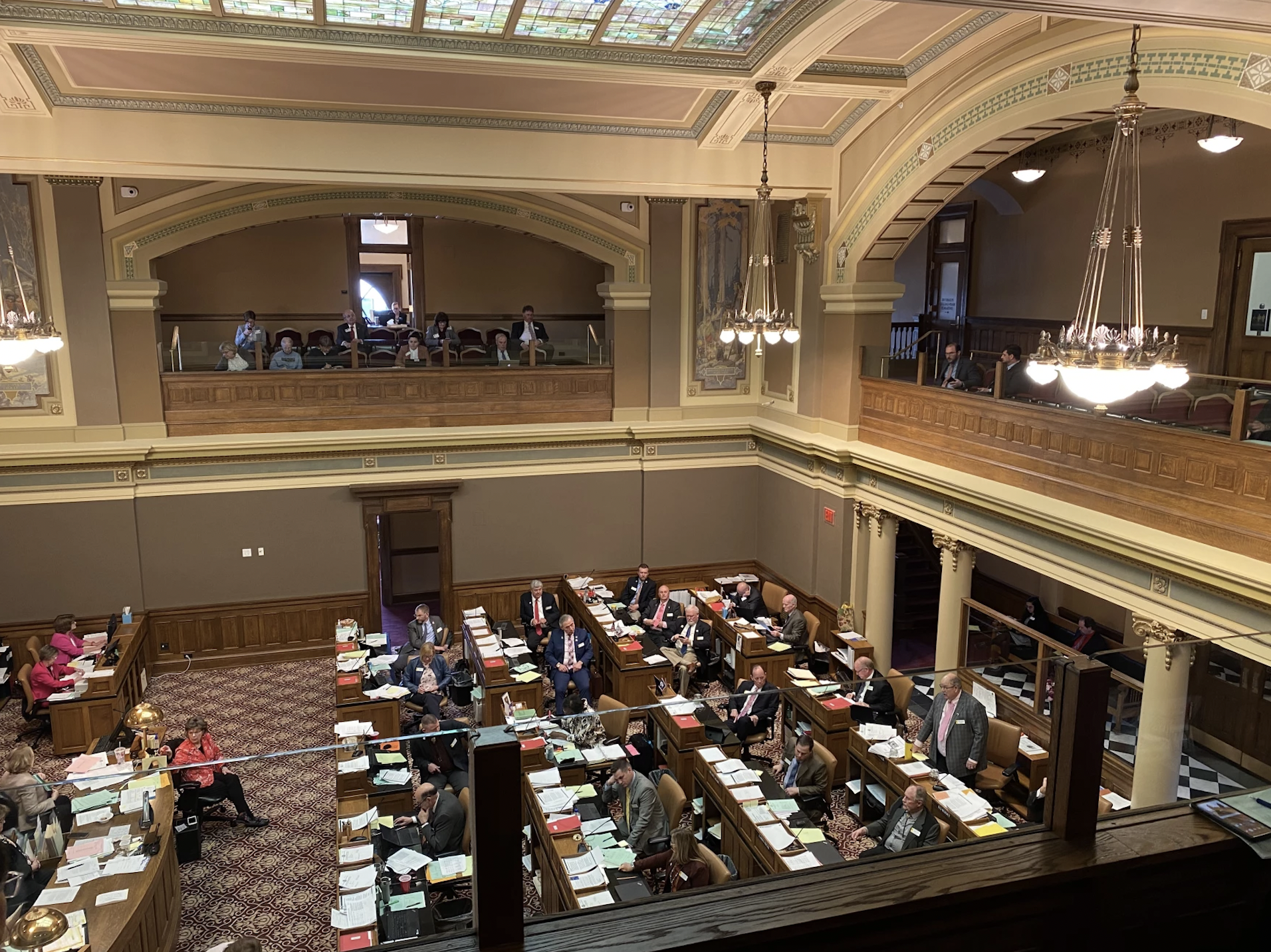 By Jasmine Hall
Wyoming Tribune Eagle
Via- Wyoming News Exchange
CHEYENNE — As the Wyoming Legislature wrapped up its general session Friday, lawmakers from both sides of the aisle said impactful legislation came out of the 37-day gathering.
They weighed in on the bills they believed would most benefit residents and push the state forward, whether that be through property tax relief or extending health care services for pregnant mothers.
Just as legislators differ in their debates on the floor, the bills that stuck out to them derived from their personal perspectives and constituent desires.
The Wyoming Legislative Service Office reported there were a total of 497 bills and resolutions numbered for introduction, and the Legislature passed 196 of them by the final day.
Of the 197 pieces of legislation introduced in the Senate, 101 of the bills passed both chambers.The House introduced 300 bills, and 95 garnered the approval of the two bodies.
House Speaker Albert Sommers, R-Pinedale, said he couldn't point out specific bills that touched the most lives. He has served in the Legislature for more than a decade and has had a position in leadership since 2017.
He said all legislation is supposed to help and serve residents of the state, but there were achievements he pointed to throughout their time in the Capitol.
"As far as successes, I think the fact that we had one of the biggest surpluses and revenue of all time, and saved $1.4 billion, and resolved the budget in the fastest amount of time in my career — you know, that was pretty amazing," he said. "We got our cap-con (capital construction) bill out, we got our ARPA bill out, we're going to get our water bills out today."
"So, I think there's a lot of successful things that we've done, and I think people appreciate that."
Rep. Martha Lawley, R-Worland, came at the question of which bills were impactful for residents from a unique place. She is a freshman lawmaker, and this was her first time seeing legislation move through the entire process.
She told the Wyoming Tribune Eagle she didn't believe they missed too many opportunities to improve Wyoming, although the areas she was most excited about were property tax relief, education and ensuring life as a human right.
Lawley said House Bill 99 would provide significant improvements to the tax refund program and make it more accessible.There are fewer limitations on who can apply and how to qualify, and she said that will provide some form of immediate relief for residents who are struggling.
With regard to reforming property taxes in the long term, she was proud the Legislature passed Senate Joint Resolution 3 with its changes.The resolution developed from amending the Wyoming Constitution to authorize a tax exemption for the elderly and infirm, to creating residential real property as a separate property class.
She said it is not immediate because it will go to the voters on the 2024 general election ballot, but it does open the door to effective and meaningful reform.
Many of her colleagues also expressed their support for the tax bills, including bill sponsor Sen. Dan Dockstader, R-Afton. He applauded the work of another freshman lawmaker on her work in SJ 3.
"This legislation wouldn't have been possible without the hard work and perseverance of Rep. (Liz) Storer, D-Jackson, who adapted my original bill into a more comprehensive solution for the people of Wyoming," Dockstader said in a statement released Friday. "We all worked together to make this happen."
Lawley also voiced her support for the external cost adjustment approved for K-12 education, an apprenticeship program bill that emphasizes different pathways for students and another bill that provides grants for Career Technical Education to help districts buy more equipment and supplies.
The new legislator was a proponent of House Bill 152, the "Life is a Human Right Act," as well as a chemical abortion ban bill. She said the process worked to make those bills better, and they were strong accomplishments.
House Majority Floor Leader Chip Neiman, R-Hulett, said he was also thankful for HB 152. He said it didn't come out exactly how he would have liked, but there are times when legislators must compromise and work together.
He said every lawmaker comes into the session and wants to have it his or her way, but there is legislation that will set a framework to build on. He said not to negate the value in that, and this bill would advance the abortion trigger bill passed in the previous session. He said it would answer questions on how abortion is defined and provide clarity.
Neiman was nervous it wasn't going to make it past the Senate, but discussions with Senate President Ogden Driskill, R-Devils Tower, about his concerns helped move the bill forward. They made modifications that made it palatable to the body.
"That's kind of this session — you just don't get everything you want," he said. "You get some good things. I think we got some things that I'm very thankful for, and I look forward to working on those. But you know, there's some things I'd love to see happen that didn't."
The majority floor leader was also happy with his own House Bill 70 passing through, which repealed the definition of home-based education. It removed the restriction that residents could only educate their immediate families, and he said he has gotten a tremendous amount of positive feedback from parents who appreciated the opportunity to work within their communities.
"I think it was going on. We heard that even in testimony in the committees it was going on, but people were always under the specter that there's a statute saying that you can't cooperative- teach, you can't pod-teach," he said. "I actually heard where there were some areas where they were feeling as if that was actually being weaponized."
Education and supporting Wyoming families were among the themes intertwined with the legislation Rep. Karlee Provenza, D-Laramie, considered highlights of the session.
She was proud of the supplemental budget bill and the work it did to improve state employees' pay and take care of teachers, as well as the $2.75 million for family resource centers in the American Rescue Plan amendments bill.
There were bills that would impact mothers and their babies directly, such as House Bill 4 to expand Medicaid coverage for postpartum mothers. Provenza also brought attention to Senate File 79, which creates safe plans of care for children who are born with substance abuse issues. It will support the work being done in the state across various state agencies, like the Wyoming Department of Health and the Department of Family Services.
"That is a way to kind of alleviate an issue and help solve a problem, rather than throw the justice system at it," she told the WTE. "That was a really beneficial move in the right direction."
Senate Transportation, Highways and Military Affairs Committee Chairman Brian Boner, R-Douglas, was among the supporters of tax relief and the $1.4 billion placed into savings. He said it was an investment in the future of the state for his children and grandchildren and was proud the Legislature was able to get those achievements signed into law.
Where his focus landed when it came to successes was with the Senate Transportation Committee. He was excited to see legislation that boosted the military, whether it was the Wyoming Guard or active-duty airmen.
"We did some good work with recruiting and retention for the Guard, and strength is incredibly important for our National Guard — not only for our state, but for our nation," he said. "We were able to pass bills that enhanced tuition benefits for Guard members and their families. We're able to give an incentive to Guard members who recruit friends to join the National Guard. And so, it's my hope that those provisions will help."
Boner said he is proud of a bill that empowers active-duty military families to make the right choices for their children within local public school districts.
"In direct response to some of the racism and harassment that they've unfortunately had to deal with in recent years," he said. "Real glad we're able to give our military families that option to make sure that they stay in Wyoming."
Sen. Cale Case, R-Lander, expressed a similar sentiment to House Speaker Sommers that there are hundreds of bills that impact the residents of Wyoming. He pointed to legislation dealing with state lands, improving reimbursements for Medicaid, and funding the university and K-12 schools.
However, he said there are many smaller bills that address the details.
"You forget all the little bills we do," he said. "And there are lots and lots of little bills that do something for somebody."
He was proud of his bill that would remove loopholes in campaign finance, because a Campbell County PAC registered at the federal level, but was still spending money in state elections. It wasn't declaring where the money came from or its expenditures, but now Wyoming will have important information in the future.
Another bill that he got through both chambers of the Legislature was for EMS districts, and he said it would matter to rural counties that will be able to provide emergency services. This was driven by his constituents at home.
Provenza will also have a bill to bring home to her constituents. House Bill 147 was her first piece of legislation to get to Gov. Mark Gordon's desk, and it will alleviate a problem she's heard from residents across the state.The bill will prohibit and deter landowners from falsely claiming they own public land, and she said it will improve continued access.
"I'm just one guy here," concluded Case. "Everybody had a couple of good bills."
Let us know what you think!
Tagged:
67th Wyoming Legislature
House Speaker Albert Sommers R- Pinedale
Rep. Liz Storer D-Jackson
Rep. Martha Lawley R-Worland
Sen. Dan Dockstader
Senate President Ogden Driskill R-Devils Tower
Wyoming House of Representatives
Wyoming Senate