LCSD2 to honor military men and women on Veteran's Day
Lincoln County District No. 2 will pay tribute to all military men and women on Veteran's Day November 11th.
Superintendent Matt Erickson says this is an opportunity to teach patriotism to the students. He said last year they made it tough on the veterans because so many schools wanted them to come to their school. Erickson says they realized they needed to change that this year. So it is more scheduled out.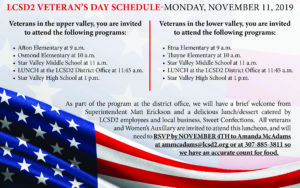 "It's a great opportunity to first of all like I said teach our kids about patriotism," Erickson said. "But also pay tribute and honor to those that have chose to serve our country in such a valiant way."

Erickson believes that the young generation and even his generation is forgetting some of this. So honoring veterans is very important to him personally.
"We sometimes forget how blessed we are to live in this country," Erickson said. "It's still the greatest land on earth and we have so many free advantages and so many freedoms because of those willing to serve. I just feel a huge obligation to teach that to the next generation."
Erickson says the public is invited so anyone can attend the assemblies if they wish to.
Let us know what you think!