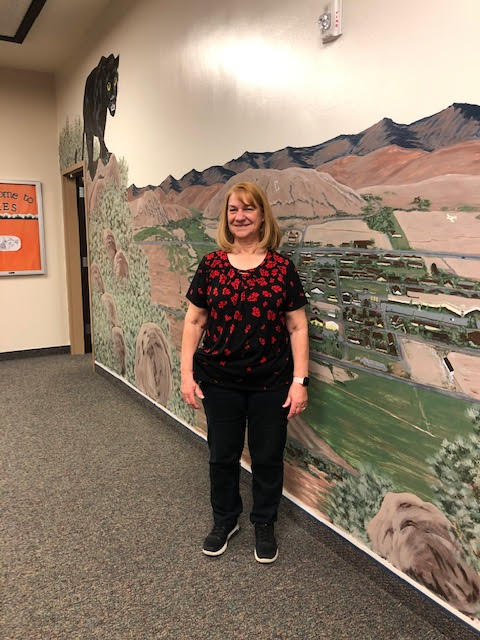 ◆ Ida Walton has served the students of Cokeville for over two decades.
Ida Walton has served the students of Cokeville Elementary School for 23 years as the school librarian. Ida has lived a life filled with many changes in situation and location, but she has enjoyed her time in Cokeville.
"I grew up in the small southern Idaho town of Downey," said Ida.  "My life there was very carefree.  There was a bunch of kids in my neighborhood and we were always getting together to play games.  My yard had a small, detached garage that was great for playing Ani-I-Over.  We played night games a lot in the summer.  We also played jacks and baseball and rode bikes."
With the Downata Hot Springs close to her home, Ida became an accomplished swimmer and even taught lessons as a youth. After graduating from March Valley High School, she attended High Style Beauty
College in Brigham City, Utah. To cover the cost of school and living expenses, Ida worked at a drive-on movie theater. Ida graduated from her college program after one year of study and moved to Logan where she was fortunate to become a business owner of her own hair salon.

Within a few years, Ida met and married Kirk Walton and the couple moved to Laramie.  From there, they went to Basin, Wyoming where she drove a school bus for eight years, transporting students in Basin and Manderson.
"Since Kirk had grown up in Cokeville, we found it easy to move there to raise our family," said Ida.  "We moved to Cokeville just after the bombing in 1986. We were blessed with 6 children, 5 girls and 1 boy.  Now I am enjoying my 22 grandchildren".
Ida's first position with LCSD No. 2 was serving children as a crossing guard.  Eventually, she began substituting in both the elementary school and the high school in Cokeville. She earned her lifeguard certificate and put her swimming skills to work, often subbing as the PE teacher when there was still a swimming pool at Cokeville High School. During that time, she also served as a part-time custodian and lent a hand in food service.
"In 1998 I was hired as the Cokeville Elementary Librarian," which has been a very rewarding job.  Watching kids learn to read and enjoy books is the best."
Her life continues to hold an element of surprise and she recognizes that things are not ever predictable.
"What the future holds for me is like turning the pages of a new, unread book.  A year ago, my home burned down, so now I am looking forward to moving into my new home.  It isn't quite finished yet but will be soon."
Tagged:
Cokeville Elementary School
Ida Walton
LCSD No. 2 Spotlight