Lincoln County Commission working with industry for extended use of facilities
Lincoln County Commissioner Jerry Harmon says improvements have been made to the Rocky Mountain Power Naughton 3 plant that will keep it operation for at least another 18 months and hopefully longer as the company prepares for the future.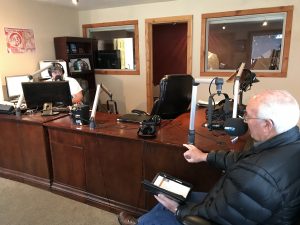 Commissioner Harmon was a guest on the SVI Media Weekday Wakeup program this week.
He opened the program, by calling the recent changes in government regulations as "some good news" for the mineral based Lincoln County economy. "The president has done some good things and there have been legislative acts that have helped Naughton, Rocky Mountain Power and Westmoreland Coal, our largest tax payers."
He said the commission meets with industry on a monthly basis to maintain good communications and "talk about the issues."
He added, "They have invested a lot of money and are good companies and solid taxpayers. We appreciate the industry in our county."
The changes Commissioner Harmon referenced comes with different regulations announced by the current presidential administration.
On Friday, Dec. 29, the Trump administration announced changes to drilling regulations for oil and gas and associated fracking procedures, all a part of Wyoming's and Lincoln County's mineral based economy.
Speaking of the recent upgrades with Naughton 3 in south Lincoln County, Harmon said "They've just completed an overall upgrade and they plan to burn coal for at least another year and half." He noted general upgrades are generally designed to carry operations out an additional five years.
"We feel good about burning coal with the new clean coal technology," he advised.
The commissioner also pointed to another positive development for Lincoln County within the past year.
He said Rocky Mountain Power had purchased the Haystack Coal Mine in Uinta County and the coal from that site will be transferred to the Naughton facility for processing. A move that should bolster the tax base for the southwestern part of the state. "They are going to haul that coal into Lincoln County and blend it," he said. "It's good for Lincoln County and it's good for Uinta County."
He noted the company is hiring now as a result of the Haystack addition.
With the recent changes, the commissioner said, "We can relax a little, but we still have to be vigilant and encourage clean coal technology."
Harmon also noted that Rocky Mountain was diversifying and studying wind power options at the south Lincoln site.
The commissioner said the county will be working with the state on the possibility of using the Lincoln County Justice Center providing housing for inmates when needed. "It would benefit us greatly, and we have the facility and people to handle it.
As the 2018 Legislative session arrives, he said Lincoln County and all of the counties in Wyoming will be working on funding solutions for local government.
Tagged:
Lincoln County Commission
Naughten Power Plant
Rocky Mountain Power
Westmoreland Coal