Lincoln County down to 18 active COVID-19 cases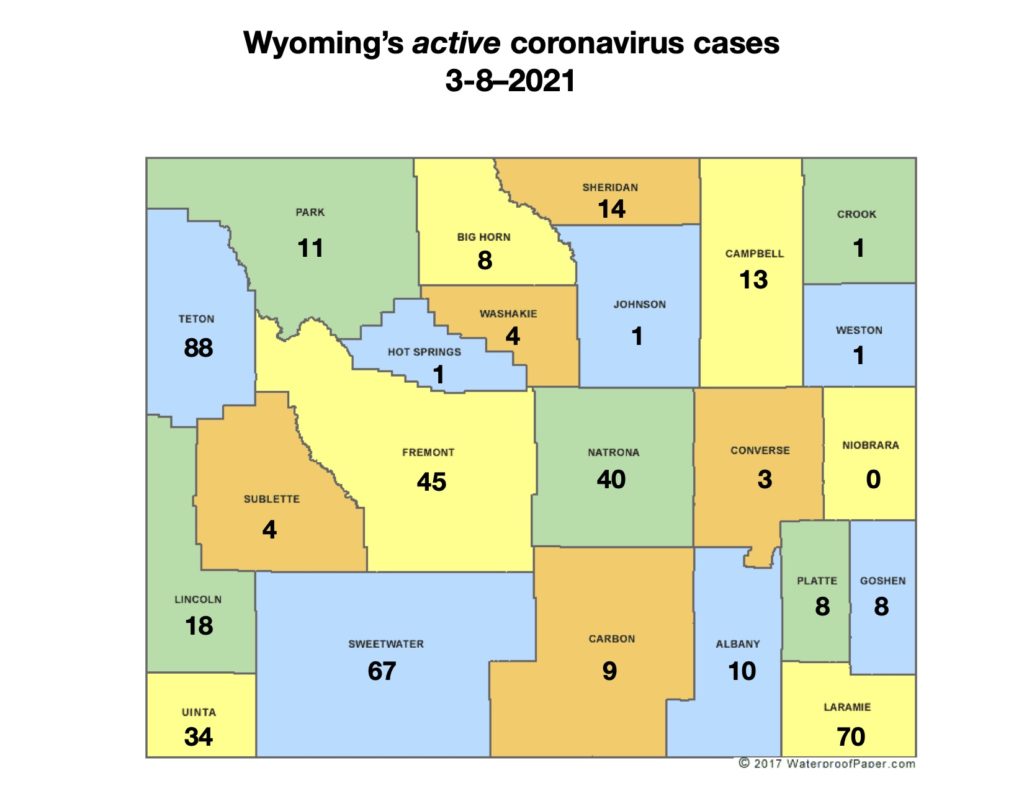 As of 3 p.m. Monday, March 8, the number of laboratory-confirmed coronavirus cases seen since the disease was first diagnosed in the state in mid-March stood at 46,507, an increase of 360 confirmed cases since the 46,147 reported on March 1.
Since March 1, there have been 11 additional deaths of Wyoming residents due to the coronavirus, bringing the statewide total to 682.
The greatest increase in confirmed coronavirus cases within the past week was in Sweetwater County, which reported 80 new cases since March 1. Laramie County had 60 new cases; Fremont and Teton counties both had 37; Carbon County had 24; Natrona County had 21; Uinta County had 19; Campbell County had 18; Lincoln County had 14; Sheridan County had ten; Goshen County had eight; Platte County had seven; Albany County had six; Big Horn and Park counties had four new cases each; Sublette and Washakie counties had three; Converse and Niobrara counties had two new cases; Crook County had one.

There was no change in the past week in the number of lab-confirmed coronavirus cases in Hot Springs, Johnson and Weston counties.
The number of active coronavirus cases in the state was 458, a decline of 94 cases from last Monday's 552.  This is the lowest number of active cases statewide since the news exchange began tracking active cases in July.