Lincoln County included on Gov. Gordon's four-stop tour
◆ Kemmerer stop will be Saturday, Feb. 1, from 12:30 to 1:30 in the South Lincoln Events Center.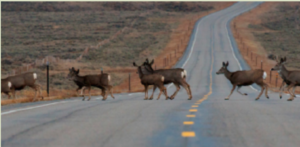 Lincoln County will be one of four stops on Saturday, Feb. 1, for Gov. Mark Gordon as he lines out plans for the Migration Corridor Executive Order, EO.
When the draft version was first released on Dec. 23, 2019, the governor summarized his goal for the new document.
"My goal with this Executive Order is to identify solutions that would both protect our wildlife and support our economy through the multiple-use of public and state lands," Governor Gordon said in later December. "I want to thank the advisory group for working collaboratively to deliver a strong and balanced set of recommendations which have been incorporated into this draft."
The governor will share further details associated with the EO and take questions during the four meetings.
In addition to the stop in Lincoln County, slated for 12:30 to 1:30 p.m. at the Kemmerer-South Lincoln Training and Events Center, the governor will be presenting the EO at similar one-hour stops in Carbon, Sublette and Sweetwater counties.
The Wyoming County Commissioner's Association and commissioners from each county will serve as hosts for the stops.

Lincoln County Commission has been tracking the document. Commissioner Connelly is concerned the order may limit access to the lands included within each corridor, so he, along with commissioners Bob King and Jerry Harmon will be attending the event. They want the details of how the plan will be implemented.
LISTEN TO LINCOLN COUNTY COMMISSIONER JERRY HARMON DISCUSS THE IMPACT OF SHUTTING DOWN THE NAUGHTON POWER PLANT IN HIS INTERVIEW WITH THE WEEKDAY WAKEUP.
The governor's office reports the EO includes "the process for officially designating a corridor, establishing specific working groups and meeting with landowners in a designated corridor."
The Migration Corridor Executive Order advisory group included representatives from the oil and gas, mining, and agriculture sectors, as well as conservation, recreation and sportsmen groups and a county commissioner. They met three times in public sessions during 2019.
Tagged:
Bog King
Governor Mark Gordon
Jerry Harmon
Kemmerer-South Lincoln Training and Events Center
Lincoln County Wyoming