Lincoln County Library System Book Review: "The Pledge"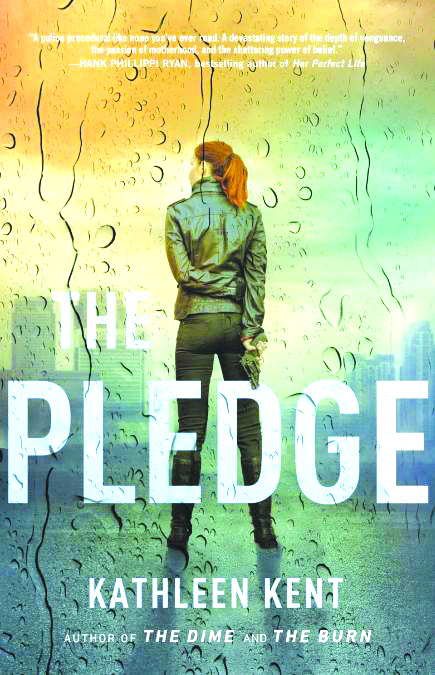 By Wendi Walton
Branch Manager
Alpine Branch Library
Dallas narcotics Sergeant Betty Rhyzyk has two weeks to apprehend a ruthless cult leader and crime boss or she and her family will be the next targets! Detective Betty is a tough cop with a strong sense of justice, and in this last book in the trilogy, she has to use everything she's got to make sure she, her team and her loved ones are safe.
"The Pledge" is a true police procedural novel where you get to see inside the investigation from the officer's point of view. The reader feels like they are in the world of the Dallas police department. While you are there in the incident room for briefings, and "riding along" to meetings with confidential informants and visiting crime scenes, the descriptions are not unduly gory or explicit. The overall tone of the book is definitely gritty though, and many scenes had me on the edge of my seat for sure!

All of Kathleen Kent's characters in this thriller are drawn with a level of detail that paints a vivid picture in your mind. From the main character, Detective Betty, to the really twisted criminals, the cadre of detectives and the hard-as-nails female P.I. duo who team up with Betty, the characters feel authentic without being cliche. As you are introduced to the new narcotics detective Danny Philbo, the reader can imagine him clearly from this very first portrayal as seen through Betty's eyes, "…Philbo is a transplant from Chicago.
It's been a couple years since he worked as a cop in the Windy City, but he narrows his eyes suspiciously at everything, as though he's squinting into a squall blowing off Lake Michigan…. He crosses his meaty arms and scowls, pinning his gaze to a place just over the top of my head."
This is a fast paced and suspenseful crime thriller, pushed along by the two week deadline given to the detectives in which to apprehend the leader of a ruthless cult. "The Pledge" could be enjoyed without reading the first two books in the trilogy, but I would recommend starting with "The Dime" and reading all three. If you are a fan of Tana French's "Dublin Murder Squad" series, or if you are drawn to strong female main characters like Gunnie Rose (Charlaine Harris) or Cassie Dewell (C.J. Box) you will definitely root for Detective Betty Rhyzyk! Even though this is supposed to be the conclusion of the Detective Betty series, I still have my fingers crossed for more!
The entire Detective Betty Rhyzyk series by Kathleen Kent, including "The Pledge," can be found throughout the Lincoln County Library System.
Let us know what you think!
Tagged:
"The Pledge"
Alpine Branch Library
Lincoln County Library System
Wendi Walton